The CW has found its latest star with 17-year-old Kaci Walfall in Ava DuVernay's upcoming superhero drama Naomi. In an interview, Walfall shares her excitement over landing the lead role and blossoming sisterhood with CW vets, Candice Patton and Ciara Renée.
The CW has found its latest star with 17-year-old Kaci Walfall in Ava DuVernay's upcoming superhero drama Naomi. In an interview, Walfall shares her excitement over landing the lead role and blossoming sisterhood with CW vets, Candice Patton and Ciara Renée.
Inspired by DC's comic series, Naomi follows the eponymous small-town teen who, after a Superman sighting, sets out to uncover the truth about her birth parents and in the process, finds herself with some unique abilities of her own.
Shortly after landing the role, longtime DC fan, Walfall dove straight into the source material and "could not put it down." Enthralled by Jamal Campbell's illustrations and the story of Naomi, Walfall noted the parallels between herself and the character – which don't extend to stunt work.
With a history as a dancer and roller skater, Walfall met her match with skateboarding – a skill occupied by her character. Learning to do so two days before shooting, Walfall was let off the hook and praised "great skate doubles" and "great camera angles," before poking fun at her lack of grace on a skateboard. As it turns out, the pair are more alike in personality.
Explaining Naomi's desire to get some answers, she expresses the two are equally driven and passionate in what they wish to achieve, acknowledging that they are "very similar on the surface." The similarities don't end there, also propelled forward by Walfall's experience as a teenager, which she uses to connect with her role, channeling a greater understanding for her arc and adding a touch of authenticity.
"I've thought about originating a role and I put a lot of pressure on myself about that in the beginning. Nothing's necessarily ever right but when you try and get things right, you get them wrong." – Kaci Walfall
Taking on a lead role is bound to come with some pressure, especially as the first live-action iteration, and Walfall could definitely feel the weight on her shoulders. Getting candid about the urge to bring justice to the part, she opens up about wanting to appreciate other Naomi adaptions whilst looking for what alternatives she could bring to the table.
"I'm very grateful to be in the first [live-action] position." – Kaci Walfall
Joining a multitude of DC shows, Walfall talks about being a fan of The Flash and Black Lightning growing up and the significance of representation on-screen. The dynamic of empowering female relationships has transferred into reality for Walfall, having found a sisterhood amongst fellow CW stars, Candice Patton and Ciara Renée, as she looks forward to "paving the way" in the same way they had for her.
As a character, Naomi is inspired by Superman but Walfall finds her own inspiration through her family, particularly her grandmother, who she sees as a "real life superhero" and will incorporate into her work often.
What does the future hold for Naomi? There is a minor connection to James Gunn's 2021 The Suicide Squad through Mongal – the character who fights with Superman in Naomi's hometown. Whether the two will crossover is up in the air but Walfall thinks the idea would be "so cool" because of her admiration for the film.
One of the central themes of the show lies with family and individuality, which is the message Walfall hopes fans will take away from viewing, citing the importance of seeing your "value" through "the people who love you." The dynamic brings a wholesome truth to the series, making it easy to reflect on real life, and we hope to see this explored as Naomi progresses.
Full Kaci Walfall Interview
Take a look at the full interview with Naomi star, Kaci Walfall, and learn more about the show and the enthusiasm she has for her new role.
About Naomi
From Oscar® nominee/Emmy® winner Ava DuVernay and Jill Blankenship ("Arrow"), and starring Kaci Walfall ("Army Wives," "Power," "The Lion King" on Broadway) in the title role, the DC drama NAOMI follows the journey of a cool, confident, comic book–loving teenager as she pursues her hidden destiny.
When a supernatural event shakes her hometown of Port Oswego to the core, Naomi (Kaci Walfall) sets out to uncover its origins, with a little help from her fiercely loyal best friend Annabelle (Mary-Charles Jones, "Kevin Can Wait"). She also has the support of her adoptive, doting parents, veteran military officer Greg (Barry Watson, "7th Heaven," "The Loudest Voice") and linguistics teacher Jennifer (Mouzam Makkar, "The Fix").
After an encounter with Zumbado (Cranston Johnson, "Filthy Rich"), the mysterious owner of a used car lot, leaves her shaken, Naomi turns to tattoo parlor owner Dee (Alexander Wraith, "Orange Is the New Black"), who becomes her reluctant mentor.
While unfolding the mystery about herself, Naomi also effortlessly navigates her high school friendships with kids on the military base as well as well as local townies, including ex-boyfriend and high school jock Nathan (Daniel Puig); Annabelle's longtime, loyal boyfriend Jacob (Aidan Gemme); proud "townie" Anthony (Will Meyers, "Bad Education"); and fellow comic book enthusiast Lourdes (Camila Moreno), who works in a vintage collectible shop.
As Naomi journeys to the heights of the Multiverse in search of answers, what she discovers will challenge everything we believe about our heroes.
Based on the characters from DC, NAOMI is written and executive produced by Ava DuVernay and Jill Blankenship ("Arrow"), and executive produced Paul Garnes of ARRAY Filmworks. Amanda Marsalis ("Echo Park," "Queen Sugar") directed and co-executive produced the pilot episode. The series is from ARRAY Filmworks in association with Warner Bros. Television.
Naomi premieres on The CW Tuesday, January 11. Stream next day free only on The CW!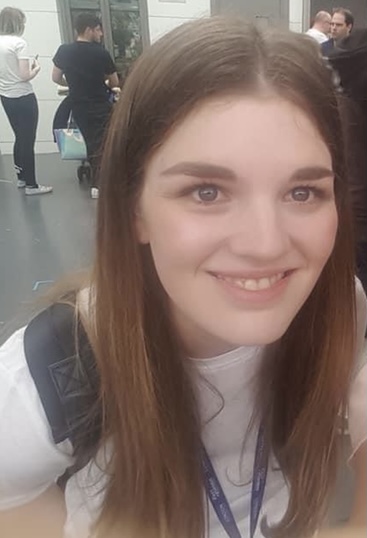 Jenna is a Film and Visual Culture graduate and freelance entertainment writer from Scotland. Her passion lies with TV and horror, where she will take any opportunity to geek out. Jenna spends her free time binging shows and looking to be spooked.