DC's Stargirl Season 2 Episode 9 spends a lot of time in the past exploring Eclipso's powers and how to stop him.
Below is a recap and review of DC's Stargirl Season 2 Episode 9. Be warned, there will be spoilers. So if you have not yet seen the episode and want to remain in the dark about it, come back later. Check out this recap and review of DC's Stargirl Season Season 2 Episode 8.
Warning: Spoilers for DC's Stargirl Season 2 Episode 9.
This episode kicks off with another flashback, something that has been pretty common with Stargirl Season 2. This time viewers are finally getting to learn a little bit more about Bruce Gordon, that famous explorer that discovered Eclipso's island — and is the only one to return from it. He is holding the Black Diamond and tells it that he wishes he never brought it back from "that damn island".
Eclipso speaks back to him, saying that he is the one that helped him find fame and fortune. Bruce says this was all at the cost of his friends and collogues, whose lives he ruined. While Bruce is trying to tell Eclipso he wants nothing more to do with him, Eclipso mentions someone named Moana to him. He says that once her husband is gone, Moana will be all his — her heart, her body, and her soul. Bruce makes a deal with Eclipso to let him take control of his body and kill Moana's husband for him, so he can have her.
After a brief glimpse at present day Blue Valley and everyone getting ready to hunker down during a crazy storm, another flashback shows the funeral of Rebecca McNider, Doctor Mid-Niter's little girl who was killed by Eclipso. The Justice Society of America is all there, of course, and then they are joined by The Flash, who Pat is very excited to see. The Flash, whose real name is Jay Garrick, tells them what little he knows about Eclipso, and says that they will do whatever they can to track down Rebecca's killer.
The Shade shows up at Rebecca's funeral and Starman leaves with him. In DC comics they are actually allies, and during the few episodes he has been in The Shade has been working with the JSA, not against them.
Back in Blue Valley Pat is clearly being messed with by Eclipso. He is seeing things in their home including Rebecca's coffin. He isn't the only one either, Mike is being effected as well. For him, his greatest fear is being left out of JSA business so he sees Courtney discussing plans of going after Eclipso with Beth on the phone. Mike also cannot find his father anywhere. His breath can be seen in the air and he is so cold that he puts his jacket on.
In the past, Starman arrives back at JSA headquarters and tells Pat everything that The Shade told him about Eclipso. He says that it is not human at all, but a spiritual parasite and an otherworldly creature that Bruce Gordon discovered on an island. He says that Eclipso has now possessed Bruce, and has the ability to make people see whatever he wants them to see, and make their nightmares come true.
Pat is confused and wondering why The Shade would help them. Starman says that he saw fear in The Shade's eyes when he talked about how he has faced him before. Shade claims that Eclipso will kill men, women, and children and is "real evil." The only way to stop it is to kill the host because when the host dies Eclipso will be forced back into the diamond. As long as no one touches it, he will be powerless inside.
In Mike's visions triggered by Eclipso Cameron shows up at the house. He knows that Cameron is Icicle's son, so immediately assumes that is why everything is cold. Cameron is asking if he can hunker down from the storm at their house and of course Mike says yes, but is visibly nervous about it all.
Cameron keeps talking about his dad, and how close they were before he died. Then things get really dark. Cameron mentions that Mike got more years with Barbara than Cameron got with his mom, insinuating that she is dead — or will be soon. He also says that he knows Mike's real mother abandoned him when he was a little boy — and that Mike hit Cameron's father with a car and left him for dead.
Mike explains that it was an accident and he didn't mean to kill him, but Cameron tells him not to worry because he didn't. He says that his father is with Barbara right now, alive and well.
Barbara is having to deal with those very same visions as well. She was driving home from work and her car stopped when Jordan Mahkent shows up in her back seat startling her, saying they have a lot to catch up on. Barbara keeps telling herself that this is not real, Jordan is dead, and that this is all Eclipso. The Shade shows up through a shadow and tells her this is not real. In order to stop it she needs to ignore it and start the car. Shade is clearly still very weak, as he is just a shadow, and before he disappears he says he needs Emily.
Mike is being attacked by Cameron and it is really getting to him. He sees Cameron kill his dog, Buddy, and then ends up on the floor gasping for air. Lucky for him Courtney comes running into the room. She puts Mike's hand on the staff and his visions disappear. She immediately realizes this is Eclipso's doing after Mike explains to her what he saw. She asks where Pat is, and goes to look for him.
Courtney realizes that Pat is in the basement and is banging on the door loudly trying to get him to open up, but he is lost in a trance. Standing over the sink he is washing blood from his hands, which just will not disappear.
Into the past again and he is meeting with members of the JSA – Starman, Hourman, The Flash, and Wildcat – they explain that Eclipso has beaten several of them and has vowed to come after their families too. They are voting on if they will kill the host — kill another human being — and they need Pat to break a tie should there be one. Hourman and Wildcat vote yes, they need to kill Bruce to protect their families. The Flash votes no and then asks Pat for his vote, and he says no. Starman surprisingly votes yes, and it visibly breaks Pat's heart.
In the basement Pat sees Bruce who is telling him that his kids' blood will be on his hands next. He says that the JSA damned themselves that day before Courtney puts his hand on the staff and brings him back to reality. She asks him what he saw and he decides it is time to come clean and explain how they really stopped Eclipso.
Starman killed Bruce so that he could trap Eclipso in the Black Diamond and it is obvious it is something he struggled with. He had blood on his costume and told Pat he agrees that the JSA should never take a life. Pat tells Courtney that after that the team drifted apart. There was no last meeting or formal discussion to break up, it just happened after they crossed that line. They did get back together once the ISA reformed, but they were never the same — they were broken. Pat says that when the JSA killed Bruce, they killed themselves.
The fact that Pat was still keeping something from her infuriates Courtney and it only gets worse when she realizes her mother knew the whole time as well. So when Barbara comes home, worried about the family, Courtney immediately starts yelling at her. The whole family blows up into a fight and when the camera pans out, Eclipso as the little boy can be seen looking in the window, and laughing that creepy laugh.
Stargirl Season 2 Episode 9 Review
Stargirl Season 2 Episode 9 spends a lot of time in the past, explaining more about Eclipso, but also giving fans a glimpse at the original JSA. It was interesting to see Eclipso targeting so many people at the same time, who were all in different places. Mike, Barbara, and Pat all went through something truly terrifying, and to have Courtney and The Shade be the ones to help them out was a great way to do it.
This is a dark episode — literally and figuratively. The JSA now knows, or at least assumes, the only way to stop Eclipso is to kill the host. Something that Pat really does not want to go through again. Stargirl Season 2 Episode 9 is a bit slow with not much action, but it is moving the story in the right direction, and was smart to focus on a few characters, and not them all. This one really sets up for the last few episodes of the season, and we can't wait to see what happens.
About Stargirl Season 2 Episode 9
JOHN WESLEY SHIPP GUEST STARS AS JAY GARRICK — As Eclipso (Nick Tarabay) takes aim at the Whitmore/Dugan's, Pat (Luke Wilson) is reminded of painful memories from his past involving the original JSA and their fight to take down Eclipso. Meanwhile, Mike (Trae Romano) is forced to confront the guilt he feels for his role in Icicle's death, and Barbara (Amy Smart) comes face to face with someone from her past. Finally, Courtney (Brec Bassinger) struggles to hold onto hope after Eclipso targets those around her. Hunter Sansone also stars. Andi Armaganian directed the episode written by Alfredo Septién & Turi Meyer (#209).
About DC's Stargirl
DC's STARGIRL follows high school sophomore Courtney Whitmore as she inspires an unlikely group of young heroes to stop the villains of the past. This new drama reimagines Stargirl and the very first superhero team, the Justice Society of America, in an unpredictable series.
The project focuses on the character that started executive producer Geoff Johns' career as a comic book writer when he created her in 1999, lovingly inspired by his late sister, who was killed in a 1996 plane explosion.
Stargirl Season 2 airs on CW every Tuesday, starting on August 10th.
Stream for free the next day on The CW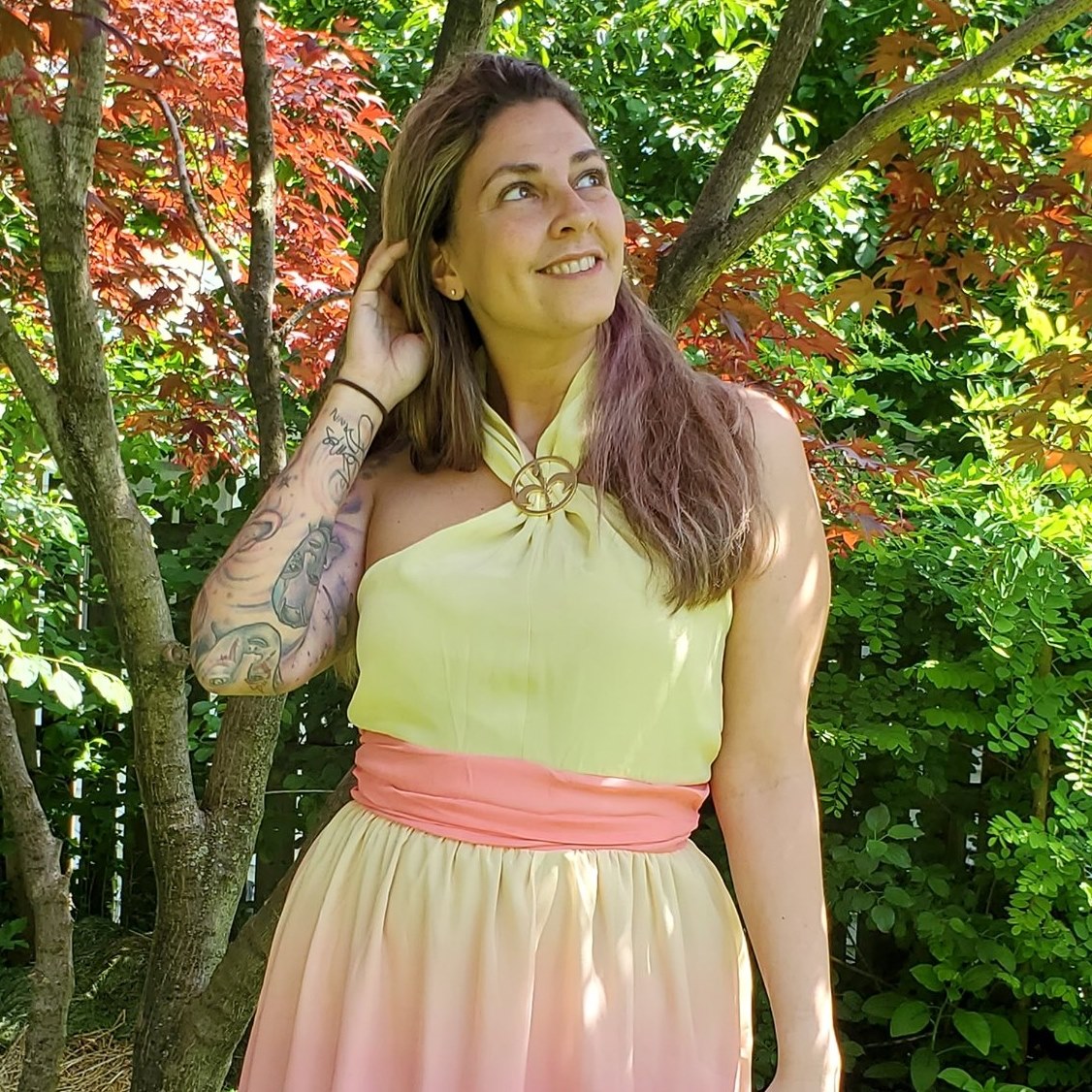 Tessa Smith is a Rotten Tomatoes Tomatometer-approved Film and TV Critic. She is also a Freelance Writer. Tessa has been in the Entertainment writing business for almost ten years and is a member of several Critics Associations including the Hollywood Critics Association and the Greater Western New York Film Critics Association.