DC's Stargirl Season 2 kicks off with a great episode 1 at the start of an entire season focusing around Summer School.
DC's Stargirl is back with a second season and boy have fans missed these characters. Brec Bassinger is perfect in the role as Courtney AKA Stargirl, and is supported by an incredible cast. The way that season 1 ended tied up enough lose ends, but also had fans knowing there is more adventure, and danger ahead for the new Justice Society of America.
The first episode of season 2 does a great job of bringing fans back into this world, while also setting up what is sure to be another fantastic season. The first season was quite solid for a new show, and the momentum is clearly continuing in the right direction. The entire season 2 focuses on summer school — and is even titles Summer School.
Below is a recap and review of DC's Stargirl Season 2 Episode 1. Be warned, there will be spoilers. So if you have not yet seen the episode and want to remain in the dark about it, come back later.
Catch up on what happened last season, in this Stargirl Season 1 Recap.
Warning: Spoilers for DC's Stargirl Season 2 Episode 1.
The episode starts off with a flashback from decades ago featuring a young girl named Rebecca McNider who just wants to go to a birthday party. Her mother will not let her, stating that she made a scene at the store. A young boy named Bruce comes over and convinces her to go, even though her mother said no. She crosses the busy street herself and he then convinces her to steal a present from the present table.
It is a normal doll, however she sees it as a old, dirty, doll with red eyes. Bruce then becomes decayed himself, with red eyes. He holds up a gem and tells her she is a bad girl for stealing. Poor Rebecca is then found dead by her mother. This is clearly the introduction of the big bad for the season, Eclipso, who feeds off the darkness of others. The last name McNider should also be recognizable by fans, as that is the last name of Charles, AKA Dr. Mid-Nite.
On Patrol
We then cut to present time where the Justice Society of America is on patrol but nothing at all is happening or creating a danger. Courtney is very into being Stargirl, but the rest of the team seems to think there are no threats after their epic battle at the end of season 1. Beth says that the goggles aren't the same without Chuck, and the team says to call it a night and leaves.
Cut to Courtney at home, having been up all night looking through old JSA files trying everything she can to find to a threat. Pat catches her and asks about her History final, which she says she will ace. My guess here is that this is why she ends up in summer school.
Mike & Pat
Pat tells Mike that he is planning a family vacation to a lake house in Yellowstone for two weeks in the summer and while Mike seems interested, he tells his dad he would rather they start the summer off with him showing him the ropes of the family business — the superhero business. Courtney and her mother, Barbara, join the conversation. Both kids express that they do not want to go, as they feel they have superhero things to do in Blue Valley. However, the parents win out who express they need two weeks of rest and relaxation.
Beth Chapel
Now we see Beth trying to reboot her Dr. Mid-Nite goggles, however, they are continuing not to work. She then discovers a petition for divorce that her parents have not told her about. It is clearly distracting her throughout the day, especially since she is so close with her parents. Because she has found that she makes a very romantic dinner for her parents in an effort to get them back together. Her parents end up working late however.
Her goggles then start making noise and it is Chuck speaking. However, when she puts them on and starts talking to him, he doesn't recognize her and turns off. Poor Beth is left completely alone.
Rick Tyler
In school we see that Rick passed his final by getting every question right on the test, but the teacher doesn't believe him. She tries to make him retake the test, with her watching, and he snaps saying he saved the whole town, and tells her to fail him. Soon we see him bringing big buckets of chicken out into the woods and leaving them — seemingly for Solomon Grundy.
Yolanda Montez
Viewers see Yolanda at church, very clearly struggling with what happened during the battle and the fact that lives were lost. She is haunted by the sound that Brainwave made when he died, and she doesn't think she deserves to be Wildcat anymore.
Summer School
In the cafeteria, Artemis Crock is upset about her parents going to jail, and is talking about how they were set up with some other kids. Courtney overhears this and thinks that she is about to be attacked, and she ends up taking Artemis down. Turns out it was a misunderstanding, and Artemis was just returning the hockey stick she was holding to a friend.
Courtney is then called into the Principal's office, and we see Pat and Barbara with her. This is not because of the fight though, it is because she failed several classes – History and English – and will need to attend Summer School if she wants to continue on to Junior year. Her mother is very upset, especially because she was looking forward to the vacation. Both Pat and Barbara tell her that she needs to decide if the mask is worth ruining everything else in her life. Pat adds that she needs to put Stargirl away for two weeks, so she can pass summer school and take a much needed break.
Other Notable Moments
Joel McHale, who plays Sylvester Pemberton AKA Starman, is seen at a diner asking a waitress about her ex-husband who "likes stripes". This is clearly a reference to Pat, and it seems that Starman will have a much more prominent role in this season of Stargirl.
Zeek, who was going to be watching the shop for Pat, has discovered S.T.R.I.P.E. and has all sorts of ideas to bring to him. He wants to add a flamethrower to it and considers himself Pat's partner on the project now.
Simon is back in town and Courtney gets a couple of moments with him. He seems happy to see her.
At the end of the episode someone breaks into the Whitmore house. It is soon reveals that it is a female Green Lantern. She has the lantern and the ring, then says she is Green Lantern's daughter. The whole family comes downstairs to see what the fuss is.
Cindy arrives back in Blue Valley, and is planning to recruit some new members for the Injustice Society of America including Artemis Crock and even Mike. She has the Eclipso gem with her as well.
Stargirl Season 2 Episode 1 Review
This is a great first episode back and an awesome way to kick off the season. There is a lot of set up for what is to come, which is always important with a series like this. Viewers also get a ton of action and some new characters — both good and bad. I love a good villain, and it seems like Eclipso is going to be a creepy big bad of Season 2 — especially working with Cindy.
Each of the JSA members got their due, and it was nice to catch up with them all and see where their heads are at after the finale of season 1. They went through a lot, and all of their individual reactions seem warranted and realistic. It seems like Courtney will be back to hiding her Stargirl ways from Pat and Barbara, and it will be interesting to see which path Mike chooses.
About DC's Stargirl Season 2 Episode 1
SCHOOL'S OUT — With summer break around the corner, Pat (Luke Wilson) suggests the family take a vacation after seeing that Courtney (Brec Bassinger) has been spending too much time focused on being Stargirl and not enough time on her schoolwork. Meanwhile, as Beth (Anjelika Washington) attempts to reconnect with Chuck, she stumbles upon a major secret her parents have been keeping from her.
Elsewhere, Yolanda (Yvette Monreal) continues to be haunted by Brainwave's death, and Rick (Cameron Gellman) secretly tracks Solomon Grundy after suspecting he may still be in the area. Amy Smart, Trae Romano, Hunter Sansone and Meg DeLacy also star. Andi Armaganian directed the episode written by Geoff Johns.
About DC's Stargirl
DC's STARGIRL follows high school sophomore Courtney Whitmore as she inspires an unlikely group of young heroes to stop the villains of the past. This new drama reimagines Stargirl and the very first superhero team, the Justice Society of America, in an unpredictable series.
The project focuses on the character that started executive producer Geoff Johns' career as a comic book writer when he created her in 1999, lovingly inspired by his late sister, who was killed in a 1996 plane explosion.
Stargirl Season 2 airs on CW every Tuesday, starting on August 10th.
Stream for free the next day on The CW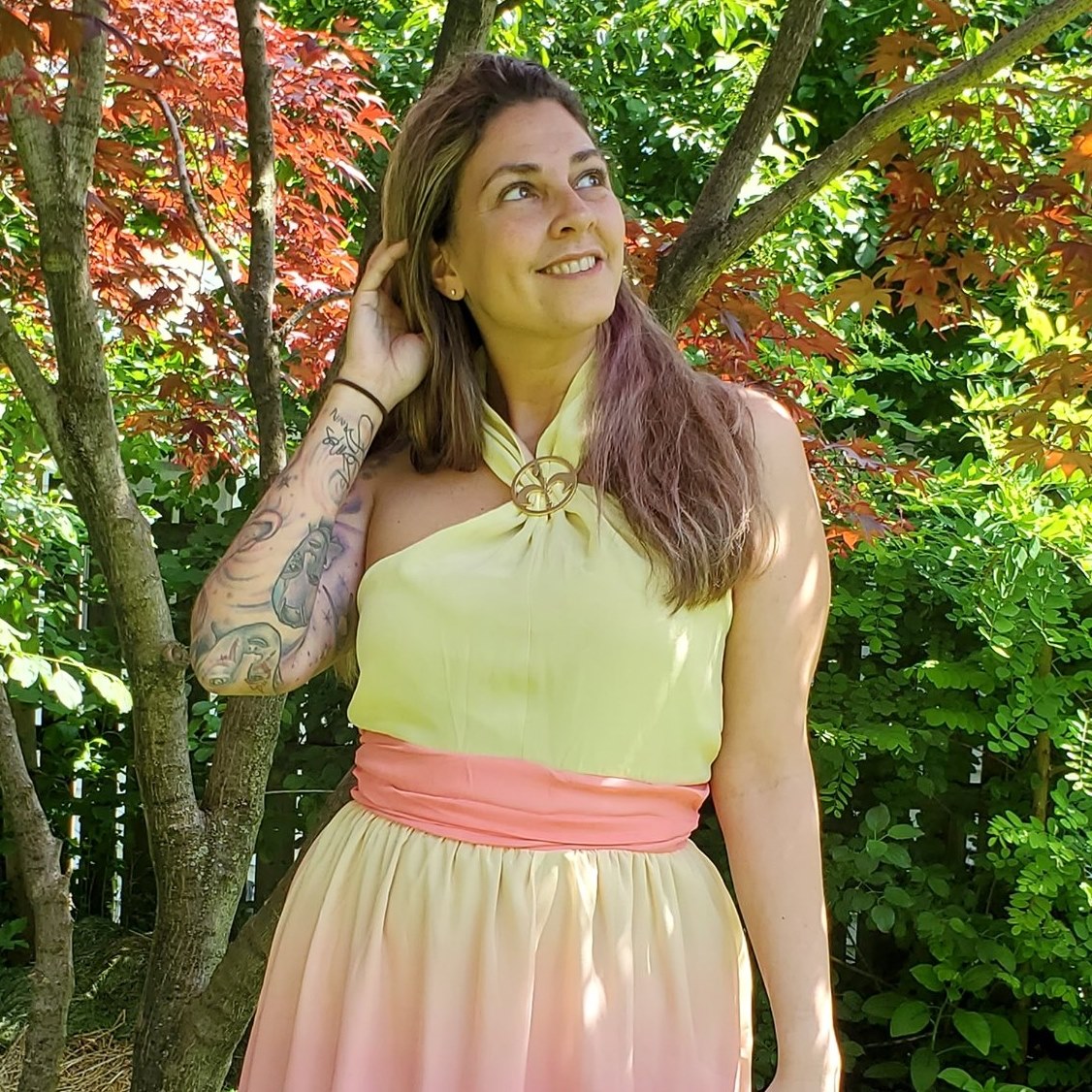 Tessa Smith is a Rotten Tomatoes Tomatometer-approved Film and TV Critic. She is also a Freelance Writer. Tessa has been in the Entertainment writing business for almost ten years and is a member of several Critics Associations including the Critics Choice Association, Hollywood Critics Association, and the Greater Western New York Film Critics Association.