News of The World is a fantastic journey from beginning to end with both Tom Hanks and Helena Zengel giving what are sure to be award winning performances.
News Of The World is a journey from beginning to end that will make you connect with the characters, and wish for their safety as they take on dangerous threats of the post Civil War world. While the story itself can be slow at times, and the ending might be a tad predictable, there are still many surprises in store for viewers, and this film is more than worth a watch.
This movie is literally the story of a man who travels from town reading news stories. His name is Captain Jefferson Kyle Kidd, played by Tom Hanks, and this is his job, now that the Civil War has ended (5 years prior).
When he stumbles upon a young girl, played by Helena Zengel. He discovers that she has been orphaned twice – once from her birth parents, and once from the Native Americans who took her from them – he takes on the task of delivering her to her Aunt and Uncle. The journey is a treacherous one, and they will be threatened by many things — human and nature — along the way. But the bond they form is an unbreakable one, and one that the actors so beautifully portray on the screen.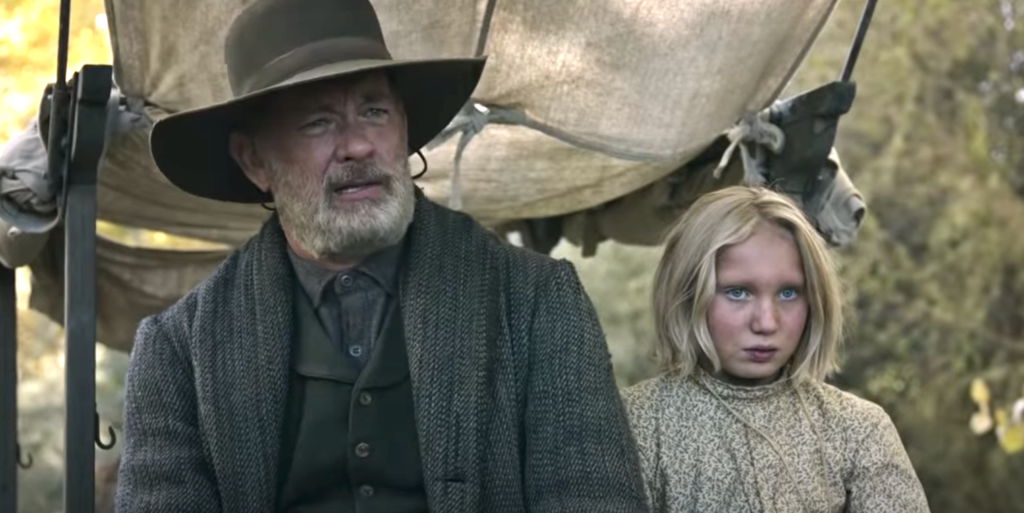 Outstanding Acting
I don't need to tell you that Tom Hanks is an incredible actor, we all know that already. But his performance in News Of The World is one to celebrate. He gives off a fatherly feel and love as the story goes and on and I found myself enjoying watching him more and more. His connection and chemistry with Helena Zengel is obvious and comes across as something completely magical.
Since Zengel's character doesn't speak a lot of English, he finds other ways to communicate with her. One of my favorite scenes in the film is when she is going through his things and shoves a handful of ground coffee beans in her mouth. Her face, and his reaction, are just priceless.
Overall Thoughts
News Of The World is a movie with a whole lot of heart and some stunning scenery. The two leads – Tom Hanks and Helena Zengel – ooze chemistry and are the main reason this film is what it is. Yes, it can be a little slow at times, but on the other hand it seems there is always something happening to these characters, which breaks up what could be too much monotony.
Sure, some parts of the movie can be a bit depressing, but that is because they are real. These things happened here after the Civil War. There were bandits, there were Native American attacks, and there were poor living conditions that caused illness and death. I respect this film for showing the past as it was, and not sugar coating anything.
I wouldn't consider News Of The World to be 100% a western, a but it does have a lot of western aspects to it. Quite simply, it is beautiful to look at with stunning backdrops and scenery. I often felt like I was watching Red Dead Redemption on the screen, which I totally dug. Parts of a it are a bit predictable, but there are many surprising moments as well. News Of The World is a movie that is sure to bring out a lot of emotions in viewers, and get nominated for a whole ton of awards.
About News Of The World
Five years after the end of the Civil War, Captain Jefferson Kyle Kidd (Hanks), a veteran of three wars, now moves from town to town as a non-fiction storyteller, sharing the news of presidents and queens, glorious feuds, devastating catastrophes, and gripping adventures from the far reaches of the globe.
In the plains of Texas, he crosses paths with Johanna (Helena Zengel, System Crasher), a 10-year-old taken in by the Kiowa people six years earlier and raised as one of their own. Johanna, hostile to a world she's never experienced, is being returned to her biological aunt and uncle against her will.
Kidd agrees to deliver the child where the law says she belongs. As they travel hundreds of miles into the unforgiving wilderness, the two will face tremendous challenges of both human and natural forces as they search for a place that either can call home.