Disney's Secret Society of Second-Born Royals could be the next Descendants or ZOMBIES — packed with superpower-sized fun! Streaming exclusively on Disney+ September 25th.
Secret Society of Second-Born Royals is the newest Disney Original Movie and it is sure to be a hit with preteens and teens. This movie is packed with fun and while there could have been more action, I think there will be in the future. It ends setting us up for at least one more movie, although I wouldn't be surprised if they just keep coming. Coming exclusively to Disney+ on September 25, this is one that you will want to watch with your kids!
You guys know I am a big fan of superhero movies — and that is sort of what Secret Society of Second-Born Royals is. The basic plot is that these kids are all second born royals, so not the heirs to the throne. These second borns have superpowers and it is their job to defend the kingdoms. When they are 15 years old, their powers begin to manifest, and they are recruited for training.
As these kids discover and learn about their powers, we get some pretty great montage scenes. The movie doesn't have as much action as I would like, but there is a lot of character building that fans will appreciate in the future. I truly believe they are setting up for this to be a whole collection of movies, not just a one off. And having the background and knowledge of these characters, how they met, and how they got their powers under control, will be important.
Keep in mind while watching that this is clearly a movie for preteens and young teens. That means it is pretty predictable. They do some hinting at the "big reveals" and twists that we will see toward the end, and I picked up on them fairly early on. That being said, my 7 and 9 year old had no clue and were genuinely surprised when the reveal moment came.
Knowing what was going to happen, more or less, did not ruin the movie for me though. I still enjoyed it all the way through. CGI isn't used often, and when it is, well, let's just say it isn't the best. But considering this is a made for television film, I am not mad at it.
The concept is unique, which I was a fan of. Sure, I got X-Men vibes when we were told these kids develop powers at around 15 and they need to go through some training to be able to control and understand their powers, but coupling it with the royalty plot made Secret Society of Second-Born Royals it's own thing.
Overall Thoughts
Secret Society of Second-Born Royals is the perfect introduction to these characters that will probably be around for a while. While it is clearly made for a younger audience, parents (especially those that enjoy Descendants and ZOMBIES) will have fun watching with their children.
As a mom I love a movie that I can enjoy right alongside my kids. There is even a nod to Prince Harry in the form of a painting of him that hangs alongside the most decorated of the "second-borns". Something my kids did not catch at all, but I sure did. And I laughed out loud when I noticed it.
While the movie didn't have as much action as I would have liked, I still enjoyed seeing the character arcs. Of course, I loved watching them use their superpowers as well.
The overall lessons of the movie are to stand up for what you believe in, and that there are non-violent ways to make change happen. A couple of concepts that ring a little too close to home right now, and are important for kids to understand. Of course, this movie also teaches kids to have confidence in themselves, and understand that everyone is special in their own way.
The final scene gives me the confidence that there is going to be a second movie in this series, which had my daughters very excited. Honestly, Secret Society of Second-Born Royals could easily be the next big Disney Original Movie hit, like Descendants and ZOMBIES — and I am here for it!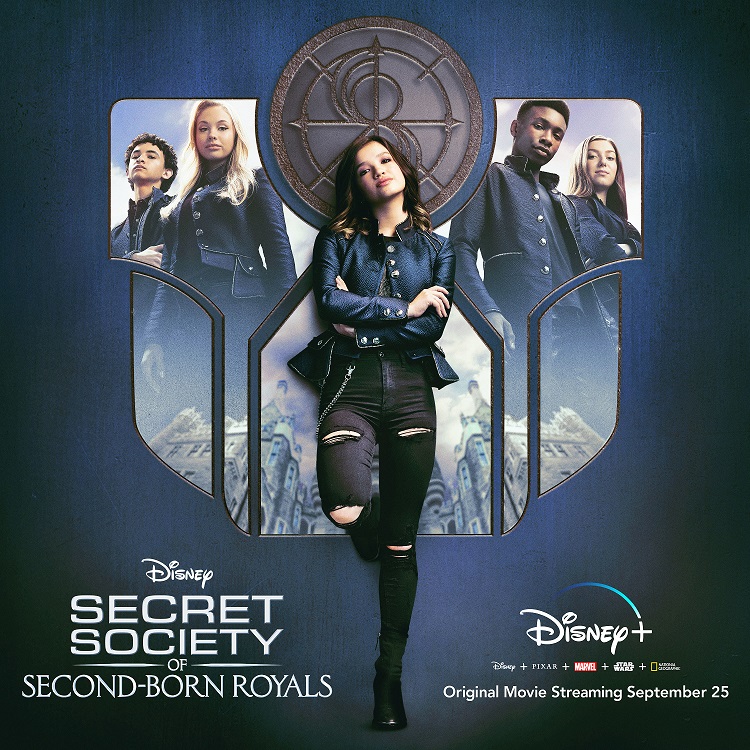 About Secret Society of Second-Born Royals
Meet Sam, a rebellious royal, second-in-line to the throne of the kingdom of Illyria. She is not a typical royal and doesn't really fit into this world. Unlike Sam's older sister, Eleanor, who is almost 18 and in training to become the next queen, Sam would rather rock out with her band or put on a concert to protest the monarchy, resulting in an inevitable run-in with the authorities.
Queen Catherine, fed up with her daughter's behavior, sends Sam to royal summer boarding school where she discovers the school is just a ruse. Sam and the four other second-born royals learn they have superpowers and are actually there to train to become part of a very special, secret society. But this isn't the only surprise in store for Sam and her new friends as training begins.
When a mysterious stranger threatens the safety of everyone they hold dear, will Sam and her friends learn how to use their powers in order to save their kingdoms?