Easter is almost upon us! Candy seems like the easy gift idea, but here are 10 of my favorite Easter Basket gifts that aren't candy!
My kids love candy — doesn't every kid? But I don't like giving them candy as a gift for every holiday. So while I know they are hoping for an Easter Basket filled to the brim with candy, that isn't what they get. Their Easter gifts are almost all non-candy — here are my favorite gift ideas for Easter this year, that aren't candy!
Easter Basket Gift Ideas
Foodie Surprise Yolkies
Foodie Surprise Yolkies would make the perfect egg-tra addition to your Easter baskets this year! Yolkies are the first collectable toy including delicious slime you can eat! Inside each Yolkies egg is a yummy candy slime 'egg white', gummy yolk and an adorable egg yolk character with surprise costume! With 12 Yolkies to collect in season 1, there will be an assortment of holiday Foodie Surprise Yolkies rolling out throughout the year. $4.99 each at Target and Amazon.

Calico Critters
This Easter, you are invited to enter Calico Village to enjoy the beloved Hopscotch Rabbit Family, the adorable Nursery Tuxedo Cat and Marshmallow Mouse Triplets and the Hopscotch Rabbit Twins. All critters come dressed in lovely floral colors to help set the Easter tone! In addition, Calico Critters offer beautiful environments, like the Red Roof Cozy Cottage and Sweet Raspberry Home to help build on every child's imagination. Collect and connect each set for expanded fun! Prices vary, available on Amazon and in most stores.
Aquabeads
Aquabeads is the Original Water-Activated Bead Craft Kit! Since 2004, children throughout the world have created millions of Aquabeads designs. Create your favorite Trolls characters with this fun playset – Poppy, Biggie and more! This set includes over 700 jewel and solid beads in 20 colors/styles, layout tray, sprayer, 2 double-sided template sheets & instructions. Everything you need to create fun designs for hours! Just spray your creations with water and the beads stick together, like magic without heat and ironing. For children ages 4 and up.
Lots of fun designs like Trolls and Frozen can be found on Amazon.
Cry Babies Magic Tears Fantasy
The Cry Babies are now mini! They come with a bottle to give them water. Feed the baby her bottle, squeeze her belly and she will cry tears. Open your Magic Tears Bottle House capsule to reveal which character you have received! There are 12 to collect plus a very special rare character! Some capsules contain special gold accessories! Available on Amazon.
DC Zoom Graphic Novels
Get your kids hooked on reading with these fun DC Zoom Graphic Novels! There are tons to choose from featuring their favorite superheroes — and maybe even a few they have not heard of yet. New books include Lois Lane and the Friendship Challenge and Anti Hero. My girls love the DC Super Hero Girls ones! These make the best Easter gifts because they encourage reading.
Check out our must have DC Zoom Graphic Novels here — and all the DC Zoom Graphic Novels available on Amazon.
Tubbz
These mini collectibles are an excellent gift option for the cosplay fan in your life that they are sure to love! Collect all of these officially licensed collectible characters from all of your favorite series to expand your cosplay fandom. The included display cases help protect and keep your collectibles in mint condition while you display them, so you can enjoy them for years and years to come. Available on Amazon.
Compound Kings Butter Swirlz
The new butter compound by Compound Kings will be sure to entertain kids this Spring season! Available in bright green and white combination, matched with a terrific sweet apple scent, this item is sure to provide hours of endless squishy fun! MSRP: $4.99, ages 4+. Available at Walmart.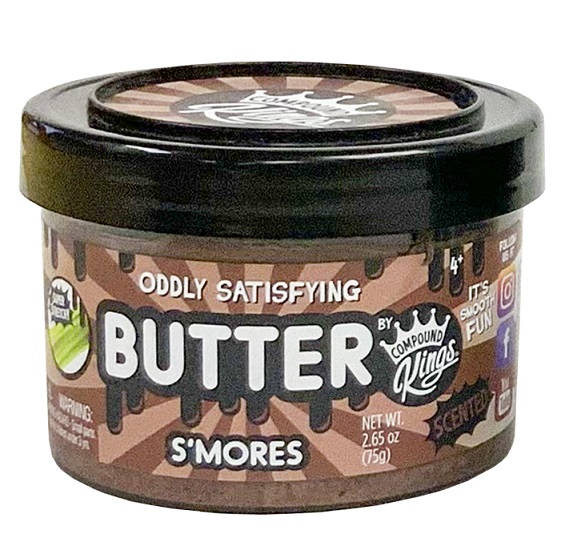 Compound Kings Butter
New Butter compound by Compound Kings now available in trendy scents to get you feeling ready for summer! This premade compound smells just like your summer favorites! Scents include fruit punch and mint chocolate chip! MSRP: $4.99, ages 4+. Available at Target and Walgreens (in stores only).
OMG Jewelry Surprise Balloon Singles
The Oh My Goo, Single Pop balloons are bring and cheerful, each on a stick, are offered in a variety of three great colors- your choice of pink, purple, and blue. Right on trend, these fun pops are filled with glitzy slimy compound and a surprise piece of jewelry! Children will be surprised with a variety of trendy rings and bracelets. Crack open each balloon to reveal your fun jewelry surprise. Collect them all! MSRP: $2.88, ages 4+. Available at Walmart.
Foodie Surprise Candy Slime Egg
OK, OK — so this one has candy in it. But it also has slime in it, which my kids love! Candy slime where kids can mix-in things like edible glitter, pastel pearls, and more. In my mind, this is an arts and crafts activity as much as it is candy. And arts and crafts gifts make great Easter gifts! With 6 Candy Slime Eggs in Season 1, there will be an assortment of holiday slime eggs rolling out throughout the year. $2.99 each at Amazon and Walmart.