When I found out that Why Don't We was coming to the New York State Fair during the 8 Letters Tour, I knew that I had to go — and take my daughters. Boy am I glad we made it out there, because it was a fantastic show!
I was a big fan of *NSYNC growing up. OK, let's be honest here. I still am. I have so many great memories of my mom driving me all over creation to see them in concert, and I wanted to give that to my girls. They both really like Why Don't We — and Ivy, my 8 year old, LOVES Why Don't We. She has started having little crushes and so of course some of these boys make her list. Although they are a tad old for her, sorry girl.
They Sang So Many Songs
For a free concert at the fair, these boys sure sang a lot of songs! I don't know them all, but I do know a lot of them. And so I was excited to sing along and dance around. There are only so many more years that my girls will allow this without me being too embarrassing so I took advantage.
"I Don't Belong In This Club" is hands down my favorite Why Don't We song, so I was thrilled they sang it. Of course they saved it for last. I took a video of them dancing and me screaming all the words, so enjoy that! Ha.
It Was So Much Fun!
Honestly it brought me right back to my *NSYNC days. A group of 5 guys up on stage dancing and singing their hearts out. Screaming teen and tween girls in the audience. And when they did a pelvic thrust? Forget it. I thought every little heart in that audience was going to explode. It was fun to kind of be on the other side of it for once.
Really though, these guys brought it. They had great choreography, and really played to the crowd. They are talented and I wouldn't be surprised if they are around for a long time. Prices are only going to go up to see them, so take advantage while you can!
Photos From The Show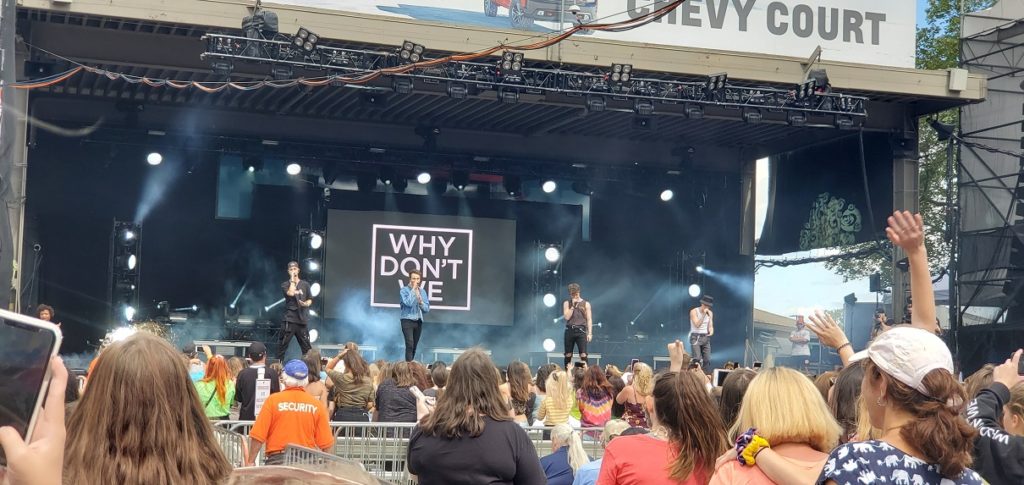 Find out if Why Don't We is playing near you and if they are, go! Trust me, you are going to have a great time!