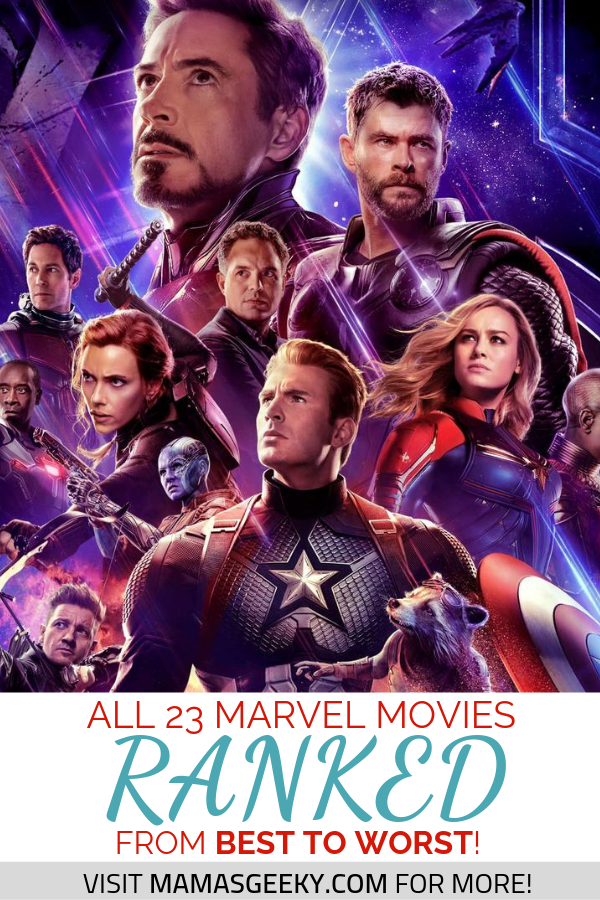 You guys have been asking me for a while now to give you my list of MCU movies ranked — and so I am finally sitting down to do it for you. Honestly, this is hard for me. Because it can change any given day. It depends on what I feel like watching, and quite honestly, what I watched recently. But as you know I am a massive Marvel fan. So here is my list of all 23 Marvel Cinematic Universe movies ranked (for today).
My Ranking
Avengers: Endgame – I think this is my favorite MCU movie because it perfectly ties EVERYTHING together.
Guardians of the Galaxy – If you didn't know this was going to be toward the top of my list, you don't know me very well.
Avengers: Infinity War – This movie might be heartbreaking, but it is still amazing.
Thor: Ragnarok – I love how Guardians-esque this movie is. Taika is a genius.
Spider-Man: Far From Home – I love Tom Holland – he is the perfect Peter Parker and Spider-Man. Plus, that end credit scene!
Captain Marvel – Anything with Skrulls in it has me sold.
Iron Man – The one that started it all!
Captain America: Winter Soldier – Bucky with long hair and a metal arm. Yes please!
Spider-Man: Homecoming – This was the perfect first solo movie for Tom Holland!
Ant-Man and the Wasp – I loved how girl power this movie was!
Black Panther – This movie is EVERYTHING! Killmonger is one of my favorite villains!
Captain America: Civil War – I loved the Civil War run in the comics, and this movie did it perfectly.
Guardians of the Galaxy Vol. 2 – I love the Guardians. You all know this. And this one holds a special place in my heart because I was on the set.
Ant-Man – Paul Rudd is pure perfection.
Doctor Strange – This movie is really growing on me. I am starting to LOVE it!
Avengers: Age of Ultron – Ultron is one of my favorite villains – ever!
Captain America: The First Avenger – Super tiny Chris Evans is so funny looking!
Thor – Love getting to know Chris Hemsworth as Thor in this movie!
Iron Man 2 – Whiplash was… not the best.
Marvel's The Avengers – I love how they all come together in this one.
Iron Man 3 – Really not my favorite Iron Man.
Thor: The Dark World – I mean, it isn't a HORRIBLE movie.
The Incredible Hulk – It is so hard to see Hulk NOT played by Mark Ruffalo.
So there you have it, how I list all 23 MCU movies ranked from best to worst! Although I am positive the order will be different tomorrow.