There is nothing like cuddling up with loved ones on the couch and popping in a movie around the holidays. Here are a list of 25 favorites that myself and my family picked out. Enjoy! This guide contains affiliate links.
Have a product you want featured in one of our gift guides? Find out more about how to submit them for consideration here.
1. Daniel Tiger Winter Wonderland
It's a snowy day in the Neighborhood, and Daniel Tiger can t wait to play outside! Miss Elaina comes over to Daniel s house. Before they can go outside, Daniel learns that playtime in the snow is only grr-ific when he wears clothes that will keep him warm. Daniel also discovers that when an activity such as sledding or ice skating seems scary and hard to do, he can try a little bit at a time and then it's easier!
Purchase on Amazon.com
2. Sony Pictures Animation Collection
Fun and collectible limited edition Sony Pictures Animation lunchbox gift set! Includes 10 Sony Pictures Animation favorites, all packaged within a usable lunchbox! Titles include: Surfs Up, The Smurfs, The Smurfs 2, Open Season, Cloudy with a Chance of Meatballs, Cloudy with a Chance of Meatballs 2, Hotel Transylvania, Hotel Transylvania 2, Arthur Christmas, The Pirates! Band of Misfits!
Purchase on Walmart.com
3. Wild Kratts: A Creature Christmas
It's Christmas time and the Wild Kratts are taking a break to celebrate. They are beginning to open their presents when the Wild Kratts alarm sounds. The villains, Zach Varmitech, Gaston Gourmand, and Donita Donata are kidnapping all the baby animals to turn them into Christmas ornaments! Christmas will have to wait as the Wild Kratts spring into action to save their friends and get them home for Christmas.
Purchase on Amazon.com
4. Snowtime
To amuse themselves during the winter school break, the kids in a small village decide to have a massive snowball fight. Luke and Sophie, both 11 years old, become the leaders of the opposing sides. Sophie and her cohort defend an elaborate snow fort against the assault of Luke's horde. Whichever side occupies the fort at the end of the winter break, wins. But what starts out as pure youthful fun and enthusiasm deteriorates into a more serious conflict. Joy is restored when all the children decide to attack the fort rather than each other and happily destroy every last bit of the snow fort. A traditional story beloved for generations, Snowtime! is based on The Dog Who Stopped The War and features a stellar voice cast; including Sandra Oh (Grey's Anatomy) and Ross Lynch (Austin & Ally).
Purchase on Amazon.com
5. Peppa Pig: Sun, Sea, & Snow
Peppa and her friends and family are looking forward to a trip to the seaside where they can make sandcastles, but when they arrive at the beach there's too much snow!
Purchase on Amazon.com
6. Shaun the Sheep: We Wish Ewe A Merry Christmas
When the Farmer and Bitzer go to a country fair, Shaun decides to tag along for the fun and finds himself crafting a brilliant plan to bring three exotic and witty llamas back home to Mossy Bottom Farm. Shaun is delighted with his new friends and believes that the llamas are just what the flock needs to spice up their lives. At first everything is fun, exciting, and silly, but soon their new llama roommates get a bit too wild in their new home.
Purchase on Amazon.com
7. Stick Man
From the makers of The Gruffalo and Room on the Broom, and based on the beloved children s classic written by Julia Donaldson and illustrated by Axel Scheffler, this beautifully animated film tells the tale of Stick Man and his epic adventure across the seasons. He gets thrown into a river, escapes from a swan s nest, and even ends up on top of a fire. Will he ever get back to his family tree in time for Christmas?
Purchase on Amazon.com
8. Kate & Mim-Mim Christmas Wish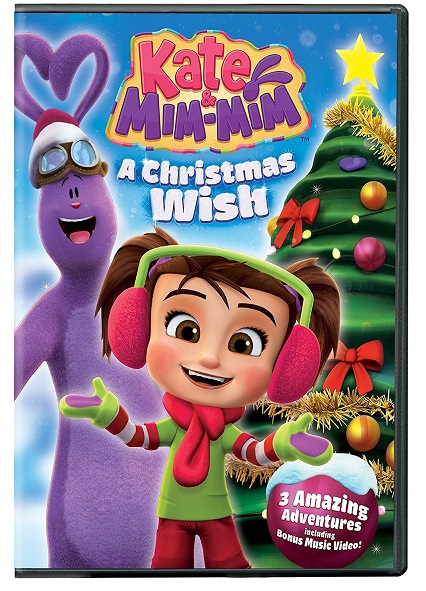 In the story "A Christmas Wish," which is a special extended adventure, Tack's letter launcher is used to send Christmas wishes to Santa. After blasting off for the North Pole, the letter launcher malfunctions, landing in the wrong location and destroying the beautiful Christmas tree Kate and Mim-Mim decorated with their Mimiloo friends. With their Christmas tree ruined and no way to send their letters to Santa, can Christmas be saved? In addition to "A Christmas Wish," this DVD features two more exciting tales in which Kate and Mim-Mim go snow bowling, get stuck inside an ice cave, and try to find their friend Chilly in order to prevent the Winter Waterfalls from melting.
Purchase on Amazon.com
9. Teletubbies: Snowball
It's a cold day in Teletubbyland and snow falls on the Teletubbies! Join Tinky Winky, Dipsy, Laa-Laa and Po as they find big snowballs, dance with a snowman and watch children make a caterpillar out of snow. Contains six brand new episodes including 'Snowball'.
Purchase on Amazon.com
10. Santa's Apprentice/Magic Snowflake
Santa's Apprentice: Santa doesn't want to retire, but rules are rules and he must train someone to replace him. The lucky winner, to be chosen from among millions of children, must be named Nicholas, be an orphan and have a pure heart. On the other side of the planet, there is a little boy who is a perfect match, but his lack of self-confidence and fear of heights make him a poor contestant. Will Santa agree to step down, and help his apprentice take his place?
Magic Snowflake: The new Santa is a seven year-old boy. Will his first Christmas on the job be a success? This time it's official: Nicolas is the new Santa — a big job for someone who's only seven years old. Two days before his first big night, Nicolas has to handle a major crisis: the magic of Christmas seems to be disappearing around the world and it looks like it's Nicolas's fault. Indeed, thinking he needed to act like an adult to meet his new responsibilities, Nicolas contracted the illness of those who want to grow up too fast: Grown-up-allosis. The Council of Retired Santas is forced to relieve him of his duties and appoint an experienced Santa who will be able to manage the delivery in time. To get his job back, Nicolas must regain the innocence, freshness and carefree attitude of his childhood.
Purchase on Amazon.com
11. Rudolph the Red-Nosed Reindeer
Commemorative Golden Anniversary Package with Foil and Embossing Digitally Remastered Feature All-New Content Rudolph Unwrapped 50 charming gifts about the beloved holiday special Rudolph Video Pop Up Book. A modern twist on the holiday pop-up book Sam the Snowman s Sing-Along Spectacular. Brand new sing-alongs of the most famous Rudolph songs Learn to Draw. Get step-by-step tutorials on how to draw your favorite characters.
Purchase on Amazon.com
12. Frosty the Snowman & Frosty Returns
Look at Frosty Go! What's become a bigger holiday tradition than building a snowman? Watching the original Christmas classic, Frosty the Snowman! Grab your scarf, bundle up, and get ready for the incredible adventure of a magical snowman who's got enough personality to win over the whole family. You can't go wrong with Frosty!
Purchase on Amazon.com
13. Dr. Seuss' How the Grinch Stole Christmas
Every who down in Who-ville likes Christmas a lot, but the Grinch who lived just north of Who-ville did NOT! So the cuddly as a cactus Grinch (with termites in his smile and garlic in his soul) tries to wipe out Christmas for the cheerful Who-villains, only to discover: maybe Christmas, he thought doesn't come from as store. Maybe Christmas perhaps means a little bit more! Magnificently narrated by Boris Karloff and animated by cartoon legend Chuck Jones, it's an award-winning Who-roast-beast-feast of a holiday classic!
Purchase on Amazon.com
14. Santa Claus Is Comin to Town
Where does Santa's suit come from? Why does he slide down the chimney? Why does he live at the North Pole? The answers to all these questions and the origins of our favorite holiday traditions are revealed in this delightful classic about Kris Kringle, the world's most famous gift giver.
Purchase on Amazon.com
15. The Little Drummer Boy
This story has touched the hearts of families everywhere. In this holiday classic, the true spirit of Christmas is revealed when a lonely orphan stumbles upon the birth of the baby Jesus and affirms what the holidays are really about giving and love. Featuring a beautiful soundtrack by the Vienna Boys Choir, this timeless tale of generosity makes the perfect addition to your holiday collection.
Purchase on Amazon.com
16. Charlie Brown Christmas 50th Anniversary
Christmastime is here. Happiness and cheer. And for Peanuts fans everywhere, it just wouldn't be Christmas without this classic holiday delight. Christmas lights may be twinkling red and green, but Charlie Brown has the Yuletide blues. To get in the holiday spirit, he takes Lucy's advice and directs the Christmas play. And what's a Christmas play without a Christmas tree? But everyone makes fun of the short, spindly nevergreen Charlie Brown brings back – until the real meaning of Christmas works its magic once again in this Remastered Deluxe Edition with Improved Picture and Audio.
Purchase on Amazon.com
17. The Polar Express
The Polar Express is the story of a young boy who on Christmas Eve boards a powerful magical train headed to the North Pole and Santa Claus's home. What unfolds is a journey of self-discovery, which shows the boy that the wonder of life never fades for those who believe. This beloved Christmas movie on DVD was directed by Robert Zemeckis and features the voice of Tom Hanks in many of the lead roles.
Purchase on Amazon.com
18. Twas The Night Before Christmas
For some unexplained reason, letters to Santa Claus are being returned to the children of Junctionville. It seems some sour soul has angered St. Nick, calling Christmas "a fraudulent myth!" The skeptical rodent Albert Mouse has to be brought to his senses "and let up a little on the wonder why." How Albert is persuaded to change his tune paves the way for Santa's jolly return to Junctionville — and the joyous finale of this charming animated fable inspired by Clement Moore's poem. Joel Grey, Tammy Grimes, John McGiver and George Gobel are featured voices.
Purchase on Amazon.com
19. The Santa Clause
Superstar comedian and Golden Globe(R) winner Tim Allen shines bright in Disney's magical, larger-than-life hit comedy that "People" magazine dubbed "The most playfully amusing, inventive cinematic … fable in several decades!" Now in this all-new special edition DVD release, your entire family can enjoy never-before-seen bonus footage, interactive games, and more, making this original holiday classic a joyful new experience!
Purchase on Amazon.com
20. A Christmas Story
A Christmas Story is a Christmas classic on DVD that tells the story of nine-year-old Ralphie (Peter Billingsley). In the movie, Ralphie wants only one thing: a Red Ryder Range 200-Shot BB gun. When he mentions it at the dinner table, his mother's immediate reaction is that he'll put his eye out. He then decides it's the perfect theme for a report for his teacher, but her reaction is like his mother's. He fantasizes about what it would be like to be Red Ryder and catch the bad guys. When the big day arrives he gets lots of presents under the tree including a lovely gift from his aunt that his mother just adores. But what about the BB gun?
Purchase on Amazon.com
21. Mickey's Christmas Carol
Ring in the holidays with a new 30th Anniversary Special Edition of Mickey's Christmas Carol on DVD plus Digital Copy. Disney's timeless tale shines like never before with fun, fully-restored classic holiday shorts. Make the season merry as Mickey, Goofy, Donald and all their pals star in a heartwarming retelling of Dickens' unforgettable holiday tale. Ebenezer Scrooge (Scrooge McDuck) is far too greedy to understand that Christmas is a time for kindness and generosity. But with the guidance of some wise ghosts (Goofy and Jiminy Cricket) and a bunch of newfound friends, Scrooge learns to embrace the spirit of the season. Share this wonderful holiday treat with the whole family.
Purchase on Amazon.com
22. Elf
This hilarious Christmas film tells the tale of a young orphan child who mistakenly crawls into Santa's bag of gifts on Christmas Eve and is transported back to the North Pole and raised as an elf. Years later Buddy learns he is not really an elf and goes on a journey to New York City to find his true identity.
Purchase on Amazon.com
23. Miracle on 34th Street
In this Christmas classic, an old man going by the name of Kris Kringle (Edmund Gwenn) fills in for an intoxicated Santa in Macy's annual Thanksgiving Day parade. Kringle proves to be such a hit that he is soon appearing regularly at the chain's main store in midtown Manhattan. When Kringle surprises customers and employees alike by claiming that he really is Santa Claus, it leads to a court case to determine his mental health and, more importantly, his authenticity.
Purchase on Amazon.com
24. Grandma Got Run Over By A Reindeer
Based on the hit song that became a worldwide holiday phenomenon, Grandma Got Run Over by a Reindeer is a wild and wacky episode the will knock you off your feet! When his beloved Grandma appears to be missing on Christmas Eve, young Jake Spankenheimer goes on a misadventure of a lifetime to try to prove that Santa is indeed real. With his spirit, smarts and determination, Jake must outmaneuver his greedy cousin Mel and the powerful businessman Austin Bucks to the disbelief of this doting parents, rebellious sister and goofy Grandpa. All the while, it is up to Jake to save Santa from a fretful fate.
Purchase on Amazon.com
25. Ice Age: A Mammoth Christmas Special
Have you herd the news? Your favorite sub-zero heroes are back in an all-new holiday adventure for the whole family! When Sid accidentally destroys Manny's heirloom Christmas rock and ends up on Santa's "naughty list," he leads a hilarious quest to the North Pole to make things right and ends up making things much worse. Now it's up to Manny and his prehistoric posse to band together and save Christmas for the entire world!
Purchase on Amazon.com