From Trainspotting to Star Wars, here are 9 essential Ewan McGregor performances to help you prepare for his return as Obi-Wan Kenobi on Disney+.
Ewan McGregor will soon be back in action in full Jedi glory this month. His return as Obi-Wan Kenobi is highly anticipated amongst fans – and rightly so! While a beloved (and essential) member of the Star Wars family, the Scottish treasure has been making his mark on the big screen for nearly three decades, and we still can't keep our eyes off him.
McGregor seems to be drawn towards iconic characters. In this live-action/animated Disney adaptation, he plays the now grown-up Christopher Robin who reunites with his stuffed friends after losing touch with his childhood.
Reminiscent of Steven Spielberg's Hook, Christopher Robin taps into the melancholy of youthful optimism. Ewan McGregor's performance hits a bullseye right in the feels; he is a symbol of life moving on too fast, and that every now and then, it's important to take that step back and breathe in the world around us. Adulthood can get in the way of genuine enjoyment, but the little paw of Pooh will always be there to guide us back on track.
SPC John "Grimesey" Grimes – Black Hawk Down (2001)
Large ensemble casts can sometimes make it difficult for a star to flourish, but McGregor finds himself sticking out like a sore thumb, in the best way of course.
He only has a few minutes of screen time compared to his fellow co-stars, and yet that's all he needs to deliver the gritty reality of war. Plucked out from the midst of his Star Wars introduction, which received a mixed response, Ewan McGregor solidifies his career as new recruit SPC John Grimes.
Edward Bloom – Big Fish (2003)
Tim Burton is the expert of all things weird and wonderful, and in 2003, McGregor fell into his bizarro world with a heartwarming story about a father and son.
Ewan McGregor shares his role with big screen legend Albert Finney as the film jumps from present day to the 1940s. Big Fish is magical in every sense of the word; the character of Edward Bloom is full of charisma and allure that makes it so easy to get wrapped up in his tales of a life once lived. The movie strives to touch audiences deep in their hearts, and it does so with flying colors.
Rodney Copperbottom – Robots (2005)
Robots flies under the radar way too often. It strikes comedy gold. We've got Robin Williams, Jennifer Coolidge, and Mel Brooks bouncing off one another to perfection, and then Ewan McGregor swoops in to add a tad of hopeful charm – which is surprisingly contagious for an animated feature.
Is there anything McGregor can't do? Apparently not, because even as a cartoon robot he is bursting with joyful energy. Standing ground alongside cinema's best comic actors is bound to be a daunting experience, but McGregor proves time and time again that he's a natural and takes us through Rodney's journey with enthusiasm and passion.
Teaming up with future MCU star Tom Holland, the duo give performances of a lifetime as the father and son desperate to reunite following the 2004 Indian Ocean tsunami.
The Impossible rises to a touching height through its use of authentic locations and scenery, thrusting viewers straight into the heart of the story. You can truly believe Ewan McGregor's anguish in his role; the likelihood of finding his family again is the equivalent to a needle in a haystack. The Impossible is as inspiring as it is heartbreaking. Between McGregor, Holland, and Naomi Watts, it's hard to say who pulls at the heartstrings more.
Whether you love them or hate them, the Star Wars prequels pack a hell of a sucker punch, especially Revenge of the Sith. McGregor fully embraces Obi-Wan's transition towards Alec Guinness' portrayal of the Jedi master in A New Hope.
As the relationship between Anakin (Hayden Christensen) and Obi-Wan deteriorates to nothing, Ewan McGregor strings together a heartbreaking performance which he holds throughout the film's duration. He delivers a mix of emotions; from hatred to despair, even the toughest of fans can't deny the glum dejection at (finally) seeing two brothers in arms go head to head.
There's a lot to love about this sequel adaptation of Stephen King's novel to The Shining. Master of horror Mike Flanagan takes the reigns behind the lens while McGregor jumps into the shoes of an adult Danny Torrance. Flanagan's vision elevates the initial premise surrounding the infamous Overlook hotel, adding originality with elements of poignancy and delving deeper into its themes.
Meanwhile, McGregor grasps onto vulnerability and reservation as he lives the life of innocence long lost; Danny is deeply rocked by the events of his childhood, and McGregor toys with this all through his performance; his angst is heavy, through the work of Flanagan and McGregor combined, we can feel Danny's arc come full circle.
If the accent isn't enough to leave you swooning, McGregor will certainly impress with his melodious flick of the tongue. Moulin Rouge is a most extravagant affair which highlights that McGregor's abilities go far beyond acting and secures his spot as a talented showman.
His range is admirable; making the switch from power ballads to rock classics has never looked more effortless, and McGregor really shines with his heartfelt cover of Elton John's 'Your Song.' Moulin Rouge is a love story for the ages. He and Nicole Kidman are captivating together, managing to bring tears to our eyes with less than a minute's notice.
Mark 'Rent Boy' Renton – Trainspotting (1996)
McGregor found his big break with Danny Boyle's 1996 black comedy-drama Trainspotting. His performance as drug addict Mark 'Rent Boy' Renton is arguably the Perth-born actor's greatest role to date; Renton's story is equal parts compelling, hilarious, and tragic. Boyle's depiction of Scottish culture along with the harrowing effects of drug use is powerfully effective and authentic.
Trainspotting is a highly entertaining watch, yet it is brutal in contrasting the temptation of drugs and alcohol with the horrors of addiction. McGregor might steal your heart as the cheeky chap from down the road, but Rent Boy will easily be the one to break it all for the hit of a high.
About Obi-Wan Kenobi
The story begins 10 years after the dramatic events of "Star Wars: Revenge of the Sith" where Obi-Wan Kenobi faced his greatest defeat—the downfall and corruption of his best friend and Jedi apprentice, Anakin Skywalker, who turned to the dark side as evil Sith Lord Darth Vader.
The series stars Ewan McGregor, reprising his role as the iconic Jedi Master, and also marks the return of Hayden Christensen in the role of Darth Vader. Joining the cast are Moses Ingram, Joel Edgerton, Bonnie Piesse, Kumail Nanjiani, Indira Varma, Rupert Friend, O'Shea Jackson Jr., Sung Kang, Simone Kessell and Benny Safdie.
Start streaming Obi-Wan Kenobi the limited series May 25 on Disney+.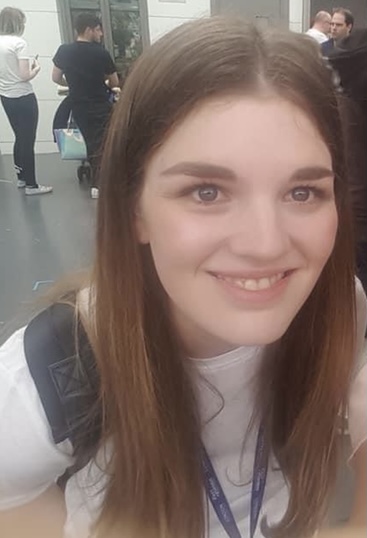 Jenna is a Film and Visual Culture graduate and freelance entertainment writer from Scotland. Her passion lies with TV and horror, where she will take any opportunity to geek out. Jenna spends her free time binging shows and looking to be spooked.