Thor: Love and Thunder has Taika Waititi written all over it. It's hilarious and emotional, but also goes to a very dark place.
Thor: Love and Thunder is quite literally told through Taika Waititi's voice — as Korg narrates through the major moments of the film. This movie just screams Taika Waititi right from the very start, all the way until the end of the second end credit scene. Probably the funniest movie in the Marvel Cinematic Universe, Thor: Love and Thunder is a bright spot in an otherwise darkened MCU Phase 4. That said, it certainly has its emotional and creepy moments, especially when the terrifying Gorr The God Butcher (Christian Bale) unleashes everything he's got.
For MCU fans who enjoyed Thor: Ragnarok, there is a great chance that you will enjoy Thor: Love and Thunder too. This one doesn't feel like it fits into the grief and depression theme that the MCU has been going for in Phase 4, at least not completely. While it does cover some heavy topics, it does so in a way that is bright, colorful, and fun — all set to a rocking soundtrack.
Jane Foster Is Back
In the interest of full disclosure, Natalie Portman as Jane Foster wasn't a favorite of this writer. Not to knock her, but she just never worked as that very important character in Thor's life. She is back in this movie though, but have no fear, she has changed since we last saw her (and we aren't just talking about her outfit).
Natalie Portman seems to have worked hard to correct the mistakes of the Jane in the past. She isn't perfect in this movie, but she is leaps and bounds above her previous appearance. The chemistry between Thor and Jane feels more realistic, and she brings a lot of emotion to the story told surrounding her.
Jane is actually quite funny in Thor: Love and Thunder, which helps her to really fit in with Valkyrie. The two of them have a great relationship — some might say better than her and Thor. They provide a lot of the comic relief and are total friend goals.
Christian Bale as Gorr The God Butcher
There is no doubt that Christian Bale is one of the most talented actors in Hollywood, so it was only a matter of time before he joined the MCU. He does so as the infamous villain, Gorr the God Butcher, and trust this critic when she says he is absolutely terrifying. He throws his heart and soul into this role from the very first moment we see him on screen, and he somehow gets better and better as the story goes on.
While there are certainly other emotional moments in the Thor: Love and Thunder, the most emotional is Gorr's backstory. It starts the movie off on a really dark note, and each time Bale is on screen it gets darker and darker. He, quite literally, gets his power from the shadows and the Necrosword, which adds a truly creepy element to the film.
Doctor Strange in the Multiverse of Madness fits more into the horror genre than Thor: Love and Thunder, however the fight scenes with Gorr capture the same dark and terrifying elements.
How Is Zeus?
Christian Bale isn't the only seasoned actor joining the MCU in Thor: Love and Thunder, Russell Crowe makes his appearance as Zeus, and he is a welcome addition. Crowe captures the selfish side of Zeus, and make for some absolutely hilarious moments and back and forth banter. He isn't in the movie as much as fans might like, but there are some shocking moments surrounding him.
Parents, if you don't want to explain what an orgy is to your kids, this might be the time to take them to the bathroom, or cover their ears.
All Hail King Valkyrie
Tessa Thompson was one of the best parts of Thor: Ragnarok, and the same can be said about Thor: Love and Thunder. Fans will get to see another side of her, but also go on a journey with her where she explores who, and why, she is. Her chemistry with Portman is a complete joy to watch, and it is nice that these two finally get tie together on screen in the MCU.
Thompson is a complete badass too. Without spoiling anything, she gets to play around a lot more on the battlefield and that is where she truly shines.
Is Thor: Love and Thunder better than Thor: Ragnarok?
Well, this critic is a bit bias when it comes to anything involving the Guardians of the Galaxy. Considering their involvement in this film, the answer is a resounding yes.
This answer is not knocking Ragnarok in the slightest, just praising the inclusion of one of the best teams in the galaxy, and their humorous chemistry with Thor. While the Guardians separate from Thor fairly early on in the film, the time that they have together is the perfect start to the movie, and really sets the tone for what is to come.
Is Thor: Love and Thunder Chris Hemsworth's Last Movie?
Is Thor: Love and Thunder set up to be Chris Hemsworth's last MCU appearance? Well, this is hard to say. While it certainly feels final, Marvel has found ways in the past to continue stories that seem to have an ending. Of course, Hemsworth would be welcomed back again with open arms by fans, as he has done a great job portraying Thor over the years.
So basically there is no clear answer here. Never say never.
Overall Thoughts On Thor: Love and Thunder
Thor: Love and Thunder screams Taika Waititi. It is clear that Marvel completely trusted him when it comes to this film, and let him do anything that he wanted to — which is why it works so well.
There are epic battles, shockingly massive sets, visually stunning elements, and the funniest goat joke that really should have gotten old, yet somehow gets funnier and funnier. This movie is an absolute blast and a complete joy to watch. It is hilarious, but also touches on some heavy themes and is unafraid to go dark.
With fantastic newcomers and fan favorites returning, Thor: Love and Thunder really is something special. It is just about two hours long, but it flies by thanks to the fast pace and captivating story. There are a few faults such as underused characters, but nothing that takes away from the film as a whole. Throw in the incredible soundtrack and this is the must see, epic space adventure, romantic comedy of the summer.
That said, Thor: Love and Thunder isn't for everyone. Those who don't enjoy the more lighthearted Marvel movies, and who took issue with Thor: Ragnarok, are probably not going to be thrilled with the choices made in this movie. While there are times that it goes dark, particularly with Jane's storyline and Gorr moving through the shadows, the majority of the movie is bright and humorous.
There are two end credit scenes, one of which is going to blow fans' minds with a shocking (yet perfect) casting choice. So stay put when those credits start to roll.
Rating: 4.5 out of 5
About Thor: Love and Thunder
The film finds Thor (Chris Hemsworth) on a journey unlike anything he's ever faced – a search for self-discovery. But his retirement is interrupted by a galactic killer known as Gorr the God Butcher (Christian Bale), who seeks the extinction of the gods.
To combat the threat, Thor enlists the help of King Valkyrie (Tessa Thompson), Korg (Taika Waititi) and ex-girlfriend Jane Foster (Natalie Portman), who – to Thor's surprise – inexplicably wields his magical hammer, Mjolnir, as the Mighty Thor. Together, they embark upon a harrowing cosmic adventure to uncover the mystery of the God Butcher's vengeance and stop him before it's too late.
Thor: Love and Thunder hits theaters on July 8th!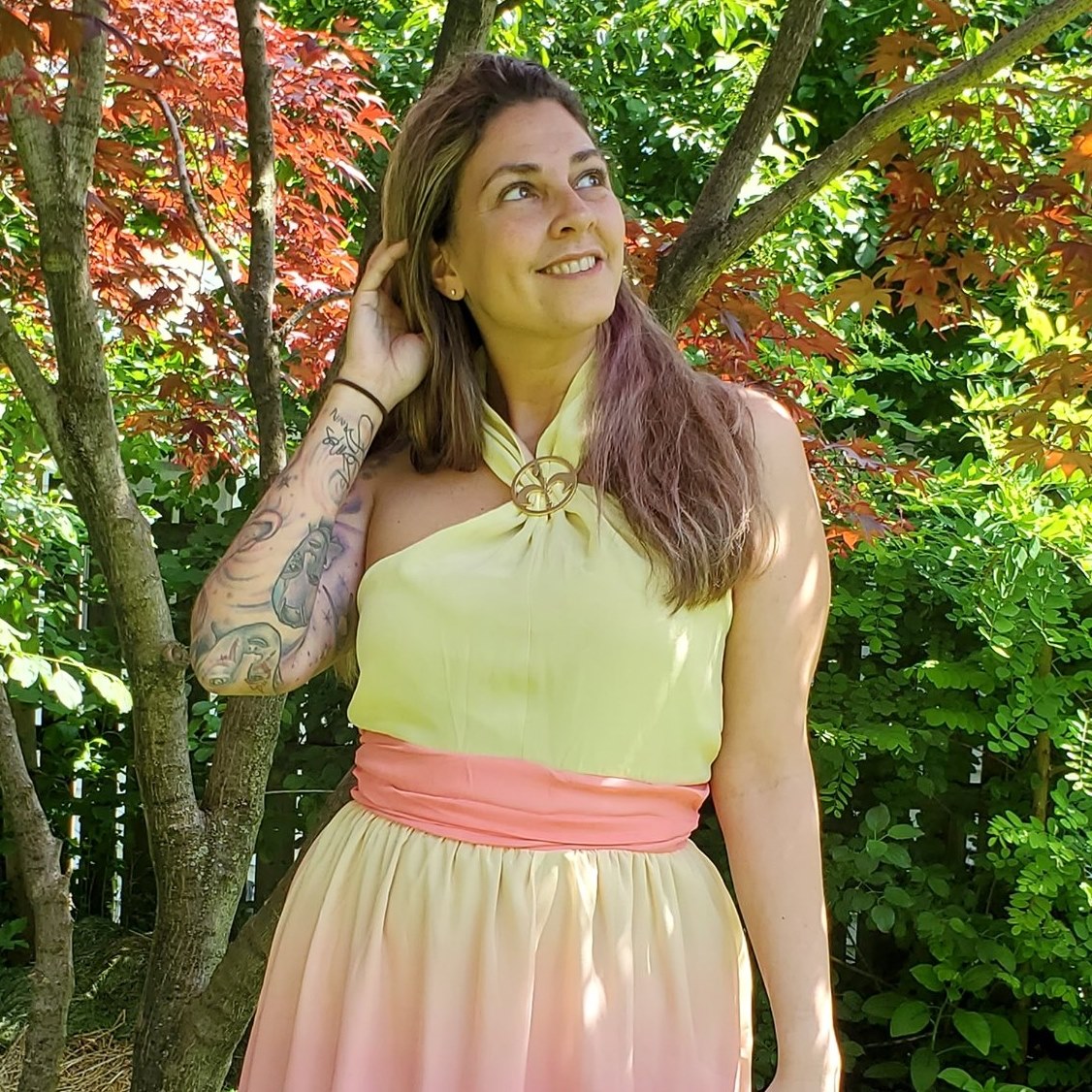 Tessa Smith is a Rotten Tomatoes Tomatometer-approved Film and TV Critic. She is also a Freelance Writer. Tessa has been in the Entertainment writing business for almost ten years and is a member of several Critics Associations including the Critics Choice Association, Hollywood Critics Association, and the Greater Western New York Film Critics Association.