I recently chatted with the cast of the new Nickelodeon TV Show, That Girl Lay Lay, which premieres on September 23rd at 7:30pm — That Girl Lay Lay, Gabrielle Nevaeh Green, Peyton Perrine III, & Caleb Brown!
That Girl Lay Lay is coming to Nickelodeon and it is sure to be a hit! In this show Sadie wishes on a shooting start that Lay Lay would come out of the app she uses and be her friend — and it comes true. The two girls get up to a lot of mischief and adventures along the way.
During the interviews we spoke with That Girl Lay Lay, Gabrielle Nevaeh Green, Peyton Perrine III, and Caleb Brown, and it was very clear that they have a lot of fun together on and off the set. We discussed what apps they would create, who they would want to see come out of them, on set bloopers, and so much more.
That Girl Lay Lay told a hilarious story about how she slipped and fell on set and was covered in goo, while Gabrielle Green totally told one about Lay Lay falling asleep on the set! They all talked about what drew them to their show and how they relate to their characters. Be sure to check out the video above to get all the details, and tune into That Girl Lay Lay on Nickelodeon!
That Girl Lay Lay
Lay Lay stars as Lay Lay, a virtual hype avatar who magically comes to life after Sadie wishes on a star. She's the embodiment of fierceness, bringing optimism, magnetism and style to everything she does. Now a real girl, Lay Lay wants to experience everything that comes with being a real teenager
Born in Houston, That Girl Lay Lay is a social media star and hip-hop prodigy who has taken the world by storm with her infectious energy and sharp rhymes. She has been writing, producing, rapping and singing since the age of five, and at age 11 became the youngest female rapper to sign a recording deal and create her own imprint, Fresh Rebel Muzik/EMPIRE.
Her music videos garner millions of views, with her smash hits "Mama" and "Supersize XL" having amassed over 100 million views on YouTube to date between the two.
Gabrielle Neveah Green
Gabrielle Nevaeh Green stars as Sadie, a teen who wants to make an impact on the world. She's smart, funny and creative, but isn't one to take many risks and often has a difficult time making her mark. With Lay Lay by her side, she's learning how to be more confident, break out of her shell and become the star of her own life.
Born in Miami, Gabrielle first joined the Nickelodeon family in 2019, co-starring in season 11 of All That. She has since gone on to star in the network's remotely-produced game show Unfiltered, hosted by Jay Pharoah, co-host of the NFL Wild Card Game on Nickelodeon halftime show, as well as guest star on Danger Force and Group Chat.
She released her debut single "Radio" in January 2021 and can soon be heard as a series regular in HBO Max's upcoming show Gremlins: Secrets of the Mogwai. Previously, she has appeared in ABC's Speechless and the short film Lying Together. When not acting or singing, she also practices her standup comedy routines, including performing at the legendary Ice House Comedy Club in Pasadena, Calif.
Peyton Perrine III
Peyton Perrine III stars as Marky, Sadie's nosy little brother. He has an entrepreneurial mindset and is always ready with a business proposal or investment opportunity to pitch. He's often the key witness to Sadie and Lay Lay's escapades, which usually leads to him getting paid for his silence.
A Los Angeles native who's no stranger to the world of entertainment, Peyton began his on-screen career in 2018 acting with his parents, Lony'e Perrine and Peyton R. Perrine II, on their web series Funny Married Stuff and can soon be seen starring in Netflix's upcoming series from Colin Kaepernick and Ava DuVernay, Colin in Black & White.
When not acting, Peyton is always up for an adventure and often spends his time playing sports and hanging out with his family and friends.
Caleb Brown
Caleb Brown stars as Jeremy, Sadie's classmate, next-door neighbor and, as he likes to call himself, her "ride or die." He's witty, confidently awkward and may not be the coolest guy in school, but he knows it and would rather do what makes him happy than try to fit in.
A Visalia, Calif., native now residing in Los Angeles, Caleb first discovered his passion for acting when he appeared in his first musical at the age of seven. He soon began auditioning for on-camera roles, quickly booking commercials for companies including Universal Studios, AT&T, Snapple and Subway, to name a few.
At the age of eight, Caleb made his television show debut in Nickelodeon's Bella and the Bulldogs, and has since been seen in the feature film Mother's Day and in guest starring roles on CBS's The Odd Couple, The CW's Crazy Ex-Girlfriend, FOX's The Orville and Stage 13's The Incredible Life of Darrell, among others.
In 2017, Caleb won a Young Artist Academy Award for "Best Performance in a Feature Film –Supporting Young Actor." When not acting, he enjoys writing screenplays, playing guitar, riding horses and perfecting his first standup comedy set.
About That Girl Lay Lay
That Girl Lay Lay follows Lay Lay (Alaya "That Girl Lay Lay" High), an avatar from a personal affirmation app that magically comes to life, and her best friend Sadie (Gabrielle Nevaeh Green) as they navigate life as teenagers and discover who they truly are.
In the premiere episode: Sadie wishes upon a star that her hype-girl avatar, Lay Lay, were real, causing Lay Lay to magically come to life. Now that she is in the real world with Sadie, Lay Lay decides that she wants a teenage experience herself and enrolls in the local school. Using her innate charm, Lay Lay convinces Sadie that she needs to come out of her shell and the best way for her to stand out is to run for student council.
The series also stars Peyton Perrine III as Sadie's brother, Marky; Tiffany Daniels as Sadie's mom, Trish; Thomas Hobson as Sadie's dad, Bryce; and Caleb Brown as Lay Lay and Sadie's classmate, Jeremy.
Nickelodeon is bringing magic to life with That Girl Lay Lay, an all-new buddy comedy series
premiering Thursday, Sept. 23, at 7:30 p.m. (ET/PT).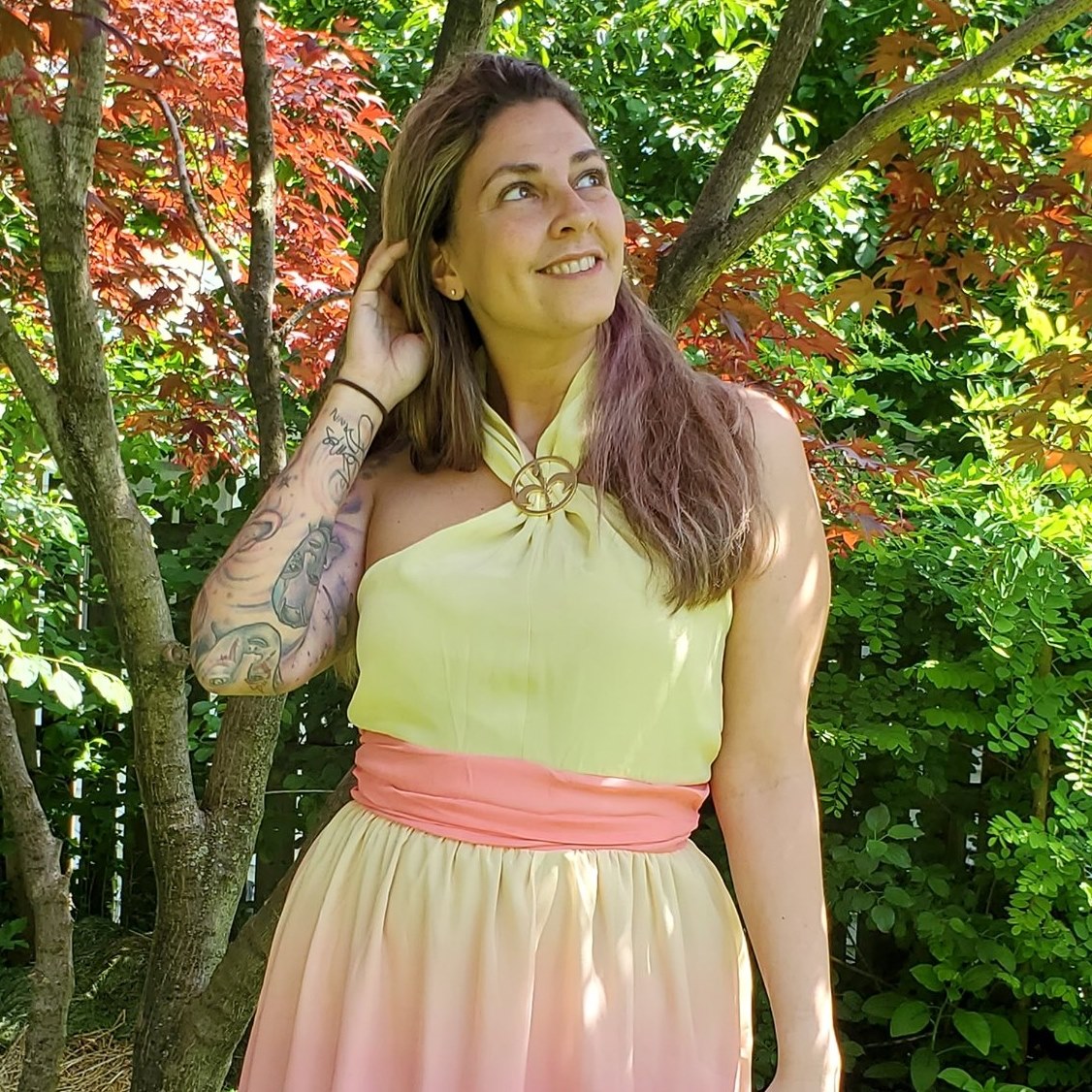 Tessa Smith is a Rotten Tomatoes Tomatometer-approved Film and TV Critic. She is also a Freelance Writer. Tessa has been in the Entertainment writing business for almost ten years and is a member of several Critics Associations including the Critics Choice Association, Hollywood Critics Association, and the Greater Western New York Film Critics Association.