DC's Stargirl Season 2 Episode 3 brings yet another member into the JSA, and revisits that powerful pink pen from season 1.
This episode of DC's Stargirl finally brings back that pink pen from season 1, and allows viewers to see why Pat said it was so powerful and dangerous. It houses a genie, of sorts, but he is not always very predictable. This episode also delivers a confrontation between the JSA and The Shade. There is still not a lot of action, but there is a lot of development in the story of The Shade, the JSA, and even Eclipso.
Below is a recap and review of DC's Stargirl Season 2 Episode 3. Be warned, there will be spoilers. So if you have not yet seen the episode and want to remain in the dark about it, come back later. Check out this recap and review of DC's Stargirl Season Season 2 Episode 2.
Warning: Spoilers for DC's Stargirl Season 2 Episode 3.
The episode kicks off with a flashback to that fateful nights when the JSA was taken down that fans saw in Season 1. It is Christmas time and Pat is behind fixing up the Rocket Racer at JSA headquarters, and listening to Christmas music. In walks Johnny Thunder (Alkoya Brunson), who has been benched from the big fight. Pat, in true Pat fashion, gives him a pep talk about how there is nothing wrong with being a sidekick. Johnny explains that he isn't even that, and that Thunderbolt, that pink pen from Season 1, is more powerful than the whole JSA combined, but in his hands it is just a mess for the team to clean up.
In comes Wildcat who says the ISA has Solomon Grundy, and they need backup. He tells Johnny to go with him, but tells Stripsey to stay behind. That Sylvester AKA Starman, was very clear on that. Pat has a kid to watch out for, and there is nothing more important than that. This is a great way to start the episode, and it is clear that this is the lead in to something involving him and Mike.
Mike Dugan
In the first episode it is revealed that Cindy has Mike on her list of recruits. There is a reason for this, and it is likely that she is going to try to exploit his jealousy and feeling left out. This episode sees him get beat up on his paper route, only to return home and find Courtney, Pat, and Barbara discussing their plans to take on The Shade, but telling him not to worry about it. Pat is doing this to protect him, but he is clearly hurt.
Mike's boss calls him to give him an address to add to his list, and when his pen dies, he fatefully reaches for that pink pen. He takes it with him on his route and after falling off his bike, Thunderbolt, voiced by the hilarious Jim Gaffigan, comes out, and explains that Mike is now in charge of him.
He explains that he is basically a genie, but that the person in control needs to say the word "socool" to call him out of the pen, and that he can grant unlimited wishes. Mike learns very quickly that he needs to be specific because he asks for water and ends up drenched.
Later on in the episode, Mike uses Thunderbolt to stop the bullies that beat him up after they steal boxes of cookies from a young Girl Scout. However, this causes a big mess because he does it by dropping tons of STOP signs from the sky. Courtney and Yolanda discover Mike and the pen on the way home from summer school, and Mike says he is the newest member of the JSA.
The Shade
In this episode, Pat explains The Shade and his powers to the JSA. His powers are shadows that he can manipulate and travel through. Pat is also pretty sure that he doesn't age considering there is photographic evidence of him dating back to the 1800s. He had a falling out with the ISA, so there is no real clue as to why he is in town. However, Pat knows first hand just how dangerous he is because he watched him kill Dr. Mid-Nite right in front of him.
After explaining this, Beth states that Dr. Mid-Nite is the only member of the JSA they have not gotten justice for, and that they need to. Pat goes on to explain that the he isn't sure how to take him out, but he did see Starman incapacitate him once using the Cosmic Staff.
Meanwhile, Barbara decides to investigate the items that The Shade was trying to purchase, to see if there are any hints as to why he might want to. Richard Swift just pops up into the store room with the collection, suddenly. She tells him he is trespassing and he answers with "sometimes it is fun to break the rules." Barbara easily covers, saying she was looking into the inventory in case she heard from him, and is there anything in particular he was looking for. He says he will know it when he sees it.
Barbara digs through her purse looking for her phone. Richard hands it to her, saying she dropped it. But it is dead. Sure seems like he found a way to drain the battery on her. He goes on looking through all the items and spots a small box. When he opens it up, it is empty. He asks to keep it, but Barbara says she doesn't think she can let him since it is part of the inventory. It is very obvious this is the box that held Eclipso's gem, which is now in Cindy's possession.
Mike and Thunderbolt
Pat explains that the Thunderbolt is dangerous and unpredictable, and insists that Mike turn the pen over to him. It keeps returning to Mike though, and once Thunderbolt comes out to speak with Pat alone, he explains that he can only partner with someone who feels completely and utterly alone, showing Pat just how his son has been feeling lately.
This helps Pat side with the rest of the JSA who want Mike and the Thunderbolt to be a part of the team. They all get to work on coming up with a plan to find and take down The Shade. Once they discover his whereabouts, at The Wizard's old house of course, Pat benches Mike, making him feel alone again. It isn't long before he starts putting together another, very specific, wish.
Confronting The Shade
When the JSA enters The Wizard's home, they see The Shade enjoying tea, alone, at a table. He explains that it took him a minute to place the last name Dugan, but he eventually knew that he was Stripsey. Richard offers for everyone to sit down at the table and have a conversation — saying it is the more gentile approach and would save them some perspiration.
They all sit at the table and ask him what he is doing in Blue Valley. The Shade goes on to explain that his interests may have aligned with the ISA's for a moment, but that they were not alike. He says that he has no interest in Blue Valley, and tells them to stay out of his way and he will be gone soon. Viewers know he is after Eclipso, for some reason, but tells Courtney it is best they don't know.
Of course, just when things seem like they are going to be OK, Mike shows up with Thunderbolt and wishes for him to zap The Shade. However, this starts a fight that The Shade very easily wins. He pins down each and every JSA member and tells them to stay out of his way before disappearing.
Notable Events
Mike realizes that he messed up, and while holding onto the pen, says he wishes it was in better hands. It immediately disappears and finds itself in a new location. Jakeem is the name of this new owner — in the comics Jakeem Thunder is one of the wielders of Thunderbolt.
Barbara tells Pat about the box that Richard took, and that it originally contained a Black Diamond — this is the diamond that houses Eclipso. They now know what he is after, and the fact that it is missing, is not good.
Richard is up on the Blue Valley clock tower with the box, and says "he is going to kill those children."
Rick and Beth are working on Dr. Mid-Nite's goggles trying to bring Chuck back. Beth is still very upset about her parents getting a divorce. Rick sees that something is up and tells Beth to pretend he is Chuck so that she will open up to him. He convinces Beth to talk to her parents about the papers he found.
Chuck pops into the goggles for just a minute saying he still doesn't recognize Beth, but that they are in danger, and that Eclipso is here.
Stargirl Season 2 Episode 3 Review
DC's Stargirl Season 2 Episode 3 is the best episode of the season so far. Even without much action at all, there is a lot of story development for most of the characters in the show. We are able to see how powerful The Shade is, and how unprepared the JSA is. Plus, the reveal of Thunderbolt and the pink pen, and the fact that Pat and Barbara now know how Mike is feeling, is surely set up for some great stuff to come.
Let's talk about the looks of Thunderbolt. He is pink and see through, for the most part. and has energy bolts flowing through him. He could have easily looked ridiculous, and maybe he does a little bit, but it works. The way that he acts though feels like he is trying to channel too much of Robin Williams' Genie from Aladdin. It was a smart move to make the pen be the main form that he takes.
While it would have been nice to get a bit more action, the fight against The Shade, if you can call it that, is very entertaining and revealing.
About DC's Stargirl Season 2 Episode 3
JIM GAFFIGAN VOICES THUNDERBOLT IN THIS EPISODE DIRECTED BY LEA THOMPSON — After getting a taste of the superhero life, Mike (Trae Romano) pleads with Pat (Luke Wilson) to let him join the team. Elsewhere, after seeking help from Thunderbolt, the JSA prepare for a confrontation with The Shade. Brec Bassinger, Yvette Monreal, Cameron Gellman, Anjelika Washington, Amy Smart and Meg DeLacy also star. Lea Thompson directed the episode written by Turi Meyer & Alfredo Septién
About DC's Stargirl
DC's STARGIRL follows high school sophomore Courtney Whitmore as she inspires an unlikely group of young heroes to stop the villains of the past. This new drama reimagines Stargirl and the very first superhero team, the Justice Society of America, in an unpredictable series.
The project focuses on the character that started executive producer Geoff Johns' career as a comic book writer when he created her in 1999, lovingly inspired by his late sister, who was killed in a 1996 plane explosion.
Stargirl Season 2 airs on CW every Tuesday, starting on August 10th.
Stream for free the next day on The CW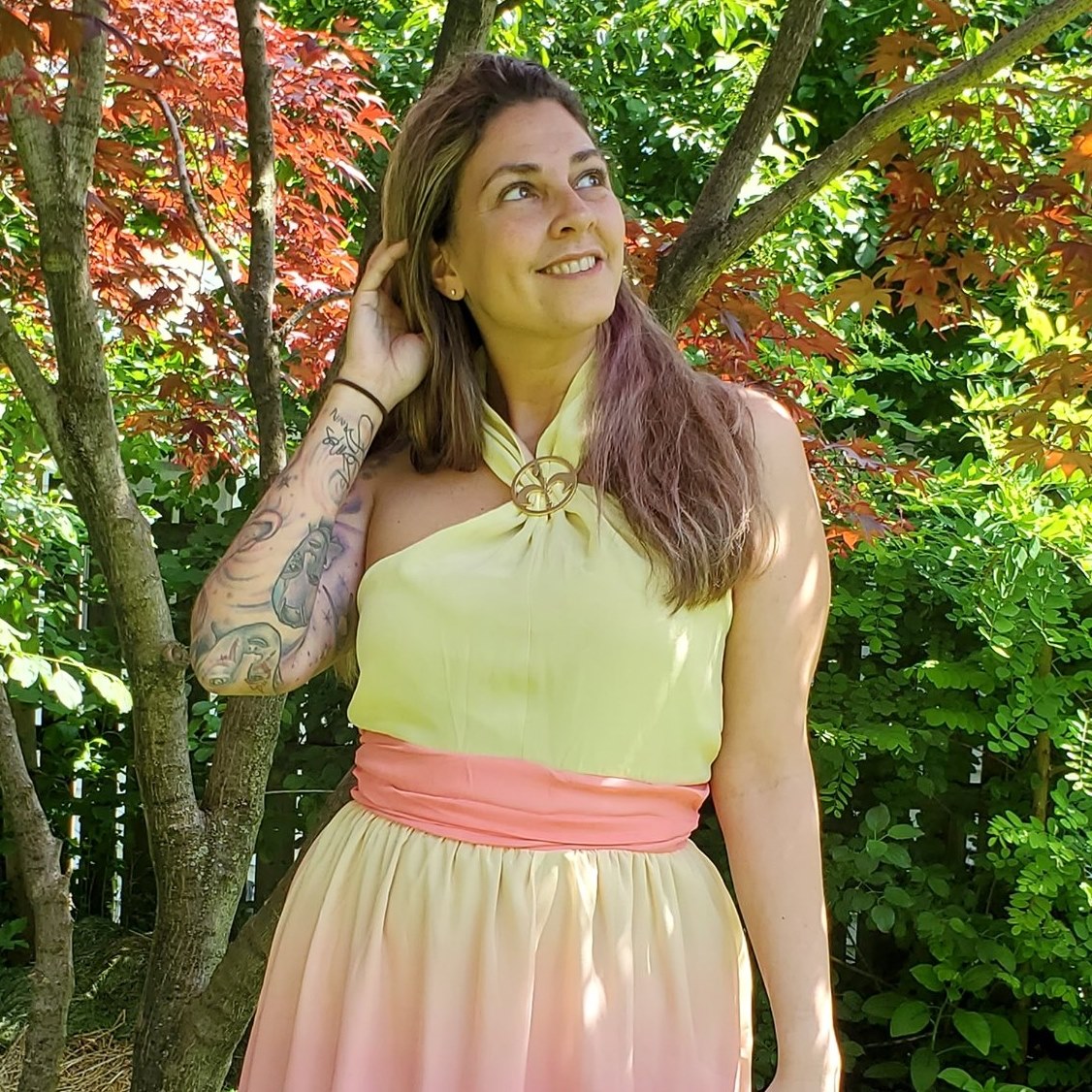 Tessa Smith is a Rotten Tomatoes Tomatometer-approved Film and TV Critic. She is also a Freelance Writer. Tessa has been in the Entertainment writing business for almost ten years and is a member of several Critics Associations including the Critics Choice Association, Hollywood Critics Association, and the Greater Western New York Film Critics Association.