The scavenger hunt for the 2021 Flower & Garden Festival at Epcot is Spike's Pollen-Nation Exploration — here is where to find every Spike!
One of the best things about Epcot Festivals is the scavenger hunts. They are an easy way to keep the kids (and adults) entertained while traveling "around the world". But they also allow for some pretty cheap Disney souvenirs, which are also exclusive to each festival, making them more than worth seeking out. The 2021 Spike's Pollen-Nation Exploration scavenger hunt prize is a set of two matching plates for every map you purchase.
If you have an annual pass or Disney Vacation Club discount, each map/set of two matching plates will only cost you $6.39! That is probably the cheapest Disney souvenir you can find — especially since it is exclusive. If you don't have the discount, they are still fairly cheap – just $7.99! There are four sets of plates to choose from to choose from – Figment, Minnie, Orange Bird, and Spike.
Sometimes Spike can be really hard to find, but don't worry, I got you! I'm going to tell you exactly where you can find them (and what he is growing in each spot so you can complete your map!).
Warning: Spoilers For Spike's Locations Ahead!
Garden Italiano
Right in Italy near their festival booth you will find Spike with Artichoke and some potted plants.
Kokedama Garden
Here at the Kokedama Garden Spike is seen with the Iris plant. This rainforest area can be found by the back entrance to the shops in Japan, on the right hand side.
Urban Spice Garden
The Urban Spice Garden is in Morocco between Tangierine Café and the festival booth — here Spike hangs out with the Chili plant, of course.
French Gardens
The French Gardens are in front of the entrance to the theater in France. Here Spike pollinates some lovely roses.
Tips of the Trade
This was by far the hardest Spike to find, partly because the placement on the map is off. We hunted for a long time between the French Gardens and the English Tea Garden, however, Spike can be found inside the exhibition center, which is right before Canada.
English Tea Garden
This one is quite obvious as Spike is right by the street that passes by the English Tea Garden in the UK Pavilion. If you are lucky enough, you might spot Alice there as well! Of course, he is with Camellia here.
The Honey Bee-stro
This one is very easy as Spike is right outside the Honey Bee-stro festival booth with Canna Lily. While you are here do yourself a favor and get something to eat. This was our favorite booth of the whole festival.
Goodness Garden Butterfly House
Right near the Journey into Imagination with Figment ride you will find Spike with some Salvia. The butterfly house itself is easy to spot, and is a new addition to the Flower and Garden Festival — and a must experience! Don't worry, it is free.
Donald & Daisy Duck Topiary
The Donald & Daisy Duck Topiary display can be found at the Showcase Plaza. Spike is easy to spot here, and is pollinating Daisy, of course!
Prehistoric Plants
Spike can be found with Cycad outside the Test Track entrance in Future World.
Outdoor Escapes
Outdoor Escapes is one of the relaxation areas, and is located next to the old playground across from Test Track. Spike is here with the Tomato against a construction wall.
Tropical Rainforest
Located in Mexico, near the entrance the the pyramid, you will spot Spike with some beautiful Orchid plants.
When you are done, return your map to one of the redemption locations – Mouse Gear, Disney Traders, and World Traveler at International Gateway – for your prize. If you don't want to complete the map, you don't have to, they will still give you your choice of plates.
So if you are looking for a Disney souvenir that is totally exclusive, look no further than the 2021 Flower and Garden Festival Spike's Pollen-Nation Exploration Scavenger Hunt at Epcot! If you have kids like I do, this is a great way to keep them entertained while you eat and drink your way around the World Showcase.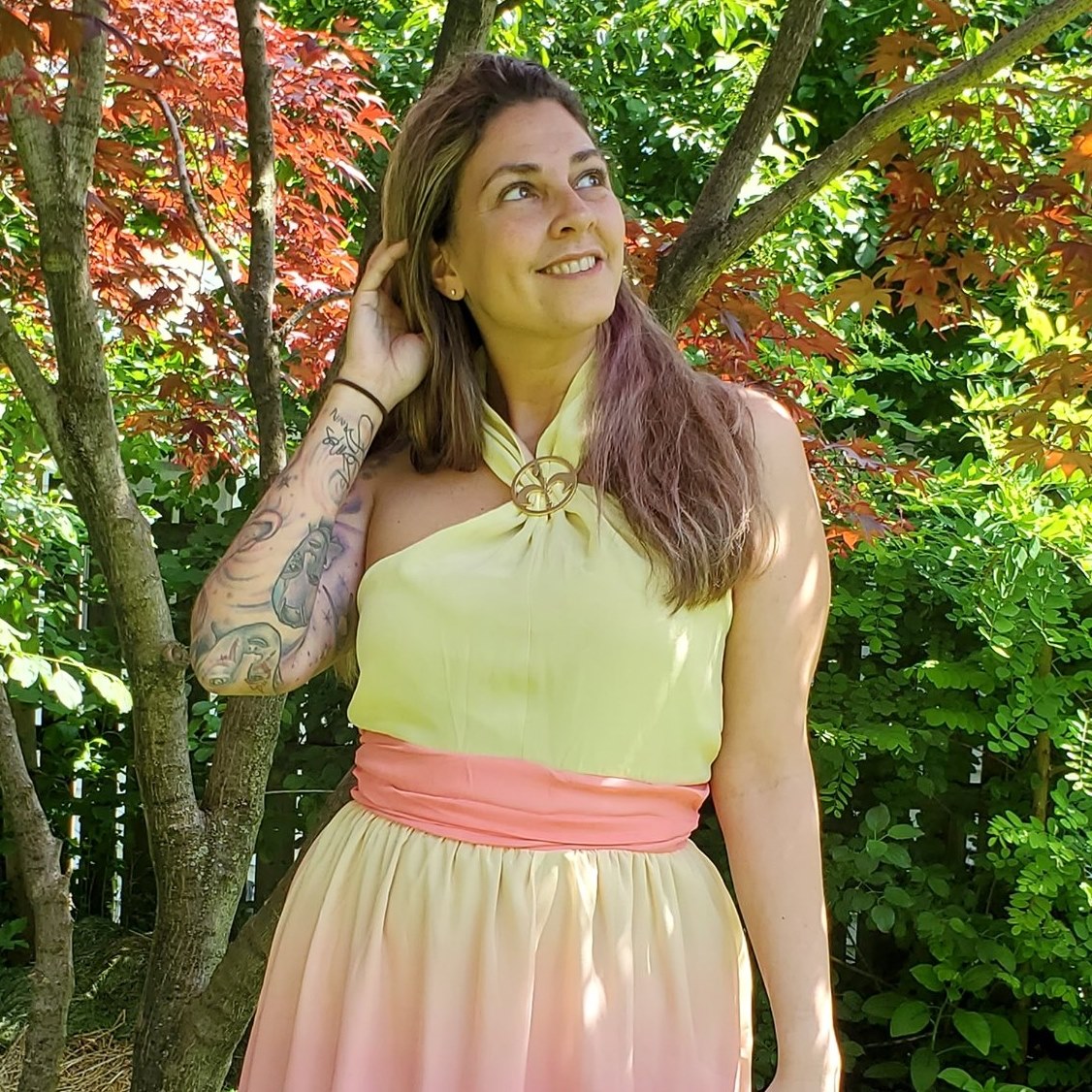 Tessa Smith is a Rotten Tomatoes Tomatometer-approved Film and TV Critic. She is also a Freelance Writer. Tessa has been in the Entertainment writing business for almost ten years and is a member of several Critics Associations including the Hollywood Critics Association and the Greater Western New York Film Critics Association.