If you are looking for the perfect holiday gift for the geek in your life this holiday season, I have got you covered! All of these items have been personally tested by me — or my daughters.
All of the below items are great holiday gift ideas for yourself — or even the little geek in your life! My girls are big geeks like me and they approve each and every one of these holiday gift ideas. We had a blast trying them all out so that we could give them the stamp of approval!
Disney Gift Cards
A Disney Gift Card is perfect for the geeky Disney addict in your life for many reasons! First of all, they will be able to select what they want as a gift. In my husband's case he likes to give me a gift card because he isn't even sure which collectables I have and don't have! There are tons to select from, including 60+ new designs ranging from classic Mickey & Disney princesses, to Marvel, to Star Wars!
Redeemable at shopDisney.com, at Disney Parks, and at Disney store locations in the U.S., Canada and Puerto Rico, and beyond! A touch of Disney magic is something everyone can enjoy, no matter where they may be.
Check out all the new designs on shopDisney.com!
Video Games
Nintendo Game & Watch: Super Mario Bros
The original Game & Watch device came out in Japan in 1980 and was the first handheld gaming system created by Nintendo. Now you can get your hands on a new piece of history with a special Game & Watch that includes the original Super Mario Bros. game, a digital clock, and more.
Mario Kart Live: Home Circuit
Race a real-world Mario Kart™ through your home! Use the Nintendo Switch™ system to control your kart and watch as it reacts to what's happening in the game as you boost and drift to victory. Your in-home course comes to life on-screen with a view from right behind the driver's seat.
Check out my full review of Mario Kart Live: Home Circuit!
Buy it here.
Untitled Goose Game
Untitled Goose Game is nothing short of a *honk*nomenon (sorry!), having transcended the hallowed halls of nerdom to become an essential piece of the cultural zeitgeist.
Australian developer House House created the ultimate anti-hero with their headlining Goose, crafting a clever and genre-busting puzzler that achieves brilliance with hilarious gestures and impeccable nuance. Everything about this game is charming, from its deftly styled animation to its subtle yet dynamic soundtrack.
Pikmin 3 Deluxe
Grow a squad of adorable, plantlike Pikmin to traverse a strange world and save your planet. Command a capable crop of different types of Pikmin™ to strategically overcome obstacles, defeat creatures, and find food for your famished home planet! You can even bring a second player along to divvy up tasks as you explore a world that seems larger than life from a pint-sized perspective.
Return to your ship before time runs out, or you (and your Pikmin) could be in big trouble. If you prefer a more casual approach, a variety of difficulty settings, lock-on targeting and optional hints have been newly added. With less pressure, you have more time to strategically command your Pikmin and take in the lush scenery. Play side-story missions, head-to-head matches and more!
Super Mario 3D All-Stars
Play three iconic games at home or on the go—all in one package on the Nintendo Switch system! Jump into paintings in Super Mario 64, clean up paint-like goop in Super Mario Sunshine, and fly from planet to planet in Super Mario Galaxy.
Make Mario move using the Nintendo Switch system's Joy-Con controllers. You can also pass a Joy-Con controller to a friend to play the Super Mario Galaxy game in Co-Star Mode*! Mario's movements are as smooth as ever with HD resolution for each game, while still retaining the look and feel of the originals.
Animal Crossing New Horizons
Escape to a deserted island and create your own paradise as you explore, create, and customize in the Animal Crossing: New Horizons game. Your island getaway has a wealth of natural resources that can be used to craft everything from tools to creature comforts. You can hunt down insects at the crack of dawn, decorate your paradise throughout the day, or enjoy sunset on the beach while fishing in the ocean. The time of day and season match real life, so each day on your island is a chance to check in and find new surprises all year round.
Show off your island utopia to family and friends—or pack your bags and visit theirs. Whether playing online or with others beside you, island living is even better when you can share it. Even without hopping on a flight, you'll meet a cast of charming animal residents bursting with personality. Friendly faces like Tom Nook and Isabelle will lend their services and happily help you grow your budding community. Escape to your island getaway—however, whenever, and wherever you want.
Just Dance 2021
Just Dance 2021 is the ultimate dance game, with 40 hot new tracks from chart-topping hits like "Don't Start Now" By Dua Lipa, "Feel Special" By Twice, and "Senorita" By Shawn Mendes & Camila Cabello. Start a dance party your friends and family can enjoy!
Tony Hawk's Pro Skater 1+2
This is a perfect one for the nostalgia gamer! The quintessential series that brought skateboarding to the mainstream is back. This ground-up remaster breathes new life into the classic franchise and has been widely hailed as a masterpiece.
Drop back in with the most iconic skateboarding games ever made. Play Tony Hawk's Pro Skater & Tony Hawk's Pro Skater 2 in one epic collection, rebuilt from the ground up in incredible HD. All the pro skaters, levels and tricks are back and fully-remastered, plus more. I used to spend my afternoons skating around, and if you are like me, now you can again — or your kids can!
Crash Bandicoot 4: It's About Time
I used to spend HOURS playing Crash Bandicoot, and that is something I have now passed onto my children. Crash Bandicoot 4: It's About Time is available now! It's about time for a brand-wumping new Crash Bandicoot game! Crash four Ward into a time shattered adventure with your favorite marsupial.
The beloved 90's marsupial is back in an entirely new adventure and true sequel to the original trilogy with new worlds to explore, new powers and new wacky hijinks.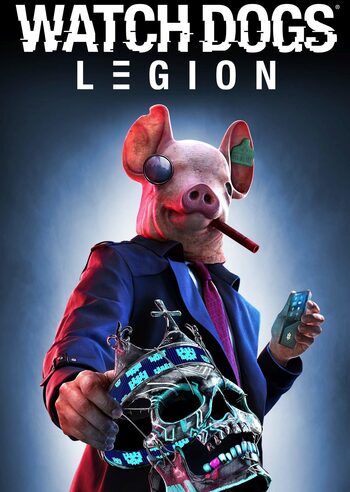 Watch Dogs: Legion
In Watch Dogs: Legion, London is facing its downfall. Amidst the growing unrest of a restless London, an unknown entity named Zero-Day has framed secret underground resistance DedSec for coordinated bombings across London. In the aftermath, criminal opportunists from every corner of London took hold and filled the void left by a defeated government.
As a member of DedSec, players will be going up against those criminal opportunists in Watch Dogs: Legion; sadists, mercenaries, cybercriminals, and more; they'll have to be prepared for a variety of situations. Players must recruit members into their DedSec Resistance to take on these criminal opportunists, liberate London and uncover the identity of Zero-Day.
Read my full review here.
Purchase here.
Assassin's Creed: Valhalla
Assassin's Creed Valhalla invites players to live the saga of Eivor, a fierce Viking raider raised on tales of battle and glory. Offering a captivating Viking experience, the game brings players to a dynamic and beautiful open world set against the brutal backdrop of England's Dark Ages. In this latest iteration, players can take advantage of new features including raids, growing their settlement, building their power and expanding their influence.
Driven from Norway by endless wars and dwindling resources in ninth century AD, players will lead Eivor's clan of Norsemen across the icy North Sea to the rich lands of England's broken kingdoms. Players must carve out a new future for their clan, reliving the ruthless fighting style of Viking warriors with a revamped combat system that includes the ability to dual-wield weapons against a greater variety of enemies than ever before.
Immortals: Fenyx Rising
Immortals Fenyx Rising is an uplifting and witty take on the open world action-adventure genre and is full of rewarding exploration through dynamic traversal. Sprint across open fields, climb enormous mountains and glide through the skies to discover all the secrets of each region inspired by the Greek gods across the Golden Isle.
Spider-Man: Miles Morales
In the latest adventure in the Marvel's Spider-Man universe, teenager Miles Morales is adjusting to his new home while following in the footsteps of his mentor, Peter Parker, as a new Spider-Man. But when a fierce power struggle threatens to destroy his new home, the aspiring hero realizes that with great power, there must also come great responsibility. To save all of Marvel's New York, Miles must take up the mantle of Spider-Man and own it.
Board Games
Hocus Pocus The Game
In this cooperative card game, players work together to protect Salem's children and stop the Sanderson sisters from completing their wicked potion before the sun rises. Play potion ingredients to the cauldron and match all the colors or ingredients. Binx will offer a helping hand, while Winifred, Mary, and Sarah cast spells to thwart your plans. Use tricks like Burning Rain of Death and Billy Butcherson to help you along the way!
Back To The Future: Dice Through Time
Great Scott! Biff stole the DeLorean and went on a joyride through time, disrupting events and scattering items through space and time! Now it's up to you to help Doc and Marty repair the space-time continuum before time paradoxes unravel the very fabric of the universe. Jump in your time machine, complete events, return items, and help restore temporal! The future is in your hands!
Escape The Room: The Cursed Dollhouse
In Escape the Room: The Cursed Dollhouse, players explore a mysterious three-dimensional dollhouse, solving puzzles in search of a way to escape. Five rooms, each containing objects to investigate and multiple puzzles to solve, will keep players engaged through two hours of play.
Escape the Room: The Cursed Dollhouse takes the in-home room escape to the next level with more challenging puzzles to solve, a longer playtime, and a unique three-dimensional experience that will satisfy even the most skilled escape room fans.
Mystic Market
Mystic Market is an exciting fast-paced card game where players buy and sell magical Potion-making Ingredients. The unique Value Track ensures that the Ingredients' values will be constantly shifting, so only the shrewdest of traders will prevail.
Trailz
Playing Trailz can be as simple and entertaining as playing checkers, but it can also get very strategic like traditional strategy games–it's all about who you play with and how you play! Therefore, it's a great game to introduce kids to strategy, and to grow with them as they develop their gaming skills! It's also a fun, light game for kids and families to play!
Disney Sketchy Tales
This Disney Game for kids game is all about silly drawings and ridiculous guesses. Just like a game of 'Telephone', players guess and re-sketch your masterpiece as it's passed around the group. This Disney game for kids will give your family memories to last a lifetime, so come on, be our guest.
Movies/TV Shows
Cartoon Network: Steven Universe: The Complete Collection
The Crystal Gems are a team of magical beings who are the self-appointed guardians of the universe. Half-human, half-Gem hero Steven is the little brother of the group. The goofball is learning to save the world using the magical powers that come from his bellybutton and he goes on magical adventures with the rest of the Crystal Gems, even though he's not as powerful or smart as fellow group members Garnet, Amethyst and Pearl. Despite his shortcomings, Steven usually finds a surprising way to save the day.
Home Alone 30th Anniversary 4K Ultra HD™ SteelBook®
It has been 30 years since Kevin McCallister was left home alone. Be sure to commemorate with the Ultimate Collector's Edition of the film.
Frozen 2 Blu-ray™
Walt Disney Animation Studios' Frozen 2 has melted hearts around the world, becoming the No. 1 animated feature of all time. Bring home a flurry of bonus features including deleted songs, deleted scenes, and a sing-along version.
Onward Blu-ray™
Join Ian and Barely on their quest this holiday season with Disney and Pixar's Onward. The Blu-ray™ includes deleted scenes and an exclusive look at creating the magical world of New Mushroomton.
Mulan Animated 4K Ultra HD™
Disney's acclaimed Mulan transforms an ancient Chinese legend into an animated treasure. For the first time in 4K Ultra HD™, Mulan is a classic that every family should own.
Star Wars: The Rise of Skywalker Blu-ray™
The concluding film in the Skywalker saga, Star Wars: The Rise of Skywalker is a must-own for anyone looking to complete their collection.
ESPN's The Last Dance Blu-ray™ Gift Set
Surprise the sports lover in your life this holiday season. ESPN's The Last Dance limited-time Blu-ray™. Gift Set includes a 28-page gallery book that takes viewers into the action with photography and episode recaps, a complete pull-out timeline that captures the events of "The Last Dance," and over four hours of bonus content.
Ford v Ferrari Blu-ray™
Action-packed and adrenaline-inducing, Ford v Ferrari is the ideal gift for car enthusiasts and racing fans.
Collectibles
Loot Crate
Get a surprise bundle of EXCLUSIVE items from your favorite movies, TV shows, games, comics & more (a $45+ value!) delivered to your door every month. This is the perfect gift for a pop culture geek like me! Who doesn't love surprises, collectibles, and geeky items?!
Groot Bluetooth Speaker – Guardians of the Galaxy Vol. 2
Groove to your own awesome mix as it plays from this Bluetooth speaker inspired by one of the speakers little Groot plugs in during the opening scenes of Guardians of the Galaxy Vol. 2.
Clothing
Harry Potter X Cakeworthy Collection
Cakeworthy's new collection will enchant Harry Potter fans with exciting new designs in a variety of different styles. Fans will be able to represent their house pride through the classic Cakeworthy flannel design, plus many other unique styles inspired by the Wizarding World.
A portion of sales from all Cakeworthy products developed in partnership with Warner Bros. will be donated to a charitable organization supporting LGBTQIA+ persons from now until the end of 2020.
Shop the Harry Potter X Cakeworthy Collection here.
DisneyBound: Dress Disney and Make It Fashion
This book walks readers through every step of the Disney-bounding process, from choosing the outfit using items in your closet or from the local mall, to pushing Bounders beyond their comfort zone, to spreading good vibes. It also shows Disney fans and beyond that Disney-bounding is not just about playing dress up?it's about community, about finding who you are, and expressing it through the intersection of Disney and fashion
At the end of this book, readers will be left feeling inspired, empowered and ready to start a new Disney-bounding fashion adventure!
Toys
Groot Interactive Talking Toy
Our little Groot wants to put down some roots and stay with you. With the ability to recognize and respond to 20 spoken phrases with sounds, music and movement, this interactive toy is a great conversationalist, and he makes a cute travel companion perched on your shoulder.
Marvel Battleworld
Thanos has trapped your favorite Marvel heroes in the mysterious Thanostones! Adventure through Battleworld solo or with your friends to rescue the heroes and defeat the mighty Thanos! You can read my full Marvel Battleworld review.
Buy here.
Check out more Marvel Battleworld expansions and accessories below!
Marvel Battleworld: Series 1 Thanos Ship Showdown
Pick your favorite Hero, rescue your friends, and win battles to defeat Thanos! Expanding the core game established with the Marvel Battleworld Battle Ball and Mega Packs, the Thanos Ship Showdown brings an exclusive Thanos character and his brutal flagship into the fight! Stop Thanos as he tries to distract and defeat your Heroes!
Marvel Battleworld: Series 1 Travel Portal – Gold Ultron
Pick your favorite Hero, rescue your friends, and win battles to defeat Thanos! Use this Marvel Battleworld accessory to carry your favorite Hero anywhere, just clip the Travel Portal to your bag. Plus you can use the easy-swipe spinner instead of an Attack Dice during gameplay – great for playing while traveling! Comes with an exclusive Gold Ultron Hero that is only available with the Travel Portal!
Marvel Battleworld: Series 1 Mega Pack – Spider-Man (Negative Zone)
Pick your favorite Hero, rescue your friends, and win battles to defeat Thanos! Battleworld is a revolutionary cooperative, expandable, collectible adventure game featuring dozens of characters from all over the Marvel Universe! Players get to crack open the mysterious Thanostones during the course of play to reveal the mystery character inside for a constant sense of surprise and delight!
Mega Packs let you jumpstart your collection with six characters: four starting Heroes (including an exclusive Negative Zone Spider-Man variant) and two more trapped in Thanostones!
Marvel Battleworld: Series 1 Battle Ball
Pick your favorite Hero, rescue your friends, and win battles to defeat Thanos! Battleworld is a revolutionary cooperative, expandable, collectible adventure game featuring dozens of characters from all over the Marvel Universe! Players get to crack open the mysterious Thanostones during the course of play to reveal the mystery character inside!
ELEGOO Smart Robot Car
ELEGOO Smart Robot Car Kit V3.0 is an educational and fun kit based on ELEGOO UNO R3 controller board (Arduino-Compatible) designed for both beginners and professionals to learn electronics, programming and robotics. With our easy-to-follow tutorial assembling this robot car kit would be very intuitive and simple regardless of whether you are an engineer or a novice.
Building up your own robotic project has never been so easy and fun. Just follow our tutorial and step by step you will have your own running car kit within no time. This kit enables you to have a good quality time with your children and empower them to develop and inspire their imaginations.
If your kids, family or friends are attracted to the electronics and robotics world, this kit would be a great choice and perfect gift for them to start their first step on electronic journey.
LEGO Trolls World Tour Pop Village Celebration
With amazing detail, this awesome LEGO Trolls World Tour Pop Village Celebration Trolls tree house building set opens a world of imaginative play for young Trolls fans. From the branches of this super-cool tree hang two pods: one for the glitter-tastic exclusive LEGO Trolls characters Guy Diamond and Tiny Diamond, plus another for Cooper. There's even space to add an optional third pod – Poppy's Pod.
There's so much for kids to discover in this Trolls playhouse. With lots of interactive features and accessories, they'll love creating their own stories. They can even take the fun with them since the Trolls' pods close and are portable! If you're looking for creative gifts or cute toys for kids who love the Trolls movies, the LEGO Trolls World Tour building sets are a great choice. Each set includes printed instructions and comes with Instructions PLUS to help youngsters build.
LEGO Trolls World Tour Poppy's Pod
Kids who love Poppy and Trolls movie toys will adore this LEGO Trolls World Tour Poppy's Pod. There's lots to discover as your little Trolls fan joins Poppy at the start of her journey. They can help Poppy take a shower, style her hair and look for the treasure map. With lots of imaginative play, this LEGO 4+ set is a fun way for youngsters to learn to build. Poppy's Pod folds and closes into a portable travel toy to keep little ones entertained wherever they go, making it a great gift for kids who love pocket toys.
New for January 2020, LEGO Trolls World Tour toys open a world of creative play for fans of the Trolls movies. Kids will love building the cute toy sets before recreating their favorite music scenes from the story. With fantasy creatures, collectible accessories and interactive Troll hair, these building toy kits for kids bring the Trolls universe to life.
Pocket Brainteasers From ThinkFun
Pocket Brainteasers 4-T Puzzle is one of ThinkFun's most fun new stem toys for boys and girls, and if one of the best gifts you can buy for kids who like smart games and a challenge. Spill the four T shapes out and challenge yourself to fit them back into a smaller frame.
Pocket Brainteasers 4-T Puzzle is made with high quality components and is very easy to get started – you'll be able to start solving it within minutes of opening the box. Like all of ThinkFun's games, Pocket Brainteasers 4-T Puzzle is built to develop critical thinking skills, all through hands-on fun problem-solving.
Minecraft Magnetic Travel Puzzle
The ender dragon is trying to prevent you from traveling through the worlds of Minecraft by placing 40 increasingly difficult challenges in your path.
Solve the challenges and advance on your journey, using your most powerful weapon—YOUR BRAIN! In this mind-bending game of deductive reasoning, players use positive and negative visual clues to place magnetic Minecraft weapons and armor on the Crafting Table in the correct arrangement. When your arrangement includes all the Clue Patterns on the Challenge—YOU WIN!
Laser Pegs
Laser Pegs is the light up construction system that sparks children's imagination and creativity! With Laser Pegs, there is no limit to what you can create! Offering children and young adults a fun alternative to the traditional construction toy, Laser Pegs illuminates its surroundings thanks to their patented light bricks and vibrant colors. From Mega Trucks to Race Cars, Dinosaurs to Farm Animals — the possibilities with Laser Pegs are endless!
PenSilly
PENSILLY™ is the super, silly drawing and guessing game! It takes creativity, teamwork and imagination to play! Grab your friends, select your cards and sketch out the clues. The team who collects the most points, WINS! But it's not that simple, you see, PENSILLY™ makes drawing CRAZY! It shakes and moves as you sketch out the clues. There are over 5,500 clue combinations with 2 Levels of play! Are you ready for the challenge?
GoGo Gachas
These fashionably charmed vending machines really work! Each loaded with 3 surprise charms that are totally on trend. Just press the button to dispense one of the disco balls—then open it up to find out which scented fashion charm you gacha! Each charm is perfect for accessorizing on the included charm bracelet. Now you're ready for a glam squad dance party! Collect all 3 machines and 24 charms!
Colorforms Silly Faces Game
It's a race to make the silliest face in this smile-filled classic game that sticks like magic! Spin the spinner and land on a face space to fill, then choose from a wacky assortment of re-stickable Colorforms pieces to stick on your face card. The first one to complete a whole silly face wins the game. Easy to learn and fun to play, it's creative face-making fun for the whole family! Features characters from the new Netflix series Charlie's Colorforms City. For 2 to 6 players.
Colorforms Retro Play Sets: Mr. Potato Head
Classic Mr. Potato Head, just like you remember. Now you can share the same sweet character you loved as a child with your own children! Colorforms Classics Retro Replay Editions capture the spirit of your favorite Colorforms play sets from yesterday, updated for today. Enjoy hours of creative and re-stickable fun with this classic playset.
LatchKits Peanuts
The classic latch hook craft kit is back! LatchKits are a fun and easy-to-learn craft—just loop, hook, and pull! Everything you need is included: the handy latch hook tool, pre-cut yarn and color-coded, easy-to-follow canvas make getting started on your project a snap. The sturdy canvas features fabric-lined edges and hanging loops to create your very own soft and fuzzy design that's ready to hang on your wall or use as a mini-rug – it's a great anytime project!
Y'Art Unicorn
Create AMAZING works of textured yarn art with the ease of coloring in this ALL-NEW craft kit! Yarn magically clings to the Grip-N-Stick Y'Artboard as you fill in the numbered areas with amazing textures and patterns. Frame your unique masterpiece when it's finished!
I hope that this holiday gift guide for geeks gave you some good ideas as you do your shopping this year! If you have a geeky holiday gift that I missed and you think should be added, let me know!