The Witches (2020) is nowhere near as scary as the 1990 version, but it still brings creepy vibes and a great story. Perfect for Halloween!
The 1990 version of The Witches still haunts my nightmares thanks to Angelica Huston's chilling performance. When I was a child I was terrified I would be turned into a mouse and that witches were lurking around every corner. This 2020 reboot of The Witches may not be as scary as that version, but it still brings the creepy vibes and a great story.
If you do not compare it at all to original movie, you are sure to love this movie. If you do compare it, well, you probably will still like it. Sure, there are some differences, but nothing that made me mad or bothered me to the extent of ruining the entire thing. I truly think that if you try to nitpick and compare the two films, you will end up doing yourself a disservice.
I think watching this new version of The Witches with my daughters who knew nothing of the story really helped. It was almost like I went into it with fresh eyes as well. The story is, of course, very similar, with only a few changes. It is more "fun" than the original because it is less scary, but it is still a really great movie and it still brings creepy vibes for sure!
I was actually a really big fan of Anne Hathaway in this role, although she was nowhere near as creepy as Angelica Huston. Her accent was a little annoying at first but after about 15 minutes I forgot about it. Honestly, I was a huge fan of the witches' giant mouths when they opened up. They were so cool looking and super scary. All those sharp teeth — I was totally here for that.
I also really enjoyed Octavia Spencer's performance. At first I was a little bit nervous that she is too young to play a grandmother — I mean she is only 48 years old after all. And although yes, she does look young in this movie, she does a great job of playing her role. Honestly, I quickly forgot about how young she is and totally believed her as a grandmother.
The CGI is not the greatest, and at some points, it is really bad. However, it didn't distract from the film for us. When the mice talk is where it gets muddied and for some reason they CGI a woman's face at the end (I don't want to go into more detail than that). The face just seemed out of place and strange, if anything. The kids actually turning into mice, which we saw in the trailer, was pretty cool and done really well.
Is It OK For Kids?
My daughters have not yet seen the original, or read the books, and they loved this version of The Witches. We had a blast watching it together as a family. Were there moments they were scared? Yes, but not to the extent that I was as a child watching the original. I think that if they were to watch that version now, they wouldn't be as scared as if they dove into that one first, if that makes sense. Especially since they know what is coming.
This version is for sure less creepy for kids than the original. The Witches still have sores on their heads, claws, and no toes (except for the Grand High Witch), however the large mouths are a new addition. One that freaked my girls out the first time, but then they said they were cool the more they saw them.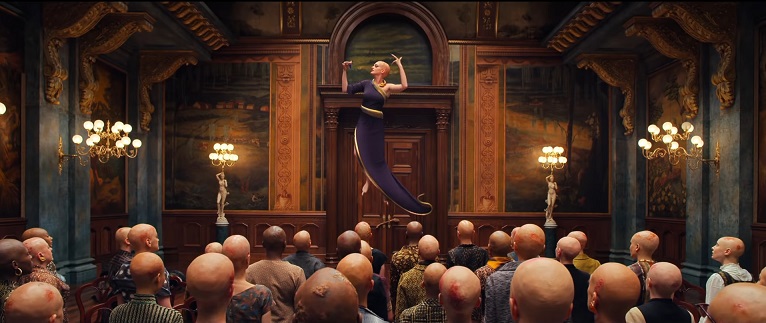 When I asked them what the scariest part of this whole movie was, they said the meeting of the witches. In this scene the demons reveal themselves by taking off their gloves, shoes, and wigs. We see a large room filled with scabby headed witches. Anne Hathaway floats above the crowd — which honestly felt out of place to me — and discusses their plans to get rid of all the children of the world.
A plan that involves the witches turning kids into mice — and trying to squish them. This is probably the part that freaked them out the most. Not to mention the movie is basically saying that witches can be hiding anywhere, which might stick in a young child's head. I know that is what scared me as a little girl.
Overall Thoughts
While not as good, or as scary, as the original The Witches movie from 1990, this version is still pretty fantastic. The CGI felt like a bit too much at times, but the effect of the giant mouths is one of my favorite parts of the movie. The great story is still there, and most of the acting is fantastic.
When compared to the original, this version will come off as inferior, but not bad. However as I often say, try not to compare the two and enjoy them both for what they are. If you do that, I think you will be pleasantly surprised with this version The Witches.
About The Witches
Reimagining Dahl's beloved story for a modern audience, Robert Zemeckis's visually innovative film tells the darkly humorous and heartwarming tale of a young orphaned boy who, in late 1967, goes to live with his loving Grandma in the rural Alabama town of Demopolis.
As the boy and his grandmother encounter some deceptively glamorous but thoroughly diabolical witches, she wisely whisks our young hero away to an opulent seaside resort. Regrettably, they arrive at precisely the same time that the world's Grand High Witch has gathered her fellow cronies from around the globe—undercover – to carry out her nefarious plans.