Disney's live action Mulan is available to watch now on Disney+ and to celebrate, here is a free printable educational activity packet!
Disney's latest live action re-imagining is Mulan and today it is finally available for fans to watch! As most of you know already, I was at the World Premiere for Mulan back in March of 2020 (which seems like several lifetimes ago).
Mulan can be purchased with Premier Access on Disney+ for a one time fee of $29.99. It can then be watched over and over, as long as you have a Disney+ subscription. In order to celebrate this release, I have an amazing Mulan printable educational activity packet for you! Well, for your kiddos (or maybe for you).
I have already printed out a copy for each of my daughters and they are loving it! If you are like me, anything to keep them occupied for a few minutes right now is worth the paper and the ink! As I type this they are watching Mulan (for the third time) and charting their journey — one of the cool things they can do with this packet!
Download your FREE Printable Mulan Educational Activity Packet Here —> MULAN_ACTIVITY_PACKET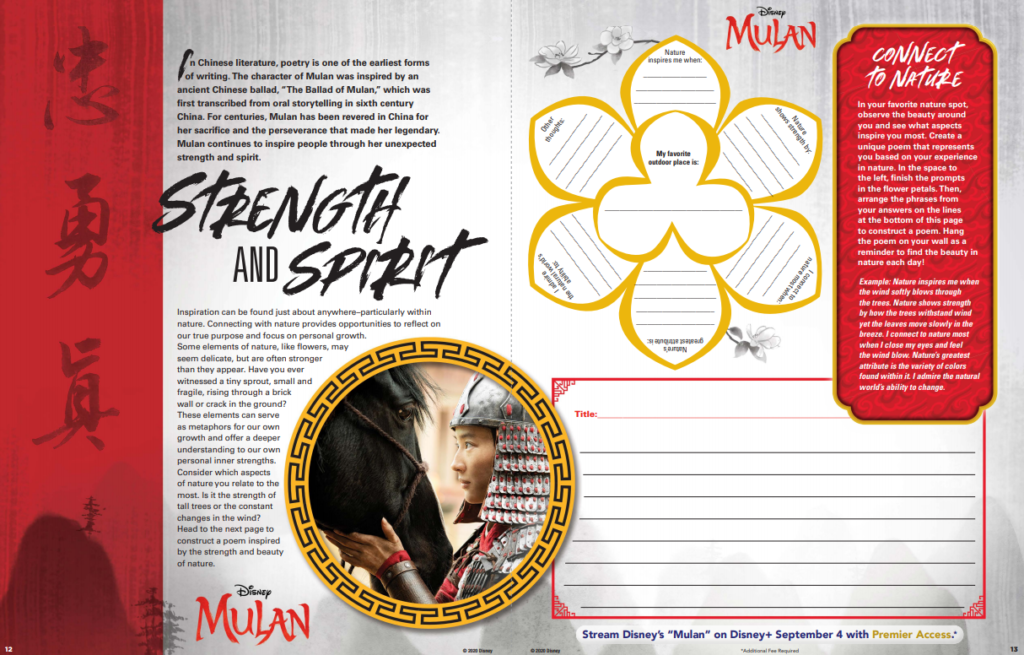 Giveaway Alert!
Enter to win a Movies Anywhere Digital Code for Disney's live action Mulan using the Gleam form below! GOOD LUCK!
Mulan Movies Anywhere Digital Code

About Mulan (2020)
Acclaimed filmmaker Niki Caro brings the epic tale of China's legendary warrior to life in Disney's "Mulan," in which a fearless young woman risks everything out of love for her family and her country to become one of the greatest warriors China has ever known. When the Emperor of China issues a decree that one man per family must serve in the Imperial Army to defend the country from Northern invaders, Hua Mulan, the eldest daughter of an honored warrior, steps in to take the place of her ailing father. Masquerading as a man, Hua Jun, she is tested every step of the way and must harness her inner-strength and embrace her true potential. It is an epic journey that will transform her into an honored warrior and earn her the respect of a grateful nation…and a proud father.
"Mulan" features a celebrated international cast that includes: Yifei Liu as Mulan; Donnie Yen as Commander Tung; Tzi Ma as Zhou, Jason Scott Lee as Böri Khan; Yoson An as Honghui; Ron Yuan as Sergeant Qiang; with Gong Li as Xianniang and Jet Li as the Emperor. The film is directed by Niki Caro from a screenplay by Rick Jaffa & Amanda Silver and Lauren Hynek & Elizabeth Martin, suggested by the narrative poem "The Ballad of Mulan." The producers are Chris Bender, Jake Weiner and Jason Reed, with Bill Kong, Barrie M. Osborne, Tim Coddington and Mario Iscovich serving as executive producers.