Hamilton the musical is filled with hilarious, inspiring, and all around great quotes. is an amazing musical which you can now watch on Disney+ and I highly recommend it!
If you have not seen Hamilton yet, you really are missing out. Of course I say this and I just saw it for the first time this weekend. Now that it is available on Disney+, many more people have the opportunity to watch it. Plus, it is with the original cast and you really cannot beat that. I have already watched it twice, and I know I will be watching it many more times.
There are many quotes in Hamilton that are sure to touch you, inspire you, and even make you laugh! I put together a list of my favorites! Enjoy! And if you missed my Hamilton review, be sure to check it out.
Hamilton Quotes
It truly was hard to pick my favorite quotes from this musical without literally putting the whole soundtrack lyrics in this article. If you have not seen Hamilton yet, be warned, some of these may contain spoilers — although, this is based on history so can you really call them that?
"Raise a glass to freedom, something they can never take away."
"If you stand for nothing, what'll you fall for?"
"How lucky we are to be alive right now."
"There's a million things I haven't done, but just you wait."
"Dying is easy, young man, living is harder."
"Awesome, wow!"
"You have no control who lives, who dies, who tells your story."
"Immigrants, we get the job done!"
"Then a hurricane came, and devastation reigned
Our man saw his future drip, drippin' down the drain
Put a pencil to his temple, connected it to his brain
And he wrote his first refrain, a testament to his pain"
"While we're talking, let me offer you some free advice
Talk less"
"Legacy, what is a legacy?
It's planting seeds in a garden you never get to see"
"Scratch that this is not a moment, it's the movement"
"I may not live to see our glory
But I will gladly join the fight
And when our children tell our story
They'll tell the story of tonight"
"I love my sister more than anything in this life
I will choose her happiness over mine every time"
"And when you were mine
The world seemed to burn"
"Look 'em in the eye, aim no higher
Summon all the courage you require"
"Come back to bed, that would be enough"
"You want a revolution?
I want a revelation"
"Don't modulate the key then not debate with me"
"And no, don't change the subject
'Cause you're my favorite subject"
"We are a powder keg about to explode
I need someone like you to lighten the load"
"Where are you taking me?
I'm about to change your life"
"And when you said 'Hi'
I forgot my dang name
Set my heart aflame
Every part aflame
This is not a game"
"I swear your pride will be the death of us all
Beware, it goeth before the fall"
"Try not to crack under the stress, we're breaking down like fractions"
"I wanna sit under my own vine and fig tree
A moment alone in the shade
At home in this nation we've made"
"We rise and we fall and we break
We fall and we make our mistakes"
"I'll see you on the other side of the war"
"Don't do a thing
History will prove him wrong"
"Negotiate a peace
Or negotiate a time and place"
"My name's been through a lot, I can take it"
"If we manage to get this right
They'll surrender by early light
The world will never be the same"
"And so the American experiment begins
With my friends all scattered to the winds"
"Life, liberty and the pursuit of happiness
We fought for these ideals we shouldn't settle for less"
"Have it all, lose it all
You ready for more yet?"
"There's nothing like summer in the city
Someone under stress meets someone looking pretty"
I hope you enjoyed this list of Hamilton quotes! There are many, many other great ones. I have lots of other collections of quotes, so be sure to check those out.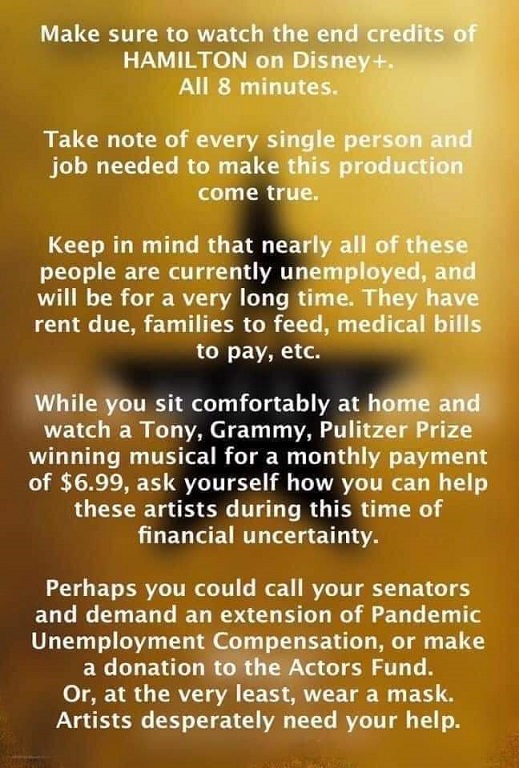 About Hamilton
Hamilton: An American Musical, simply known as Hamilton, is a musical with music, lyrics, and book by Lin-Manuel Miranda. It tells the story of American Founding Father Alexander Hamilton.