Hamilton the Musical is now available to watch on Disney+. Filmed in 2016 with the original cast, including LIn-Manuel Miranda, it is an absolute delight.
I hate to admit this but I had not seen Hamilton until this past weekend when I watched it on Disney+. Honestly, I hadn't even listened to the soundtrack. That was on purpose though so that I could experience it the first time as a show, and then become addicted to the soundtrack after. That last part was something I guessed would happen, and it did.
When I tell you that this film blew me away, it is an understatement. My husband and I put it on and within seconds were both sucked in and silent. We didn't talk until intermission. We were both just so memorized by the show, the cast, the music, EVERYTHING. I knew that Lin-Manuel Miranda was a genius but WOW, he really proved it with Hamilton.
My husband and I both sort of know the story of Alexander Hamilton, so nothing really came as a shock. But the way this story is told? Pure brilliance. I was tapping my toes, my eyes were glued to the screen, and several times I cried. At one point toward the end I became a sobbing mess. I don't want to give the story away to anyone who doesn't know it all, so I won't say when. But if you do know you can probably guess.
Every single song is beyond brilliant. I loved every moment of Hamilton and when it was over, I wanted to watch it again. I am dying to see it live and in person now, hopefully someday. It is definitely not the same as being in the audience. I love a good musical and now that the girls are getting older, we plan to go a lot. Especially living close(ish) to New York City.
So even though it is not the same as seeing the show live, they did their best to make you feel like you were there. Complete with an intermission. The way that is shot gives it a different feel, with close ups and the way the camera moves. Hamilton is pure inspiration from the very beginning. Hamilton was a force to be reckoned with, that is for sure.
When I got to the end of the musical, I realized this play is about so much more than Alexander Hamilton. It is rightfully named Hamilton be about him AND Eliza Hamilton. I am 100% here for that. It came as a bit of a surprise to me, and I spent the last ten minutes sobbing like a baby. But my heart swelled and I got chills and I just sat, thinking about the message, all the way through the credits.
The entire original cast absolutely brings it. Lin-Manuel Miranda as Alexander Hamilton is of course amazing, but Leslie Odom Jr. steals the show as Aaron Burr. He is an incredible performer. Other notable cast members are Jonathan Groff as the hilarious King George (seriously you will be cracking up). Renee Elise Goldsberry crushes her role as Angelica Schuyler. You might know her from another role she is amazing in – Quellcrist Falconer in Altered Carbon.
Daveed Diggs, Anthony Ramos, and Okieriete Onaodowan each play two very important roles in Hamilton. And they are all an absolute delight to watch perform. Pure brilliance those three. And don't get me started on how amazing Chris Jackson is as George Washington. And that voice! Phillipa Soo had me in tears several times as Eliza Hamilton and her voice is incredible. So basically, the entire cast is amazing and makes this even more of a must watch!
Hamilton is sure to give you chills, tears, and make you tap your toes (at the very least). A history lesson told in a way that is fun and easy to understand. Also a very important watch it today's climate. Trust me on that one. It touches on immigration, slavery, corruption, the problem with politics, and so much more.
Check out my favorite Hamilton quotes!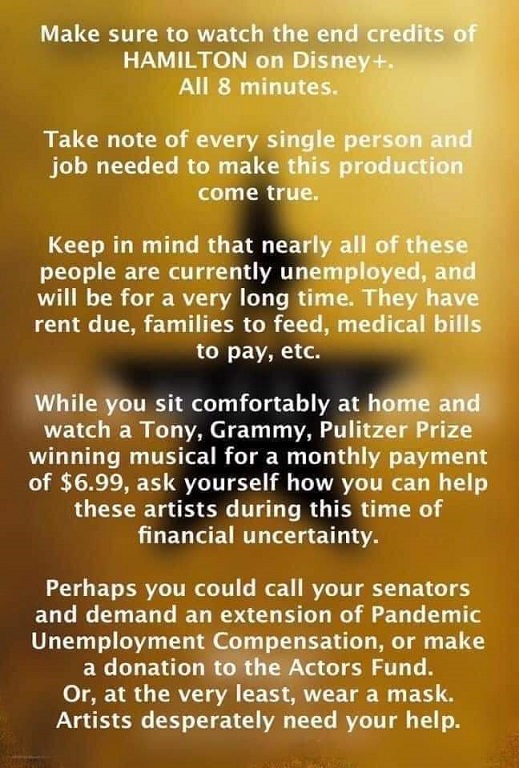 About Hamilton
Hamilton: An American Musical, simply known as Hamilton, is a musical with music, lyrics, and book by Lin-Manuel Miranda. It tells the story of American Founding Father Alexander Hamilton.