The Paley Center released Apple TV's Central Park: A Conversation with the Stars and Creative Team which gives us the details behind this genius new show.
Being press has put me in a lot of interview rooms for upcoming shows and movies. My favorite thing about that? Getting a deeper look at and understanding of them. There are many times I have left an interview room and realized I now like that television show or movie more. Why? Because I get what went into it now, and what the vision was behind it.
With the world being crazy right now, there are no large press conferences.But that doesn't mean we still have to miss out on the stories behind these creations. Thanks to The Paley Center and its Paley Front Row series, we are getting what you might call a virtual press conference. A conversation with the stars and creators of favorite shows, and today, the latest edition is about Apple TV+'s Central Park.
Apple's Central Park: A Conversation with the Stars and Creative Team
Paley Front Row is a new way to enjoy the behind-the-scenes stories of today's top shows from the comfort of home. All programs are available for view on the Paley Center's YouTube channel.
The all-star panel includes:
Kristen Bell "Molly"
Daveed Diggs "Helen"
Kathryn Hahn "Paige"
Leslie Odom, Jr. "Owen"
Loren Bouchard (Executive Producer/Co-Creator)
Josh Gad (Executive Producer/ Co-Creator/"Birdie")
Nora Smith (Executive Producer/Co-Creator)
Sanjay Shah (Executive Producer)
Halsted Sullivan (Executive Producer)
If you read my review you already know I love this show — especially the songs. So I was thrilled to hear about how it all started as an idea Josh Gad had.. and apparently he just kept calling friends about it. Viola. We no have a masterpiece that is like nothing we have ever seen before.
Here are some of the best takeaways from this conversation, but trust me when I say, you should still watch the whole thirty minutes. It is TOTALLY worth it.
Making It Feel Real
I guess I really didn't think about the fact that so much research about Central Park would go into an animated show. Looking back now I realize that it truly does, and that is why the show feels so real. There are many other things that go into making the show feel believable, and I didn't realize it is the little things that I overlook. I love what Loren Bouchard had to say about that, and why they do it.
"Just an outlet on the wall, or a crack in the cement. The more you take from real life and put into animation, the more you are signaling to the audience that you are taking this seriously. You take a little bit of real life and smear it around like peanut butter and it elevates everything."
The Songs Make The Show
The best part about Central Park, and what makes it so different from those we haven't seen before, is the songs. In this conversation, the cast reveals their favorite songs, and that they love them too. Leslie Odom Jr., who voices park manager Owen, says his favorite song is "the Anthony Hamilton 90's R&B, bedroom R&B song that we sing on our date night." Kathryn Hahn agrees, saying she loves that song as well.
"It was a real surprise to me. The music is admittedly my favorite part of the show." – Leslie Odom Jr.
Kristen Bell has a different take. As a mom of two young girls (like me!!), she says her household's favorite is If It Poops I'll Pick It Up and that her whole family can't stop singing it. I have to admit, that is one of my favorites as well. It is really catchy and surprising. And like Kristen says, "It's extra funny because they are talking about poop."
Who Is Birdie?
Josh Gad is not only the co-creator, he voices the awkward narrator, Birdie. One of the funniest characters in the show, in my opinion, although he does feel a little bit Olaf-y. At least he did, until Josh discussed the inspiration behind him. And now it all just makes sense. Like I said, this is why I love getting to hear about the details behind the show.
"[Birdie is] an undependable narrator. A guardian angel in the likes of Jiminy Cricket, in the likes of Burt from Mary Poppins. And the ukulele playing narrator in Disney's Robin Hood. What if we take all those elements — and made him awful at all of them. But his love is so pure."
Josh also talked about hos it was important to Loren and Nora to keep Birdie's background a mystery. He has a strong love for the Tillermans, and an urge to protect them. But we don't know why.
The Female Characters
One thing that I really enjoyed about the episodes that I watched, is that the female characters seem real. Kristen Bell picked up on that too, and worded it perfectly.
"They're just humans. They have the exact same dynamics as a male does." – Kristen Bell
As a mom of two daughters, I sometimes cringe at how females are portrayed in the shows that they watch. But not in Central Park. Something else that sticks with me in this series is the relationship between Molly, and her mother, Paige. Kathryn Hayn, who voices Paige, has some insight on that.
"[The relationship] is for real. Are we mother-daughter friends? I love the sleepover episode that we have. That relationship becomes something very different. The dynamics start to shift." – Kathryn Hayn
My daughters are not teenagers yet, but they are trying to grow up fast, trust me. So I enjoy seeing Molly and Paige's relationship be a positive one — at least it is for now.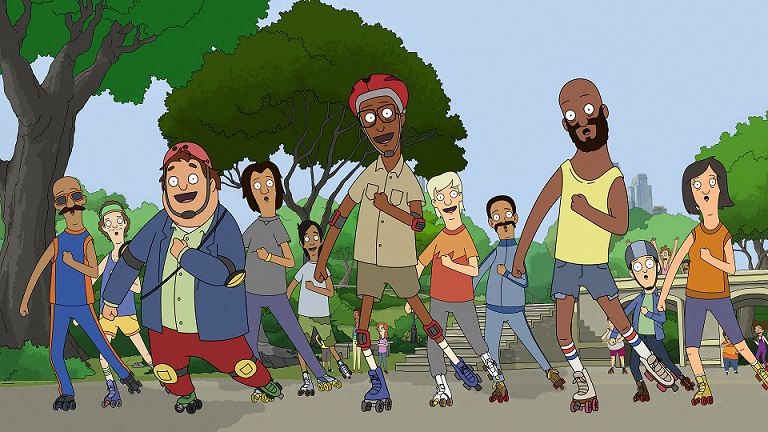 Teasing The Last Episode
When asked what they can tease about the rest of the season, both Loren Bouchard and Josh Gad opted to talk about the last episode. Honestly, this just made me SO excited for what is to come this season (and next!).
"It all ends up as a big metaphor. In the last episode, it is the family all up at the Harlem Meer trying to determine if someone has released a snake head — which is a real fish — into the pond. The family is dealing with this Lockness or Jaws type story. It is a perfect metaphor for what they are dealing with with Bitsy. And of course, she gets involved." – Loren Bouchard
"The show just gets better and better. There are so many unexpected surprises, so many unexpected incredible guest stars, so many unexpected incredible songs. It is leading up to something — to an event — that really does pay off. There is a particular song at the end of our last episode of the first season that strikes me as representing the best of everything that Central Park does. I hope it leaves everyone on a high, and wanting a lot more, because whether you like it or not, you're getting more" – Josh Gad

About Central Park
In this animated musical comedy, Owen Tillerman and his family live an unconventional life in New York's bustling Central Park, which Owen manages. Now, they'll have to fend off a wealthy hotel heiress who wants to turn the park into condos.
Watch the first two episodes of Central Park on Apple TV+ now!