The Sonic The Hedgehog movie is filled with Easter Eggs for fans of the little blue hedgehog. Here is a list of the ones I found, let me know if I am missing any!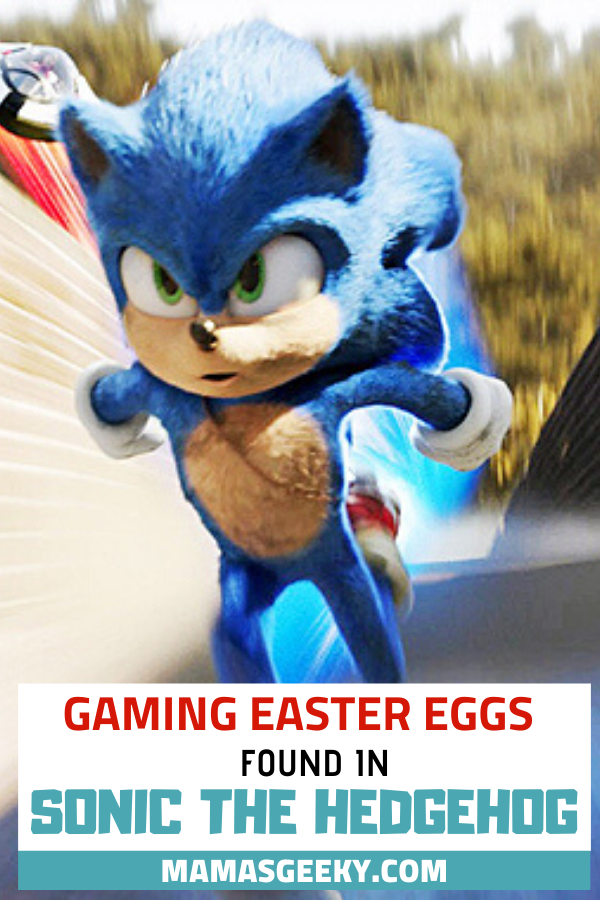 Everyone in my family loves Sonic the Hedgehog. We are huge fans of the video games, TV series, and comic books. This movie exceeded all of our expectations (read my full Sonic the Hedgehog review here). Even if you aren't a fan of Sonic, you will probably become one after watching the movie. But if you are, oh just you wait! There is so much awesome in store for you!
Easter Eggs are some of my favorite things in movies. And so I was thrilled to see so many nods to the Sonic the Hedgehog video games in this film. Here is what I have found so far, but I am sure I am missing some. If I am, let me know and I will add them to my list!
WARNING: SPOILERS AHEAD FOR SONIC THE HEDGEHOG
Most movies that are based on comic books and video games have Easter Eggs to be discovered — and Sonic the Hedgehog is no different.
Rings
Because no Sonic the Hedgehog story would be complete without rings! In this movie, Sonic uses these to transport between worlds and locations. They actually look really cool on the big screen! Although, I would have loved to see him run and collect a bunch in a row because, of course I would.
"Eggman"
To see Jim Carrey literally become Dr. Robotnik — and then to see Dr. Robotnik become Eggman was amazing. Of course, before we actually see the transformation, there is a nod to this character. Dr. Robotnik is called "Eggman" – and my heart filled with joy! As most of you know I am a fan of villains — and Eggman is one of my favorite villains!
Green Hill Zone / Hill Top Zone
Green Hill Zone is the first level of the platform game Sonic the Hedgehog, which released for the Sega Genesis in 1991. And so of course they had to show us what it would look like on the big screen. Boy, am I glad the did! The movie starts out with a scene there, and it brought me way back. Of course, we got the Sega theme song there too. Amazing.
Also, the town Sonic lives in is called Green Hills. Which is another reference to this stage of the game. In his cave, he is playing Ping Pong on a road sign that says Hill Top Rd, a reference to once of the zones from Sonic 2.
Original Sonic Sega Logo
Another gaming Easter Egg found in Sonic's cave is discovered when he is messing around with the nun-chucks. In this scene he wears a bandana that has the original logo with the stars and wings.
Taping his foot
If you have ever stopped playing a Sonic the Hedgehog game to grab a drink, snack, or even to run to the bathroom, then you know he starts tapping his foot if you leave him. In the Sonic the Hedgehog movie, Sonic taps his foot while waiting to run after Tom and Maddie and I couldn't help put crack up. I remember yelling at him many times when I was younger to let him know I was gone for two seconds and he could wait!
Mushroom Hill Zone
You might remember a Mushroom Hill Zone from the Sonic video games, I know I do. So I thought it was a great nod to them when Sonic talked about the mushroom world that he would have to teleport into if things should not work out on Earth. And then actually seeing it in action at the end of the film was pretty amazing. A great nod for fans of the games (and comics!).
Chili Dogs
If you know anything about Sonic, you know he loves a good chili dog. So when he ate a whole bunch of them — and then stunk up the hotel room he was staying at with Tom — I just had to smile. Fun fact: my husband only tried chili dogs because Sonic liked them!
Badniks
Late on in the movie, we see Robotnik restoring power to his lab. One of the switches is labeled "Badniks", which is of course a reference to the name for his robots in Sega Genesis games.
Tails
THIS SCENE BLEW MY MIND. I jumped out of my chair and screamed I was so thrilled with the addition of Tails. First of all, he looks amazing. AMAZING. I was beyond thrilled to see him show up on Earth. So what does this mean? Well this likely means a sequel is being planned — with Tails. Not to mention we need Dr. Robotnik — err Eggman — to get out of the mushroom world and come after Sonic again.
Are there any Sonic the Hedgehog movie Easter Eggs that I missed?
About Sonic The Hedgehog
Sonic tries to navigate the complexities of life on Earth with his newfound best friend — a human named Tom Wachowski. They must soon join forces to prevent the evil Dr. Robotnik from capturing Sonic and using his powers for world domination.
Race into theaters to see Sonic The Hedgehog!