JoJo Siwa is wildly popular among kids and is known for her music career — and of course her bows! She rocks a rainbow ponytail more often than not. If your kid wants to be like JoJo, and you don't want to deal with hair dye, here is a simple DIY JoJo Siwa Inspired Rainbow Ponytail extension!
If your daughters are anything like mine, they love JoJo Siwa. My daughters are obsessed, and want to be just like JoJo — complete with her signature rainbow ponytail. My husband and I haven't quite gotten to the point where we will allow permanent hair dye (they are 7 and 8 years old) so I came up with something a lot easier! A simple DIY JoJo Siwa inspired rainbow ponytail extension — complete with an official JoJo Siwa bow of course!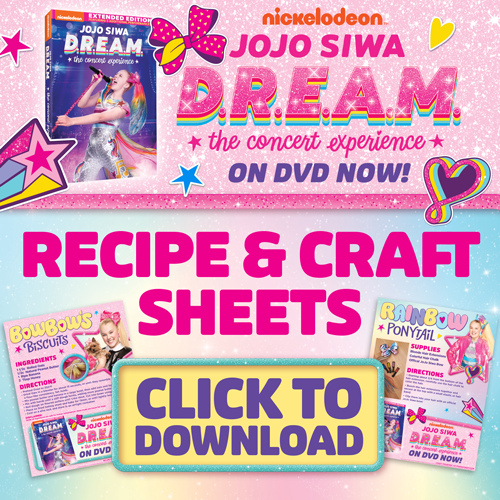 I promise these rainbow ponytails are easy to make, and you only need a few things to make one. Trust me when I say, your kids will love it! They can be worn for any occasion and last a long time — my girls have barely taken them off since we made them weeks ago!
What you need:
JoJo Siwa Inspired Rainbow Ponytail Directions
This JoJo inspired ponytail is sure to be a hit with any JoJo fan! Think of what a fun activity this would be at a JoJo themed party?! Just follow these simple steps and you will be rocking to the beat — JoJo Siwa style — in no time!
1. Starting about 3/4 from the bottom of the hair extension, careful use the hair chalk to color with vibrant colors. I used yellow, red, blue, and pink. These do not have to be even, in fact, it looks better if they are uneven.
2. Bunch the hair extensions together and secure at the top with a small elastic or hair band.

3. What better way to clip them in to your hair than with an official JoJo Siwa bow!
Be sure to pin these easy directions so you can find them when you need them!
Jojo Siwa fans will be excited to hear that there is a NEW JoJo Siwa DVD available now — and it is of her concert! I know my girls will thrilled to hear! Make rainbow ponytails for the whole family and rock out — JoJo Siwa style!
About JOJO SIWA D.R.E.A.M.: The Concert Experience
It's bow time! JoJo's bringing the D.R.E.A.M. Tour to her hometown of Omaha, Nebraska, and she's giving you a front-row seat in this exclusive extended version of her concert special! Join the worldwide party and sing along to hits including "High Top Shoes," "Hold the Drama," "#1U" and "Bop!" as JoJo and her dance crew go on an epic journey to Dreamland. Plus, ride on JoJo's tour bus, glam out in her dressing room, listen in during sound check, meet the dancers, and enjoy more behind-the-scenes footage leading up to the show!