I knew going into Star Wars Episode IX: The Rise of Skywalker that it was going to be filled with emotional moments. But I had no clue I would be crying for most of the film.
Star Wars: The Rise of Skywalker was an emotional roller coaster for me. Filled with ups and downs from the very first moment. I cried. A lot. I cheered. A lot. My mind was blown and I loved nearly every second of it. Is it a perfect movie? Of course not. But the last 30 minutes were.
In this article I will talk about the 10 moments that made me the most emotional — and trust me, it was hard to narrow it down. When I mean emotional I don't just mean crying. I mean every emotion. And as with every article like this that I write, these emotional moments from The Rise of Skywalker are not in order of how emotional they made me. They are in the order of when they occurred in the film, more or less.
WARNING: MASSIVE SPOILERS FOR THE RISE OF SKYWALKER AHEAD!
This is your final warning. This article is riddled with spoilers for Star Wars: The Rise of Skywalker. If you do not wish to know major plot points, and the ending, then stop reading now.
Chewbacca "Dies"
Not too long into the movie Chewbacca is captured. Rey and Kylo Ren are confronting one another, and things get intense. Rey learns that Chewbacca is on a transport ship that is in flight and she tries to use the Force to bring it back down, Kylo uses it to stop her. They struggle and eventually Fore lightening shoots from her fingers, causing the ship to explode.
Listen, when that transport ship blew up I started sobbing. Then to hear her, and Finn, yell CHEWIE! That really got to me. Chewbacca is easily one of my favorite characters in all of Star Wars. Luckily, not too much later, we discover Chewie was on a different transport, and is safe and sound. But that doesn't take away from the emotion I felt during this scene.
General Hux is the Traitor!
And promptly gets killed. Unfortunately. In the movie he betrays the First Order and Kylo Ren to send a warning to the Resistance about Palpatine and the Final Order. He also helps Chewbacca, Poe, and Finn escape to the Millennium Falcon. One of my favorite quotes from The Rise of Skywalker is when he looks up and says "I don't care if you win. I need Kylo Ren to lose."
The entire theater cheered when it was discovered that Hux was the traitor, and I was among them. What a great plot twist (although admittedly one I saw coming).
C-3PO Has His Memory Wiped
From the first second C-3PO suggested doing a memory wipe in order to translate the dagger I KNEW this was coming. I knew it meant he would forget everyone. And I knew it was going to hurt. When he says "Taking one last look at my friends." I lost it. Even though this was a quote from the trailer, and even though I knew this was going to happen — it did not make it any easier.
Creepy C-3PO translating Sith distracted me for a second. Then when he reintroduced himself to everyone. I lost it again. Not to mention when he came across R2-D2 and said he though he would remember having a best friend. I love those droids so much, and their connection. Luckily Artoo was able to restore most of his memory, but that doesn't make this scene any less hard to get through. It was devastating for me.
Zorii Gives Poe the First Order Medallion
Poe and Zorii had a past, and that was evident here. She had a dream to get off her planet. To get out of there. And the First Order Medallion was her ticket to do it. It would give her passage anywhere. But she realized that Poe, that the Resistance, that the cause, needed it more than her. And she was willing to give it up. To give up her dreams. I loved this part because it warmed my heart to see her doing something for the greater good, even if it meant giving up her dreams.
Rey's Parents Revealed
For years everyone has been asking the question "Who Are Rey's Parents?", well now we know. And it was mind blowing. When it was revealed that she is a Palpatine, the whole theater went nuts. Gasps rang out and it was amazing to experience. I myself, had never seen this coming. Ever. I for sure thought she would end up being a Skywalker. This was incredible. I was flooded with several emotions — surprise, anger, fear, excitement. This was a stand out moment for me in The Rise of Skywalker.
Leia's Death
Fast forward to Rey and Kylo Ren fighting in the middle of the ocean on the wreckage of the Death Star. That alone filled with me joy. It seemed to all make sense. He is trying to get her to join him, she, of course, is refusing. Then she kills him. With his own weapon. Because his mother used the Force to call out to him, and it distracted him for a moment.
The one of the most emotional moments in The Rise of Skywalker happens. Leia dies. She had given the last of her energy to, essentially, help Rey kill Kylo Ren. Kylo senses it and the look on his face — it will stick with me for a while.
But what really got me was the reaction to Leia's death from some old friends. R2-D2's will play over and over in my head. And I can't think about them without tearing up. Then Chewie, oh Chewie…. when he learned of her death he dropped to his knees and called out in pain. That… that was heartbreaking.
Rey Saves Ben
Then something totally unexpected happened. Perhaps I should have known that it would because they showed Rey using the Force heal earlier in the film (and if you watch The Mandalorian they show Baby Yoda using it as well), but I still didn't. Rey saves Ben. Not Kylo. Ben. She transfers some Force energy to him in order to heal his wounds.
As she leaves him she says one of my favorite quotes — "I did want to take your hand. Ben's hand.". And with that, she leaves him. As if I wasn't already a sobbing mess at this point, why not bring Han Solo into it. Cue more tears.
Luke's X-Wing
Rey is feeling defeated. She plans to hide away until she dies. And she is just about to burn Luke's lightsaber when he shows up to stop her. He convinces her she needs to go and take on Palpatine. But how can she do that when she burned Kylo's ship? Well with Luke's trusty X-Wing, Red 5, that's how! He uses the Force to lift it from the bottom of the ocean, and my heart swelled. Such nostalgia. Such fan service. And I loved every second of it.
They Come To Help
Just when they thought all hope was lost, we see a whole bunch of ships show up to help the Resistance fight the Final Order. So many familiar faces join the fight — and I was most thrilled to see WEDGE! Like seriously, I squealed with excitement right then.
Is it just me or did this remind you of the Avengers: Endgame scene where all the portals are opening? That is immediately where my mind went. And although Marvel did it better, this was still pretty amazing!
Ben Sacrifices Himself For Rey
When Rey died, and Finn felt it. When they did a close up of his face. I just couldn't. I was not expecting that at all. Rey gave her all to defeat Palpatine. Literally. And then… then we see a hand. Ben's hand. He's back! He uses the Force healing to save Rey. THEY KISS! The whole audience cheered, myself included, as my already welling eyes let the floods go.
Then Ben smiles. And collapses. What a redemption. I wanted more than anything to see Rey and Ben be together and make all the adorable babies. That can't happen now, of course. However, Rey does honor him. And Leia. And Luke… by declaring herself a Skywalker in the end — right after she buries Luke and Leia's lightsabers together at the milk farm on Tatooine.. ALL THE TEARS. The Rise of Skywalker is filled with emotional moments, but this one broke me inside a little bit.
Other Noteworth Emotional Moments from The Rise of Skywalker
A few more honorable mentions — in no particular order.
Chewbacca finally gets his metal! Passed to Chewbacca from Maz Kanata during the celebration at the end. Well deserved Chewie. Well deserved.
When Rey passes the lightsaber to Ben, so he can defeat the Knights of Ren.
All the banter between Finn and Poe.
Rey's visions of her parents leaving her behind.
C-3PO telling R2-D2 he is his best friend.
Every time the Falcon came to someone's rescue.
Lando piloting the Falcon with Chewbacca as co-pilot.
Check out these 50 Quotes from Star Wars: The Rise of Skywalker!
About Star Wars Episode IX: The Rise of Skywalker
The surviving Resistance faces the First Order once more as Rey, Finn and Poe Dameron's journey continues. With the power and knowledge of generations behind them, the final battle commences.
Star Wars: The Rise of Skywalker is in theaters now!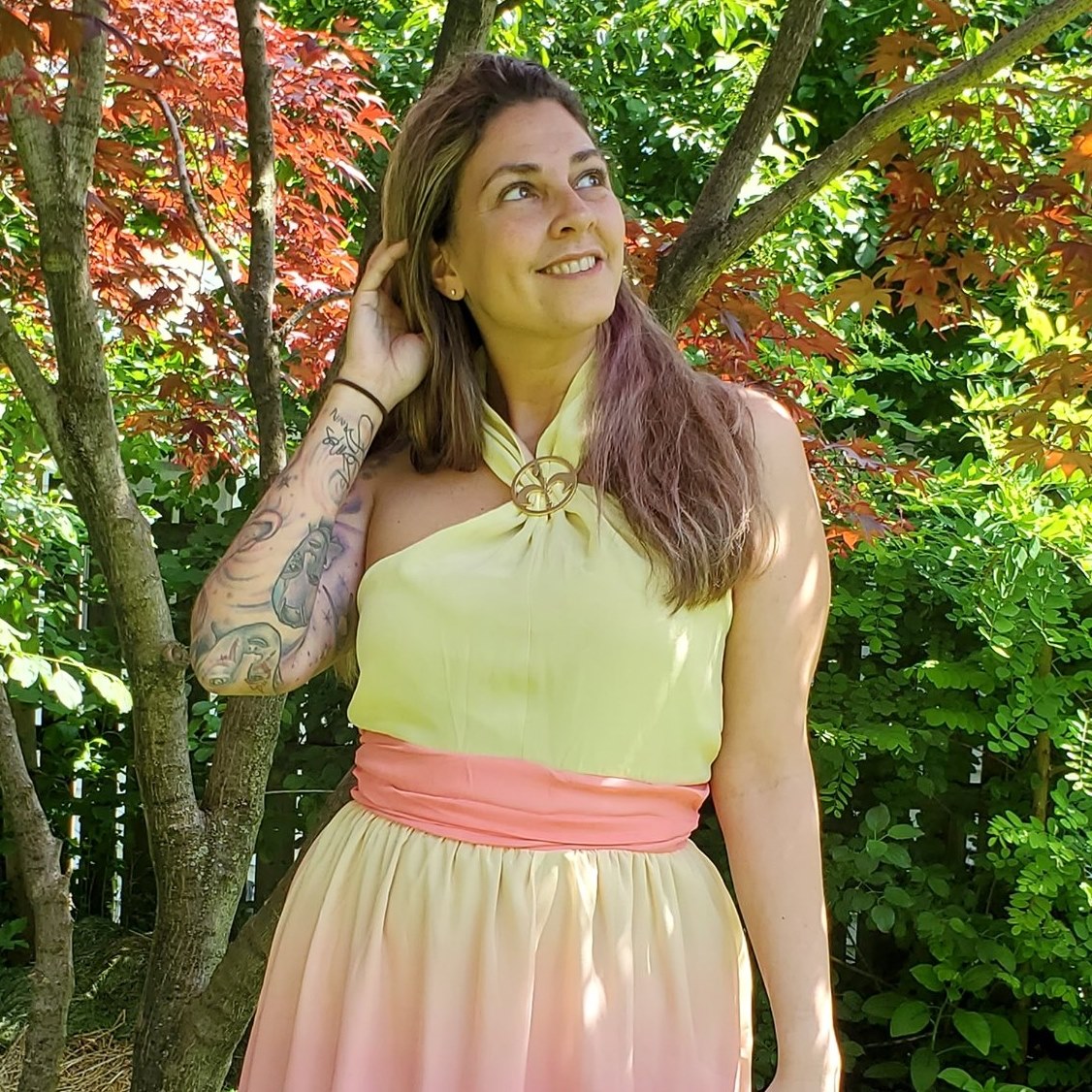 Tessa Smith is a Rotten Tomatoes Tomatometer-approved Film and TV Critic. She is also a Freelance Writer. Tessa has been in the Entertainment writing business for almost ten years and is a member of several Critics Associations including the Hollywood Critics Association and the Greater Western New York Film Critics Association.