For some reason, staying healthy in the summer is harder for me than staying healthy in the winter. I just want to be out and about, enjoying the weather, and because of that, I don't cook as much at home. I'm tempted to go out to eat, or order in – but not this year! This year I planned ahead by collecting some of my favorite low carb and keto meals that are perfect for the summer.
Simple, satisfying, and delicious! I hope you enjoy these summer low carb meals as well. If you have any that you think I should add to my list, just let me know.
Bacon Wrapped Stuffed Peppers
Seriously, who doesn't like bacon? And when you wrap it around sweet (or spicy) peppers, that are filled with a yummy cream cheese mix, you can't go wrong. From Mama's Geeky.
Strawberry Fat Bomb
These strawberry fat bombs are an incredible addition to your keto or low carb diet. Made with cream cheese, heavy cream, unsweetened jello, and fresh strawberries. You're going to love this delicious and creamy treat! From Cooked By Julie.
Crispy Zucchini Fries
These crispy keto zucchini fries are going to become of you favorites once you've tried them. From Oh So Foodie.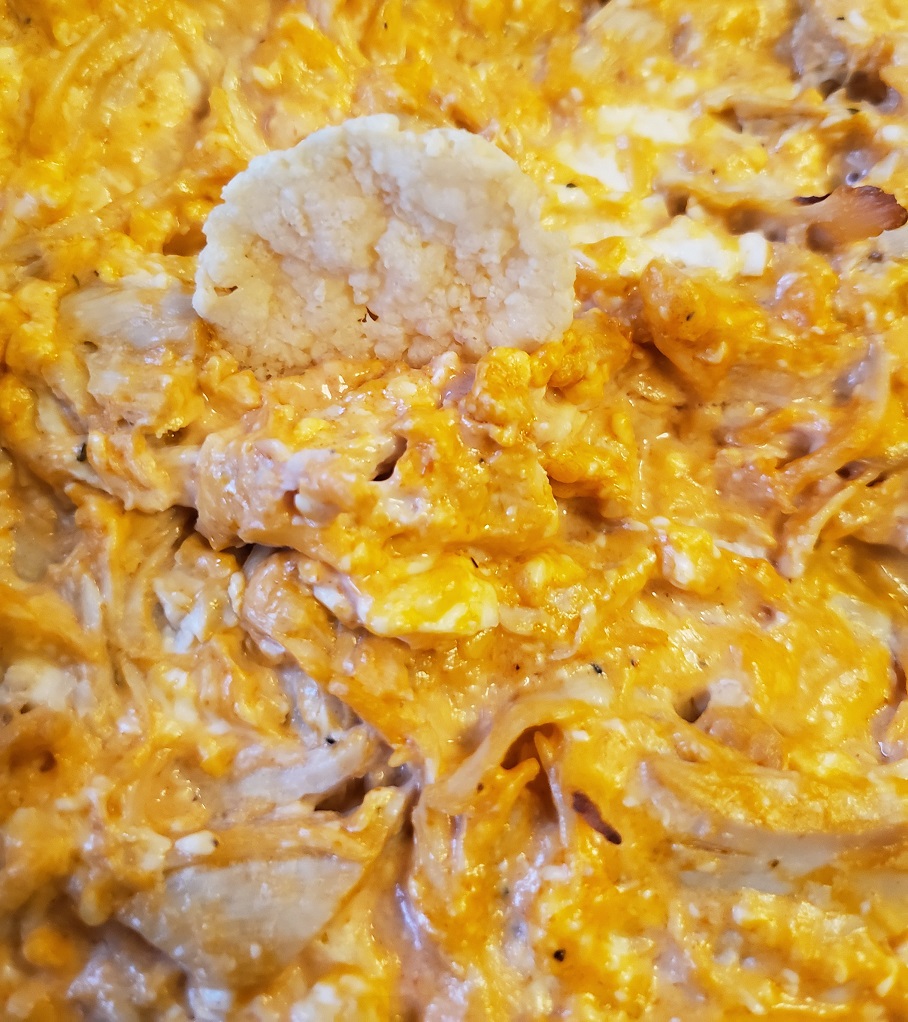 Buffalo Chicken Dip
We love spicy things in our house – so buffalo chicken dip tends to be a Sunday snack for us. But because we are eating keto, that means we can't use chips to scoop with. My husband always chooses celery stalks, but I prefer Parmesan crisps. From Mama's Geeky.
Cajun Smothered Yellow Squash
Cajun smothered yellow squash is easy, peasy south Louisiana side dish yum-deliciousness. The browned Cajun trinity adds pops of color and dimension, while the garlic injects a deep jazzy flavor into the pan. Sliced young yellow squash smother down with the caramelized veggies in a bit of broth until it's all one big skillet squash'candy' side. From A Sprinkling of Cayenne.
BLT Turkey Roll Ups
BLT Turkey roll ups are the easiest meal prep for your lunch for the week. I make these all the time, and kids and adults will both gobble these right up. And if you are in need of a quick and easy keto appetizer roll these up, slice and have them out for your guests. From Simple Yummy Keto.
Mulligatawny Soup
Normally this soup contains more celery, carrots, white rice, flour, and apples – and well, these don't exactly qualify as low carb and keto ingredients. Because of this, we decided to make our own version of Mulligatawny soup that is keto approved. Spoiler alert guys, it came out AMAZING! My kids even devoured it! From Mama's Geeky.
Bacon Wrapped Asparagus
When you are camping or grilling out, you may have tried cooking bacon on the grill for breakfast or lunch. And asparagus on the grill? That's a (delicious!) staple. But what about bacon wrapped asparagus on the grill? You've got to give it a go! From Dancing Through the Rain.
Stuffed Flank Steak
The best way to cook stuffed flank steak is with the sous vide cooking method. Flank steak pinwheels are cooked to the perfect temperature from edge to edge when you sous vide stuffed flank steak. This keto stuffed flank steak recipe will be one of your favorite recipes! From Savoring the Good.
Philly Cheese Steak
This keto philly cheese steak is a recipe that we came up with on our own – and is one of our favorites! It is delicious, and also super easy to make. You can customize this recipe easily according to your individual tastes. From Mama's Geeky.
Cobb Salad
This high fat, low carb Keto Cobb Salad is an easy-to-make keto salad recipe that is full of flavor. Each serving contains only 6 grams of net carbs! From DiabeteStrong.
Shish Kebab
Shish Kebab, also known as Shish Kabob, is a healthy, delicious, nutrient-packed meal of grilled meat and vegetables on skewers. From Low Carb Africa.
Bacon Cheeseburger Soup
One of my favorite things to do is wing it in the kitchen with low carb ingredients. This is how one of our favorite meals was born – Keto Bacon Cheeseburger Soup! From Mama's Geeky.
Grilled Salmon Kabobs
Grilled Salmon Kabobs with Lemon Dill Marinade is a healthy grilled salmon recipe that's loaded with flavor. A simple vinegar, lemon juice, and lemon zest marinade adds zing to salmon with less than 30 minutes of marinating time. You'll stand out at you next grilling party with these unique salmon kabobs. From Plating Pixels.
Taco Zucchini Boats
These taco zucchini boats are fun low-carb way to enjoy your favorite taco flavors! From Mama's Geeky.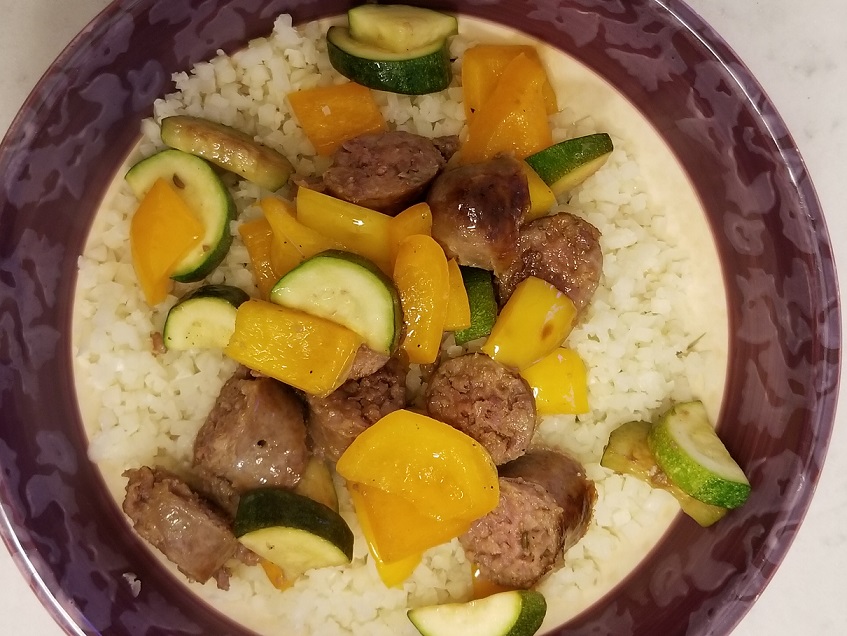 Sausage Stir Fry
This stir fry recipe is something I came up with while trying to have a meal prepared in less than 15 minutes, and still be keto and low carb approved. Plus it is easy to modify with different veggies and sauces! From Mama's Geeky.
Jalapeno Popper Stuffed Chicken
This Keto Stuffed Jalapeño Popper Chicken will become the meal of your dreams! It's perfect for your Keto lifestyle. From Your Haute Mess.
Mini Lemon Curd Tarts
Mini tarts filled with homemade lemon curd and topped with fresh berries are such a delightful treat! From Keto Cooking Christian.
Baked Turkey Roll Ups
These low carb keto baked turkey roll-ups are something the whole family will love. They are super easy to make – and you can customize them to your tastes! From Mama's Geeky.
Grilled Chicken Kabobs
You are going to love these grilled chicken kabobs with vegetables! I am all about easy dinner ideas. And, it doesn't get much simpler than kabobs! After all, who wants to spend hours in the kitchen making dinner after working all day long? I know that I don't! From Confessions of an Overworked Mom.
Gourmet "Mac" and Cheese
My daughters love mac and cheese. I mean, what kids don't? But low carb/keto has been a big part of our lives for about a year now, and sometimes I am just too tired or busy to make two meals. So when my girls ask for mac and cheese now, this is my go to recipe. From Mama's Geeky.
Creole Chicken Salad
Oh soooo warm-weather friendly, my Creole chicken salad is perfect for using up your leftover chicken. Zesty Creole mustard and finely chopped Cajun trinity bits transform the ordinary cast of traditional chicken salad characters into an extraordinary, flavor-popping feast that's perfect on fresh greens or gluten free bread or crackers. From A Sprinkling of Cayenne.
Mozzarella and Pesto Chicken
Mozzarella and Pesto Chicken with Zoodles is a fresh and cheesy well-balanced meal the whole family will enjoy. With a smoky homemade pesto sauce (or your favorite store-bought version), boneless skinless chicken breasts and zucchini noodles. A delicious meal that will satisfy your cravings without the carbs! From Taste and See.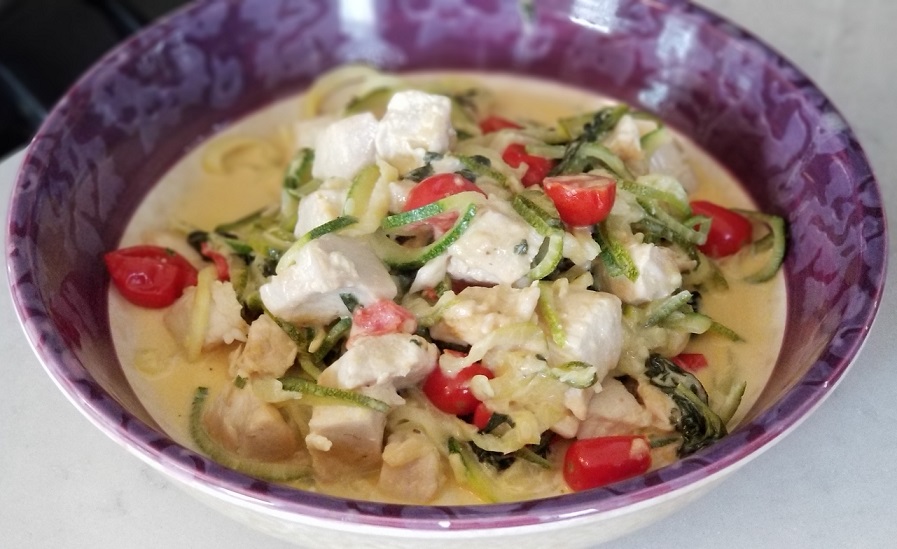 Creamy Tuscan Chicken
This Keto approved creamy Tuscan chicken over zoodles recipe is always a hit at dinner! It takes no time at all, is super easy, and tastes amazing. I promise, this will be your new go-to weeknight dinner! From Mama's Geeky.
Egg Roll in a Bowl
This Egg Roll in a Bowl recipe is loaded with Asian flavor and is a Paleo, Whole30, gluten-free, dairy-free and keto recipe to make for an easy weeknight dinner. From start to finish, you can have this healthy and low-carb dinner recipe ready in under 30 minutes! From Evolving Table.
Instant Pot Deviled Eggs
Who knew making deviled eggs could be this easy? Serious though. Before making hard boiled eggs in the Instant Pot, I would literally lose half of the eggs in the shell. But by hard boiling the eggs in the Instant Pot, there's literally no egg waste. They come out completely whole and are so easy to peel! From The Keto Queens.