This is a paid promotion for Avengers: Endgame. These DIY pencil arrows are sure to have your little Hawkeye practicing their writing with a smile!
Avengers: Endgame is finally coming home and to celebrate, I am going to help you channel your inner Hawkeye – with easy DIY pencil arrows! In Endgame, Hawkeye goes down a dark path when he loses his family (yes, I cried). This one of the most emotional moments in Avengers: Endgame, and part of the reason I love this hero so much.
Did you miss my spoiler free Avengers: Endgame review?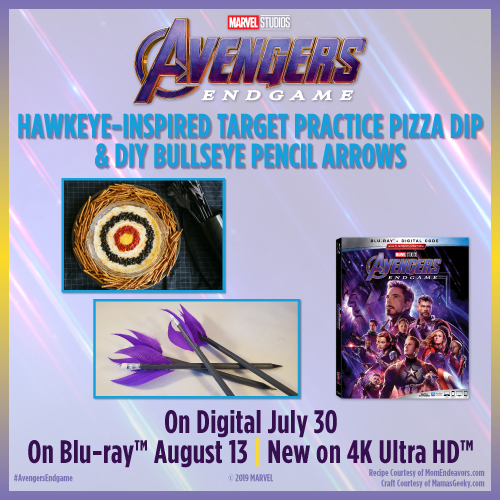 If you are under 12, it is required that you do this craft with parent supervision.
What You Need
Directions
Cut a few purple feathers down to create the fletching part of the arrow.
Sharpen your pencils that you want to use as arrows.
Carefully hot glue three feathers to the back of the pencil, spacing them out about 1/3 of the way around.
Let dry before using.
That's it! You know have some pretty awesome writing utensils that Hawkeye himself would be jealous of!
Are you a real archer? Need an easy DIY archery target? I have you covered there too!
Optional Additional Craft
You probably need a place to store your awesome new pencils, don't you? Well I am going to show yo uhow to make a quiver pencil holder.
What You Need
Directions
Cut black construction paper to completely cover your can.
Glue or tape it on to the outside of the can or pencil holder.
Cut a think, long rectangle out of the construction paper that will be your handle for your quiver.
Place your pencils (point down) in your pencil holder!
This is the perfect way to display your arrow pencils. If Captain America is the super hero at the top of your list, my friend Tania has the perfect craft idea for you! A Captain America Flying Shield that your kiddos are sure to love!
About Avengers: Endgame
Adrift in space with no food or water, Tony Stark sends a message to Pepper Potts as his oxygen supply starts to dwindle. Meanwhile, the remaining Avengers — Thor, Black Widow, Captain America and Bruce Banner — must figure out a way to bring back their vanquished allies for an epic showdown with Thanos — the evil demigod who decimated the planet and the universe.
Avengers: Endgame comes to digital July 30th, and on Blu-ray/DVD on August 13th!
Tessa Smith is a Rotten Tomatoes Tomatometer-approved Film and TV Critic. She is also a Freelance Writer. Tessa has been in the Entertainment writing business for almost ten years and is a member of several Critics Associations including the Critics Choice Association, Hollywood Critics Association, and the Greater Western New York Film Critics Association.