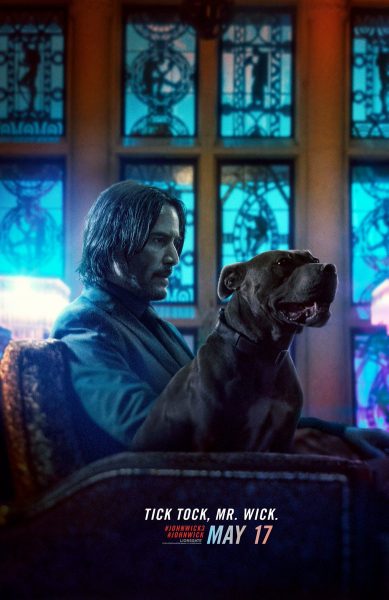 John Wick Chapter 3 just got a second trailer – and it looks amazing! There is so much action. I admit, I have not seen the first two, but I have been planning to for a while. There are so many movies and television shows out there that I find it hard to choose what to watch and what not to watch. All that being said, after watching the first John Wick 3 trailer, I became extremely interested. I love me some Keanu Reeves, and I also love action movies. So this seems like a trilogy that is right up my alley.
My Reaction
I kind of adore Laurence Fishburne. Ever since I interviewed Laurence for Ant-Man and The Wasp and he revealed his inner nerd, he has been one of my all time favorites. I mean, I was in the room with a legend guys and he just wanted to geek out about comic books (Marvel and DC). Yea, he is that cool.
This movie seriously looks like it packed with action, which is what I love. That motorcycle scene though! Am I right? Yea, I totally need to watch the first two before May. I just might watch the first one this weekend if I find the time…
About John Wick 3
In this third installment of the adrenaline-fueled action franchise, super-assassin John Wick (Keanu Reeves) returns with a $14 million price tag on his head and an army of bounty-hunting killers on his trail. After killing a member of the shadowy international assassin's guild, the High Table, John Wick is excommunicado, but the world's most ruthless hit men and women await his every turn.
Starring Keanu Reeves, Halle Berry, Laurence Fishburne, Mark Dacascos, Asia Kate Dillon, Lance Reddick, Saïd Taghmaoui, Jerome Flynn, Jason Mantzoukas, Tobias Segal, Boban Marjanovic, with Anjelica Huston, and Ian McShane.
John Wick: Chapter 3 – Parabellum In theaters May 17, 2019.
#JohnWick3 #JohnWick
http://www.johnwick.movie/
https://www.facebook.com/johnwickmovie
https://twitter.com/JohnWickMovie
https://www.instagram.com/johnwickmovie/