Thank you so much to Marvel Studios for this amazing experience. All opinions expressed are 100% my own.
While I was in town for the Avengers: Infinity War World Premiere, I also got to do something amazing. The afternoon before the premiere we were brought to the set of Captain Marvel. Yes, CAPTAIN MARVEL! While there I got a behind the scenes look at so many things. I saw some of the props used, browsed the costume trailer, chatted with executive producer Jonathan Schwartz, and even watch a scene being filmed. I am pretty sure that my face was in a permasmile the entire day as I took it all in.
Handling The Props
One of the first things we saw was a table full of blasters that I totally could not wait to get my hands on. And then I did. As I was touching EVERYTHING, the props guy was telling us about how some of these were Kree blasters, and some were Skrull blasters. This was before any trailers or images were released of course, so my heart stopped. The Skrulls? You mean…my favorite species in the Marvel Comics?! Could this be the Kree/Skrull War movie I have been waiting for? Could this be an introduction to the Skrulls and then we get Secret Invasion? And then Dark Reign? One can only hope.
Peeking In The Costumes Trailer
I almost died when I was told we would be inside the costume trailer. We walked in and I immediately started searching. My eyes were dashing all around until I found a pair of adorable sneakers, that were totally for an "old person". Yup, THE Stan Lee's costume was right in front of me. You know I ran my fingers over the shirts and pants, just to get a little bit closer to the legend himself. We have since lost Stan Lee and so I am very thankful to have had the opportunity to do that.
Also among the costumes were Agent Phil Coulson (eek!), and of course Nick Fury and Carol Danvers. I did not see any Mar-Vell (or whoever Marvel is saying Jude Law plays) costumes. He must not have started filming yet when we were there. I did think that it was awesome to see the Kree costumes for Carol. Fun Fact: There are different versions to each outfit – pristine, roughed up a little, roughed up a lot, and so on. This way if Carol has been in a fight, they don't have to actually ruin her costume, and she can still go back and film previous scenes after the fact. I also loved seeing her NIN shirt. It brought me back!
Walking Through The Sets
While there, we spent some time walking through several different sets. I got to see spaceships – like I was inside a Kree spaceship! Inside a Skrull Spaceship! WHAT!!! I even got myself into a little bit of torture trouble in the Mind Fracker, as you can see, but don't worry, I made it out OK. It was so surreal to be walking through the sets knowing who had been walking through them before me. I cannot wait to see the movie because I know I will be thinking "I was there! I was there!" the whole time.
Watching A Scene Be Filmed
The scene that we saw being filmed was inside a "Quadjet". Jonathan Schwartz let us know they were calling it that since it is the pre-curser of the Quinjet. I got to watch Brie Larson and Samuel L. Jackson (with hair) in action. Who else was there? An adorable orange tabby cat who just might have the name "Chewie" (Yea I know it is Goose but I refuse to accept that. The cat is Chewie.) in the movie! We couldn't hear much of the talking, since they were inside a jet and all, but it was still a really amazing experience.
Fun Fact: There were three cats that portray Carol's adorable pet on set.
After they were done, Brie and Samuel were nice enough to come over and take a photo with us. Samuel chatted with my a little bit about my Marvel tattoo, and joked about where Nick Fury was on it. I told him I would add him and we shared a laugh together. Something I will never forget. I had to ask Jonathan about the Skrulls and he pulled up his phone to show me a photo. I may or may not have freaked out with excitement. Keep in mind, I had not seen any Skrulls before this as filming was still going on. So when the First Look photos and trailer were released, I was like yea, I saw that Skrull already. AMAZING.
CAPTAIN MARVEL hits theaters TOMORROW!
Like CAPTAIN MARVEL on Facebook: https://www.facebook.com/CaptainMarvelOfficial/
Follow CAPTAIN MARVEL on Twitter: https://twitter.com/captainmarvel
Follow CAPTAIN MARVEL on Instagram: https://www.instagram.com/captainmarvelofficial/
Visit the official CAPTAIN MARVEL site here: https://www.marvel.com/movies/captain-marvel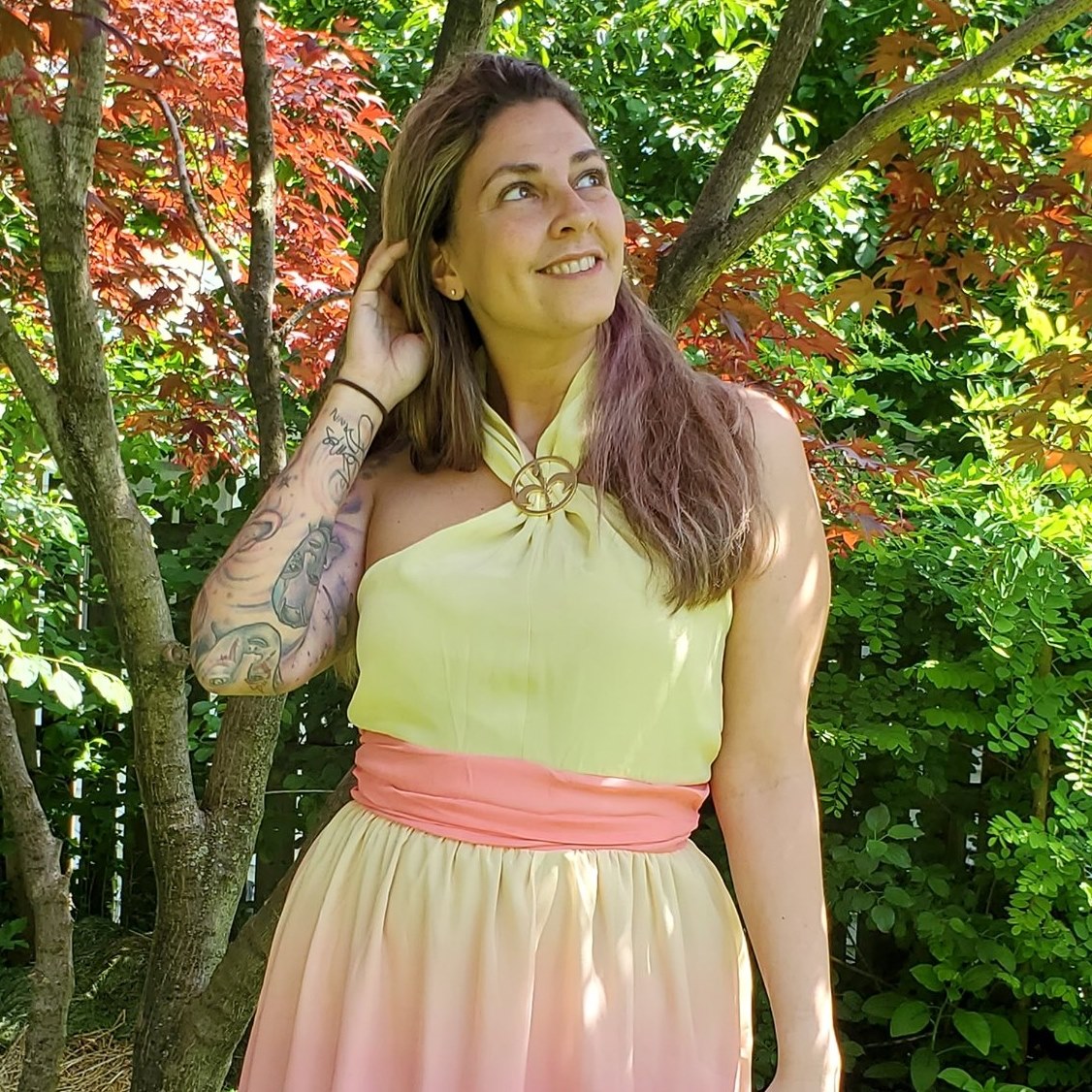 Tessa Smith is a Rotten Tomatoes Tomatometer-approved Film and TV Critic. She is also a Freelance Writer. Tessa has been in the Entertainment writing business for almost ten years and is a member of several Critics Associations including the Critics Choice Association, Hollywood Critics Association, and the Greater Western New York Film Critics Association.