This post contains affiliate links.
When I first learned about the Marvel: Universe of Super Heroes exhibit at the Museum of Pop Culture, I knew it was something I was going to have to check out. I researched for a bit and decided that my family and I would be taking a trip out to WA this summer to check it out. As huge comic book fans, how could we not?! The fact that Ann Nocenti is the Executive Producer? That is the icing on the cake. Ann has created some of my most favorite comic book character like Mojo, Longshot, and Typhoid Mary. She also wrote an amazing run of Daredevil. Basically, she is a super talented comic book writer, creator, and editor – and I got the chance to talk with her one on one.
The Mojo Universe
The Mojo Universe is hands down one of the best story lines in the comic books. If you don't know anything about him, basically he rules over an Entertainment Universe where he plays out reality and game shows involving some of our favorite heroes, like Longshot. I asked Ann how that came about.
"Arthur Adams and I wanted to work together. The creation of those characters [Mojo, Longshot, etc] were a mind meld between my and Arthur's brain. I was doing media studies at the time and I was reading things like Marshall McLuhan and Noam Chomsky and all the media analysists at the time. [Chomsky] was saying all the media are buying each other out and they are becoming one voice – and one voice is dominating the news. So we created this universe where there was this creature that was basically dominating the airwaves. And Arthur came up with this insane drawing of a big, fat, yellow guy who was babbling and vain and controlling the media."
We discussed the fact that this story line is still relevant and Ann pointed out that much of what she was writing about thirty years ago still is. I used the word sad and she it is sad, but life, and that she has a lot of hope. When asked briefly if there were any characters she created that never made it to the pages of a comic book, but she wished they did, she had a brief, but pretty amazing response.
"I had very good editors. So if I proposed something that sucked, they probably didn't let me do it."
Being a Woman in the Comic Book Industry
Having a job at Marvel Comics or Marvel Studios would be a dream job for me. I work with them here and there and it is always an incredible experience. Ann has been in and out of the industry for a while now, so I asked her what it was like working as a woman in the comic book industry when she started. I thought she might tell me about how she had to deal with sexism and trolling, but it was quite the opposite.
"We never really felt a lot of sexism back then – sort of the opposite. The men in the field were really welcoming – Archie Goodwin, Denny O'Neil, Mike Carlin – all these guys that were the editors up at marvel Comics were like 'hey try writing, try editing, let me look at your stories'. I did not feel what I have encountered when I came back to DC Comics and I started writing Catwoman. I had my first experience of trolling. It was intense misogyny – I was like ' oh my God, when did this happen?'."
She went on to explain that she knows she is tough, and she has traveled the world, and is a really strong woman. But noted that if she was a young up and coming writer, this would crush her.
Daredevil Netflix Series
Since Ann wrote for Daredevil for quite a long time, you know I had to ask her about the Daredevil Netflix Series. It is one of my favorites, but I wanted to know if she watched it, and she said right away that she does, and that she really enjoys it.
"I love it. I don't love all the Netflix TV shows, but I love [Daredevil] and Luke Cage. They are just rocking the world. They are just doing it right. The character development – The Kingpin."
I personally hope that we see Typhoid Mary come to the Daredevil series. In my opinion, she is a major part of Matt Murdock's life. I asked Ann what she thought about seeing her possibly enter the series.
"I hope they use her. She was built and designed and created by John Romita Jr. and I to be the perfect foil for Daredevil. To have each personality go after different aspects of his persona. He is a do-gooder lawyer, but he is a vigilante; he's got this christian catholic thing but he wears a devil suit. Typhoid Mary has these different split personalities that went after each one of his personalities."
Avengers 4 Predictions
Avengers: Infinity War is still one of the most popular movies in the world, rightfully so, and so I asked Ann if she had seen that. She said that she got to see it early as part of the Marvel Friends and Family. As you might know, I have attended a few Marvel World Premieres and there is nothing like them. Ann agreed saying that when everyone in the audience is somehow related to Marvel or works with Marvel, the crowd is so enthusiastic – whooping and screaming. She even compared it to the Rocky Horror Picture Show with audience participation, and I have to agree! She offered up some of her Avengers 4 predictions, and I have to say, they are similar to my own.
"I don't think they are exciting theories. I think everyone who turned in to black goop isn't really dead. And that Strange saw an infinity of universes and picked the one that he knew certain people would survive in. He's got something going that is gonna ripple backwards. It's gonna be one of those plots where everything goes backwards and makes sense. If I was in the writers room trying to figure out what to do next, that would be one of my theories. But because that is such an obvious theory, I would also be in the writers room saying wait a minute, we probably shouldn't do what everyone expects us to do."
Team Cap or Team Iron Man?
It seems to be a pretty important question among comic book fans – Team Captain America or Team Iron Man. You guys all know by now that I am Team Iron Man, but of course, I had to ask Ann Nocenti what side she has chosen. She explained that she hasn't seen the movie yet, but we talked about the debate, and she said it sounded like an age old debate that we see in the comics a lot.
"If I could read your mind, how uncomfortable would you be right now? You would be very uncomfortable. How do you co-exist with someone who can read your mind? How do you co-exist with someone who if you get them mad can set the room on fire? That is a metaphor for so many things. With the mutants it was a metaphor for the holocaust, and today we see it in the power of the wealthy. I think these are solid themes that you can keep reworking because they are strong themes."
Catwoman
OK, OK, I know Catwoman is DC, but man I love her. Ann recently wrote Catwoman (genius run by the way!) so we had to talk about her a little bit.
"She's complicated – [as are] all of the female superhero characters that trade on their sexuality. Is it feminism or is it exploitation? That's just the way it is. She is an old school femme fatale who wears a skin tight leather outfit with a zipper – that she rises and lowers depending on what she wants. Is that empowering or is it exploitation? That is what is so fun about her. You can walk that line and embrace both. Embrace what has ripped the feminism movement apart for 30 years – sex work, starring in pornography videos on Tube V sex – is a woman's right to do those things empowering or exploitative? Feminists are split on it."
Marvel: Universe of Super Heroes Exhibit
The most important part of conversation was, of course, about the new exhibit – Marvel: Universe of Super Heroes. This is a brand new exhibit at the Museum of Pop Culture and as a huge comic book fan, I plan to try to get my family out there ASAP. After speaking with Ann, I want to get out there even more. I was thrilled when she told me this exhibit is set up for any level (and age) of Marvel fans.
"The exhibit is designed so that you can walk in and you can be someone who has no idea what Marvel Comics is, you can be someone who has only seen one movie, you can be a geek fan, and you will be happy. You can walk up to and look at the library of Congress Steve Ditko page – the first time Spider-Man put on his costume and tried out his web shooters. The curator made sure he has unbelievable pieces. Like the first appearance of submariner, the first Marvel comic. So you have got these Holy Grail moments."
Ann also explained that there are infographics throughout the exhibit that take you deep into how a comic is made and all about different creators. I even found out that there are some original pages I would kill to see in person – like four from Frank Miller's Death of Elektra.
"The feeling that you have when you go up to these pages, for me, the 80s work. Everybody has a different touchstone. We have Black Panther costumes – whatever you are in to."
Build Outs
It sounds to me like a lot of work and planning went in to this exhibit to make it perfect. Ann told me all about the different build outs and I, for one, cannot wait to see them in person.
"We have a hallway that is an infinity room for Doctor Strange. Steve Ditko artwork playing giant on an animation loop and you can get lost in there. Everybody wants a photo of themselves in the infinity room."
Photo Ops
I don't know about you, but I can never turn down a good photo opp! Ann told me about so many amazing ones in the Marvel Universe of Super Heroes exhibit – and I really want to go take some pictures. Not only can sit on a couch with The Thing while he takes a nap, you can also have an upside down kiss moment with Spider-Man. I mean, who doesn't dream about that? I sure do! Ann told me that of course, she has a selfie of herself kissing Spidey – how could you not?
Original Sountrack
Just when you think things couldn't get any better at the Marvel Universe of Super Heroes exhibit, think again. Ann told me something that had me over the moon excited.
"This is heartstopping – Hans Zimmer wrote an original soundtrack for the show. It changes: as you go into the infinity room you will hear like a cosmic soundtrack, you go into the street art hallway where you have got Luke Cage's hoodie you hear the influences of the soundtrack from Luke Cage. It is an immersive experience where you can go really geek."
About Ann Nocenti
Ann Nocenti wrote Daredevil and many other Marvel comics. She created Blackheart and Typhoid Mary (with John Romita Jr), and Longshot, Spiral and Mojo (with Arthur Adams). She was an editor at Marvel Comics in the 1980s, in charge of the X-Men and New Mutant titles. Ann taught filmmaking in Haiti for which she was given the Humanitarian Award at the Tulsa International Film Festival. Nocenti was the editor of Scenario, where she interviewed filmmakers such as Christopher Nolan, Darren Aronofsky, Francis Ford Coppola, and more. Her most recent projects include MAGIC CITY ­ The Art of the Street, a street art exhibit in Germany (2016) and Marvel: Universe of Super Heroes (MoPOP, Seattle, April 2018). Her new comic is The Seeds, with Hawkeye artist David Aja (editor Karen Berger, Berger Books/Dark Horse, 2018). Read more about Ann at annienocenti.com.
Watch the whole interview here: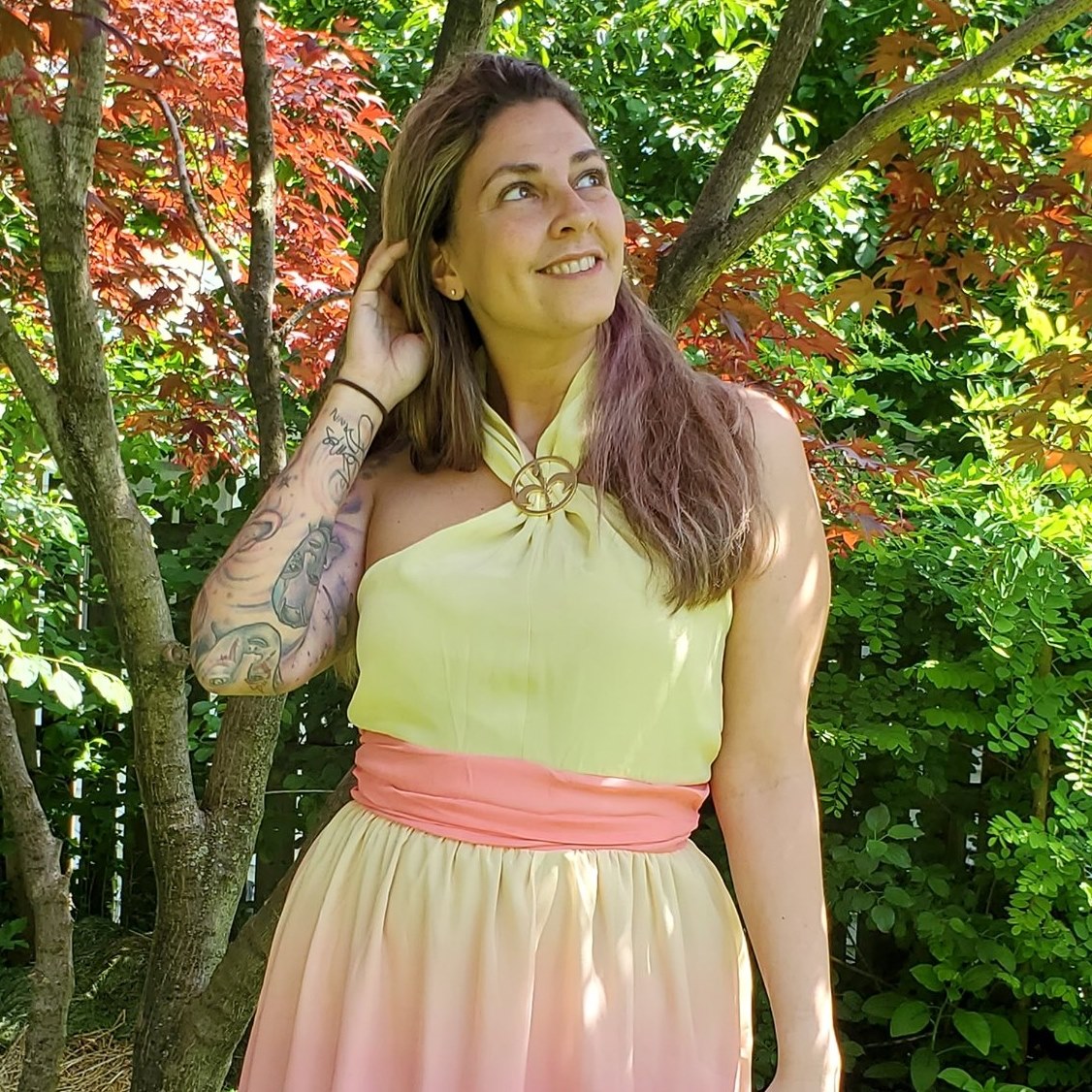 Tessa Smith is a Rotten Tomatoes Tomatometer-approved Film and TV Critic. She is also a Freelance Writer. Tessa has been in the Entertainment writing business for almost ten years and is a member of several Critics Associations including the Critics Choice Association, Hollywood Critics Association, and the Greater Western New York Film Critics Association.