This post contains affiliate links.
I am surrounded by artists in my house. Trust me, I am not one, but my husband and daughters are. One thing they have always wanted to do was make a claymation video, so we were excited when we received a claymation kit so that we could make our own mini movie. Lionsgate sent it to us along with a copy of Early Man to inspire us to make a movie featuring Hognob. We had so much fun doing this, and I hope you all make one too! It is really easy to do – just check out this instructional video starring the cast of Early Man!
Making Our Movie
A lot of blood sweat and tears went in to making this movie. You should have seen my Hognob – not good. Luckily my husband is a wiz when it comes to this stuff. His Hognob took him way less time to make, and he came out perfect. We all had a lot of laughs and way too much fun making our movie, I hope you like it!
In our movie Hognob crash lands on an alien planet. He is scared by the natives at first, but then he realizes they are setting up a picnic for him. What will happen when a little crab decides to crash the party?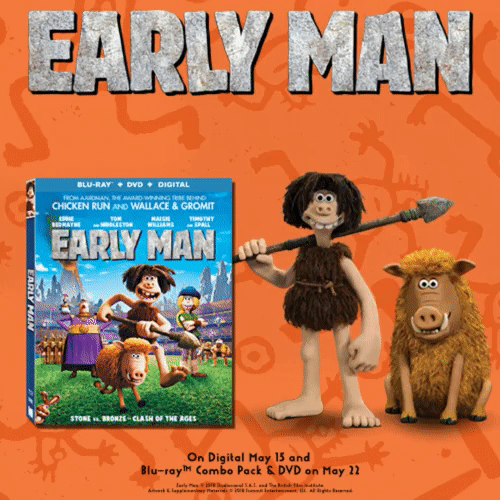 About Early Man
Set at the dawn of time, when prehistoric creatures roamed the Earth, Early Man tells the story of courageous caveman hero Dug (Eddie Redmayne) and his best friend, Hognob, as they unite their tribe against a mighty enemy — Lord Nooth (Tom Hiddleston) and his Bronze Age City — to save their home.
This movie is so much fun! I knew we were all going to love it as soon as I knew it from the team behind Wallace and Gromit. Both of my daughters loved this movie – especially my 5 year old. She watched it three more times by herself the week it arrived! I highly recommend this movie for families – and Hognob steals the show!
Special Features
"Before the Beginning of Time: Creating Early Man" Featurette
"Nick Park: Massaging the Funny" Featurette
"The Valley Meets the Bronze" Featurette
"Hanging at Aardman Studios: A Workshop Exploration" Featurette
Enter to win your very own stop motion Claymation kit and Early Man Blu-ray using the Gleam form below. Be sure to check out my other giveaways while you are here and GOOD LUCK!
Early Man Claymation Kit & Blu-ray

Facebook: https://www.facebook.com/earlymanmovie/
Instagram: @earlymanmovie
Twitter: @earlymanmovie
#EarlyMan