This post contains affiliate links.
In case you don't know anything about me, I am a bit of a Marvel fan. Avengers: Infinity War is finally in theaters everywhere today, and to go along with its release are a lot of amazing new toys and products! When I say I need and want them all, I truly mean it. I am a huge collector of all things Marvel, so I want toys, I want clothes, I want household items. There are so many products that have hit stores now, but here are the ones that top my list.
Read about my Avengers: Infinity War World Premiere experience here!
---
Avengers: Infinity War Assembler Gear
Collect, combine, and customize! With Avengers Assembler Gear featuring Nerf technology, kids can assemble their ultimate blaster and imagine taking down the bad guys! Each Assembler Gear set features different blaster combinations and can be combined with other Assembler Gear sets (each set sold separately) to build customizable blasters and get ready to blast into action! With over 100 combinations of blasters with multiple sets (each set sold separately), the only question is: what will YOU assemble?
---
Hasbro 6 inch Star-Lord Figure
When the fate of the universe hangs in the balance, Peter Quill is ready to defeat interstellar evil! Assemble a rag-tag team of misfits from Guardians of Galaxy with 6-inch Guardians of the Galaxy figures. This 6-inch Star-Lord figure features multiple points of articulation as well as entertainment-inspired design. Imagine sending the Guardians of the Galaxy into amazing intergalactic battles! There are more Avengers: Infinity War figures to collect – like Iron Man!
---
Groot Night Light & Alarm Clock
Guardians fans need a talking tree in their lives. Show that you are a true Guardian of the Galaxy with the BulbBotz™ Marvel™ Guardians of the Galaxy Vol. 2™ Groot™ light up alarm clock. His vocabulary may be limited, but this won't stop him from waking you from your slumber. Featuring a night light, simply push down on Groot's head to make him light up. Trigger Groot's hilarious sound effects by pressing the sound button. Standing at 5.5 inches, with his easy to read backlit LCD screen, alarm and snooze function, the pint-sized Groot is the ultimate side-kick to protect the Galaxy from the enemies of the cosmos.
Groot happens to be my favorite, but BulbBotz has many more Marvel clocks to choose from!
---
Black Widow Titan Hero Power FX
Imagine elite agent joining the mission for justice with the 12-inch-scale Titan Hero Power FX Black Widow, inspired by the Avengers: Infinity War movie. This figure includes a Titan Hero Power FX pack so when kids connect the pack, they can power up their figure and activate character-specific sounds and phrases from Avengers: Infinity War! Connect Titan Hero Power FX pack to compatible Titan Hero Series figures (each sold separately) to activate character-specific sounds and phrases in favorite super hero and villain figures!
---
Funko Mystery Minis
From Marvel Avengers Infinity War, a stylized Mystery Mini from Funko! You can collect all of your favorite Infinity War characters. The best part, is the mystery! Trust me, I need all of these as new desk buddies. The Outriders – so cool!
---
Thanos Plush
Cuddle up with characters of Marvel's Avengers: Infinity War! This stylized Thanos Hero plush stands approximately 6 to 8 inches tall, perfect for any Marvel fan! The Marvel Avengers: Infinity War Hero Plush are each sold separately. Collect and display all Marvel Avengers: Infinity War Hero Plush figures (each sold separately).
---
Funko Pop Keychain
From Avengers Infinity War, Iron Man, as a stylized POP keychain from Funko! Stylized collectable stands 1.5 inches tall, perfect for any Avengers Infinity War fan! Collect and display all Avengers Infinity War POP! Keychains! Funko POP! is the 2017 Toy of the Year and People's Choice award winner!
---
Infinity War Reusable Tote Bag & Backpack
The Avengers and Guardians of the Galaxy meet up in Marvel's Avengers: Infinity War and in the powerful design on this canvas tote bag. Save the day with a reusable bag, and save your arms with its adjustable shoulder straps.
---
Infinity War PopSocket
A PopSockets grip is a stylish phone accessory that lets you do more with your phone. Just expand to use and collapse to lay flat. Whether you're trying to snap a quick pic, watch videos on the fly, or text with one hand, it's got you covered. And PopSockets grips aren't just for your phone either. Use them on your tablet and e-reader for some extra comfort. Plus, with the PopSockets mount companion product, you can mount your phone to nearly any vertical surface, including dashboards, mirrors, bed posts, refrigerators, and walls, for convenient hands-free viewing. PopSockets grips are repositionable and stick to most devices and cases, but may not stick to silicone or waterproof cases.
---
good2grow
good2grow is the better-for-you beverage brand that has EIGHT characters from the upcoming movie, Avengers: Infinity War. My daughters love bringing these on road trips, to the movies, and even to school. The latest toppers include Spider-Man, Iron Man, Black Panther, Hulk, Captain America, Rocket Raccoon, Groot, and Thor!
---
Infinity Gauntlet Luggage Tag
As the owner of our brand-new and cleverly concocted Infinity War Thanos Infinity Gauntlet Luggage Tag, you are now FREE from the time-draining bag checking process! How is this simple Infinity Gauntlet luggage tag capable of such an unheard of, time-saving feat? Because, silly — it's still an Infinity Gauntlet!
Coupon Code: Use the code MAMASGEEKY15 to get 15% off your entire order – site wide!!
---
Captain Marvel Purse
Purses aren't just accessories; they're a lifeline. On any given day they need to hold a wallet, phone, keys, umbrellas, lipgloss, a book or two, pepper spray, even the occasional sandwich. And they need to do so without being bulky and without falling apart under the strain – while still coordinating with your closet. So really, more purses need to take their inspiration from Carol Danvers. As Captain Marvel, she can fly to space and back without damage. She can shoulder an aircraft carrier at a moment's notice. And she always looks fantastic while she does it. This practical, durable faux leather purse shares all the best qualities of Captain Marvel (except her fauxhawk, sadly).
---
Spider-Man Chair Cape
Bring some excitement to your boring chair with Marvel Spider-Man Chair Cape from Entertainment Earth! Made of high-quality fabric materials, the patented Chair Cape line from Entertainment Earth adjusts to fit most size chairs by using an adjustable hook and loop based belt and strap design to wrap securely around the back of your chair. Spider-Man's eyes and a web is prominently displayed on the red cape with the spider emblem and webbing shown on the adjustable red chair strap.
---
Groot Wooden Push Puppet
The Guardians of the Galaxy Groot 4-Inch Wooden Push Puppet from Bif Bang Pow! is a small collapsible wooden figure that's designed in a retro-style reminiscent of the traditional push puppets also known as Wakouwa. Measuring 4-inches tall, the silver potted Groot push puppet features hand-painting along with some decal elements and moves in various directions – depending on how you push the hidden button on the bottom of the pot. And well, because it's only right… this charming collectible celebrating the extraterrestrial, sentient tree-like creature is crafted out of solid wood, of course!
---
Bunch O Balloons: Marvel Avengers
Fill and tie 100 water balloons in less than 60 seconds with sensational self-tying water balloons! This system is a 2017 and 2018 Outdoor Toy of the Year winner, so you know it will impress you. Even better, they are now featuring Marvel Avengers superhero character symbols printed on the balloons – so you kids can battle it out like the real Avengers. Designs include Iron Man, Captain America, and Hulk. Balloons are made from natural latex, and are recyclable and biodegradable.
---
Marvel Tiki Totems
These stackable wooden figure features spectacular 360-degree artwork crafted with hand-painted details and limited decal elements, so you can enjoy it from every angle. Create your very own custom wooden Tiki Tiki Totem pole as you collect your favorite characters and stack them on top of one another using the interlocking sections (on the bottom and top of each piece).
Purchase Hulk here, Gamora here, & Captain America here.
---
Marvel Pin Mates
Designed in a retro-style, these miniature wooden figures are designed with intricate 360-degree artwork that includes hand-painted details alongside limited decals. Proving some of the best things do come in small packages, each character measures 2-inches tall.
Purchase Black Panther here, Doctor Strange here, & Captain America vs. Iron Man here.
---
Marvel Fidget Cubes
Original Fidget Cubes™ by Antsy Labs are now available in 8 super cool, stylized Marvel superhero characters, including Star-Lord, Rocket, Groot, Drax, Spiderman, Thor, Hulk, and Ironman! These versatile fidget toys still feature the iconic six different sides with multiple buttons, dials, and switches! My daughters spend hours playing with theirs. Fidgeters can quietly focus while clicking, spinning, rolling, and gliding their nervous energy away.
---
Infinity War Water Bottle
The local landfill will be thankful when you upgrade from disposable bottles – this one holds 25 ounces, and is made of durable Tritan for long-lasting utility. It fits in most car cup holders and has a built-in carrying loop in the lid, so it's easy to take anywhere you go. The bottle has a wide mouth that fits ice cubes for cooling down on hot summer days. With an extremely clear surface that won't craze over time, it's effortless to see the beverage inside. The lid is made of high-impact ABS plastic, with silicone inserts over the spout and vent to make it watertight and leak-proof. The cap flips open easily and locks in place, so it won't swing around while you're drinking.
---
Marvel Comics Dress
Teamwork is great! Sure, a hero can stand on their own. Particularly when they have a solo title. But some threats are so great they require a team-up. Some days can only be saved by a whole bunch of heroes working together. The same principle applies to fashion. Some days you look into your closet and realize you're gonna need all the help you can get – it's a "full Avengers Assemble" kinda day. Which is why this dress is covered with a retro Marvel Comics print featuring some of Earth's mightiest heroes: Iron Man, Captain America, Thor, Hulk, Ms. Marvel, Black Widow, Hawkeye… and Loki (just in case your plans call for a little mischief).
---
About Avengers: Infinity War
Iron Man, Thor, the Hulk and the rest of the Avengers unite to battle their most powerful enemy yet, Thanos. On a mission to collect all six Infinity Stones, Thanos plans to use the artifacts to inflict his twisted will on reality. The fate of the planet and existence itself has never been more uncertain as everything the Avengers have fought for has led up to this moment.
Avengers: Infinity War in theaters today!
Like AVENGERS on Facebook: https://www.facebook.com/avengers
Follow AVENGERS on Twitter: https://twitter.com/avengers
Follow AVENGERS on Instagram: https://www.instagram.com/avengers/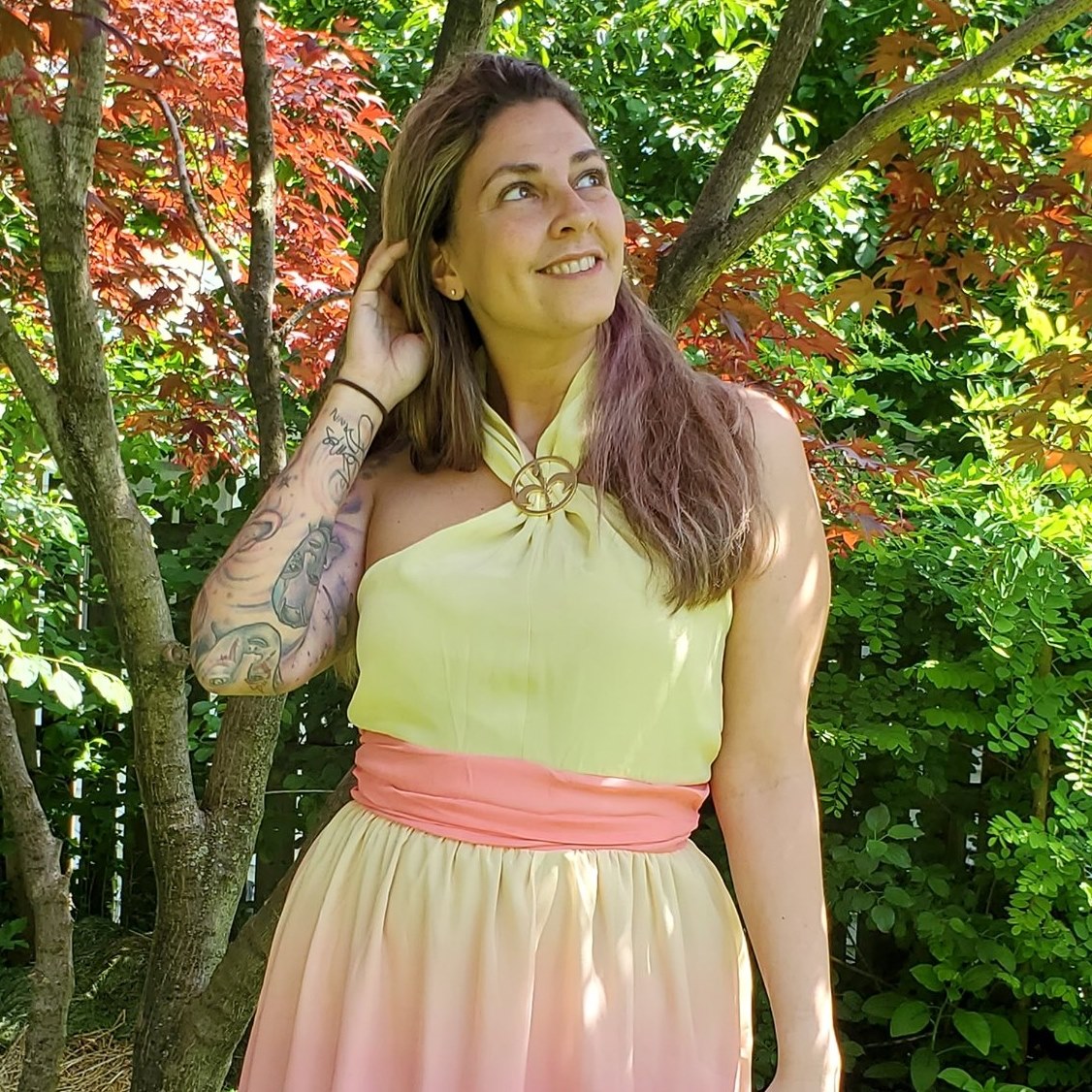 Tessa Smith is a Rotten Tomatoes Tomatometer-approved Film and TV Critic. She is also a Freelance Writer. Tessa has been in the Entertainment writing business for almost ten years and is a member of several Critics Associations including the Hollywood Critics Association and the Greater Western New York Film Critics Association.