This post contains affiliate links.
Recently, the most amazing email hit my inbox. Marvel was inviting me to attend the World Premiere of their most anticipated film yet – Avengers: Infinity War. If you know anything about me, you know I am a bit of a Marvel fan. So for me to be at the Infinity War Premiere – walking the red carpet – seeing the movie with the cast (as they watch it for the very first time) – WOW! I mean, WOW. There are really no other words to describe my excitement. But that is not all Marvel has in store for this group of 25 bloggers – oh no! And as if things couldn't get any better – my birthday falls during the event. Talk about turning 34 in style!
Infinity War Premiere
On April 23rd, 2018, I am going to have the Marvel Fan Girl experience of a lifetime. Not only will be rubbing elbows with all the Marvel cast members and filmmakers, I will be one of the first people to see Avengers: Infinity War. In case you live under a rock, this movie is ridiculously highly anticipated. Even the most casual Marvel fan is over the moon excited for it. We are sure to see a lot of stuff go down – and rumor has it one (or a few) of our favorite superheroes will die. Don't worry, I am going to have plenty of tissues on hand. Just wait until you see my red carpet outfit – it is pretty amazing, if I say so myself!
About Avengers: Infinity War
Iron Man, Thor, the Hulk and the rest of the Avengers unite to battle their most powerful enemy yet, Thanos. On a mission to collect all six Infinity Stones, Thanos plans to use the artifacts to inflict his twisted will on reality. The fate of the planet and existence itself has never been more uncertain as everything the Avengers have fought for has led up to this moment.
Avengers: Infinity War hits theaters 4/27!
Like AVENGERS on Facebook: https://www.facebook.com/avengers
Follow AVENGERS on Twitter: https://twitter.com/avengers
Follow AVENGERS on Instagram: https://www.instagram.com/avengers/
New Avengers: Infinity War Products
No new film would be complete without a release of some amazing new products. I am super excited to announce that while in LA, I will visit Disney's Grand Central Creative campus to learn about them all! Honestly these are probably all things that I will want to fill my office with.
Interview with Victoria Alonso
In LA, I will get a chance to meet with Victoria Alonso, who is the EVP of Visual Effects and Post-Production of Marvel Studios. First of all – WOW. How amazing is her job?!! I would do just about anything to have it. She is the highest woman at Marvel – that is pretty amazing guys! I can't wait to get into the details with her about her role at Marvel Studios. She will also be talking to us about the importance of STEM. I am a HUGE supporter of STEM because I have two kids, so I am really looking forward to this part of our talk.
Quantico Season Three
ABC decided to get in on our fun so we will be getting a sneak preview of the Quantico Season 3 premiere! Not only that, we will be leading a Q&A with new series regular Academy Award winner Marlee Matlin and Showrunner & Executive Producer Michael Seitzman! Marlee Matlin will join the cast as part of a new block-ops team. If you have any questions for them – please let me know and I will do my best to get them answered for you!
About Season Three
It's been three years since American hero Alex Parrish has had to navigate the dangerous waters of the Central Intelligence Agency and put her life on the line for her country. She has been living a peaceful, anonymous life somewhere in Italy. However, Alex is forced to abandon this idyllic existence when Ryan persuades her to help him rescue Shelby from a notorious international arms dealer known only as The Widow, who is holding her hostage – and in exchange for her release she demands something that only Alex can provide.
In the premiere episode, "The Conscience Code," Ryan and Alex recruit Owen and Harry to help rescue their friend and defeat the villain. To help the cause, Owen brings in former agent Jocelyn Turner (Marlee Matlin), who has her own dark past with The Widow. A whole new future lies ahead for this team when they agree to work together as an elite black-ops task force and the thrilling, heart-stopping adventures continue.
Quantico premieres April 26th at 10pm ET
on ABC streaming and on demand!
Website: http://abc.go.com/shows/quantico
Facebook: https://www.facebook.com/QuanticoABC/
Twitter: https://twitter.com/QuanticoTV
Instagram: https://www.instagram.com/abcquantico/
#Quantico | #ABCTVEvent
MARLEE MATLIN
https://www.facebook.com/marleematlin/
https://twitter.com/MarleeMatlin
https://www.instagram.com/themarleematlin/
MICHAEL SEITZMAN
https://twitter.com/michaelseitzman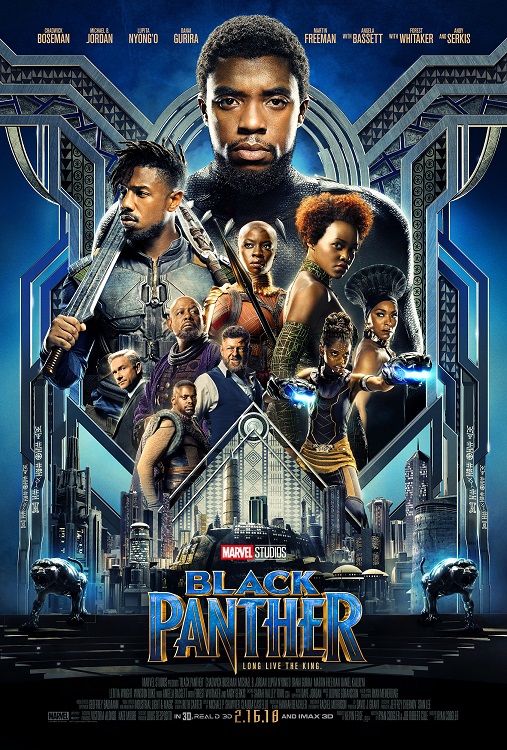 Black Panther Blu-ray Release
While in LA for the Avengers: Infinity War premiere, I will also be celebrating the in home release of Black Panther. This movie is amazing and if you haven't seen it yet, you are missing out! But have no fear, you will be able to take Black Panther home soon. And it is loaded up with awesome bonus features that I cannot wait to watch.
About Black Panther
After the death of his father, T'Challa returns home to the African nation of Wakanda to take his rightful place as king. When a powerful enemy suddenly reappears, T'Challa's mettle as king – and as Black Panther – gets tested when he's drawn into a conflict that puts the fate of Wakanda and the entire world at risk. Faced with treachery and danger, the young king must rally his allies and release the full power of Black Panther to defeat his foes and secure the safety of his people.
Bring Black Panther Home Digitally 5/8
and on Blu-ray & DVD 5/15!
Like BLACK PANTHER on Facebook: https://www.facebook.com/BlackPantherMovie
Follow BLACK PANTHER on Twitter: https://twitter.com/theblackpanther
#BlackPanther | #BlackPantherBluray
FOLLOW ALONG ON SOCIAL MEDIA
Trust me – you don't want to miss anything from this Marvel filled trip! Be sure to check out my Instagram Stories, Twitter, Facebook, and of course, my Instagram pictures. I will try my best to make you feel like you are right there beside me.
Instagram: https://www.instagram.com/mamasgeeky
Twitter: https://twitter.com/mamasgeeky
Facebook: https://www.facebook.com/mamasgeeky
#InfinityWarEvent