This post contains affiliate links.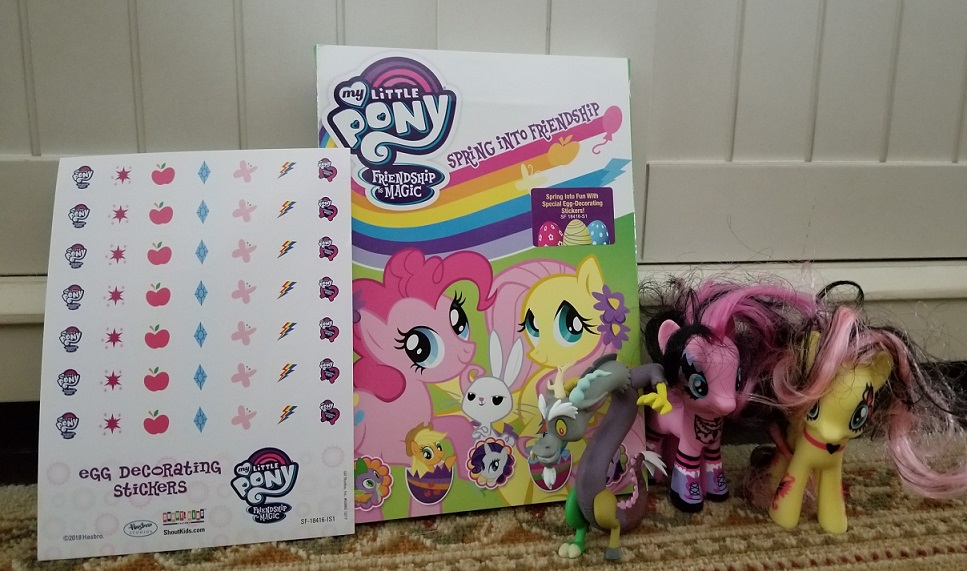 My family loves My Little Pony: Friendship is Magic. It is one of the shows that we enjoy watching all together – yes, even my husband. So naturally we were excited when the latest DVD was sent to us by Shout Factory Kids! The episodes on Spring Into Friendship are some of our favorites – so we were thrilled! My personal favorite of season 7 was Just for Sidekicks, so I was super excited to see that one on there. That being said, all of the episodes included are pretty amazing and loved by my whole family. Adding this My Little Pony DVD to our collection was a must.
This DVD comes with special egg-decorating stickers, which is pretty amazing! They immediately got my daughters extremely excited for Easter – and we can't wait to use them when the holiday gets here. I love incorporating our favorite TV shows and movies in to our holiday celebrations, so this was perfect.
About My Little Pony: Spring Into Friendship
Big trouble is on the horizon when Twilight Sparkle is given only two coveted tickets to the most anticipated event in town! How will she decide which of her best friends gets to go with her? Discover the answer, and see four more amazing pony tales, as Twilight Sparkle, Spike, Pinkie Pie, Applejack, Rainbow Dash, Rarity and Fluttershy help usher Springtime into Equestria!
Episode List
My Little Pony: Friendship is Magic Spring Into Friendship includes five fun episodes from season 7.
The Ticket Master
Sisterhooves Social
Just For Sidekicks
Princess Twilight Sparkle, Part 1
Princess Twilight Sparkle, Part 2
Grab Your DVD February 13th!
Enter to win a copy of My Little Pony: Spring Into Friendship using the Gleam form below. There will be two winners! Be sure to check out my other giveaways while you are here and GOOD LUCK!
My Little Pony: Spring Into Friendship DVD

Welcome to the Be Present Giveaway Hop brought to you by The Hopping Bloggers!
Hosted By: Mama's Geeky & Women and Their Pretties
Each giveaway has a value of a minimum of $15, however some are worth much more. Be sure to enter to win all of them because there is no limit to how many you can win. GOOD LUCK!
If you're a blogger looking to connect with brands: Join The Hopping Bloggers database and get started today!
If you're a brand looking to work with a network of professional bloggers: Check out the creative campaigns The Hopping Bloggers has to offer!