This post contains affiliate links.
My husband and I are huge Star Wars fans – we even honeymooned at Disney's Star Wars Weekend in 2009 and walked out to the Imperial Death March at our wedding. So when we were planning a family cruise, we just knew we had to take advantage of Disney's Star Wars Day at Sea onboard the Disney Fantasy's 7 day cruise. Star Wars day actually started the night before, when Captain Phasma showed up unannounced with some Stormtroopers to look for "rebel scum" that were hiding on our ship. That in itself was pretty amazing (and my 5 year old was a bit freaked out) but it only got better from there. There were so many amazing activities throughout the entire day. If you are going on a Disney Cruise that features the Star Wars Day at Sea, here are a few activities that you can't miss out on!
Jedi Training
When we first got on the cruise, we were given a paper with the option of 5 different activities for Star Wars Day at Sea. We were told that we would each get to experience 2 of them, and they were on a first come, first serve basis. We were thrilled that our girls were accepted for the Jedi Training! Now, this activity is only for those of you traveling with kids ages 4 through 12, so skip this one if you don't meet that criteria. It is much like the Jedi Training that you see at Hollywood Studios at Disney World. The children get Jedi robes and light sabers and are taught a few fighting moves. They then get to battle Darth Vader or an Inquisitor. They also get to use the force. My 5 year old had a blast with this but unfortunately my 4 year old was not feeling well that morning and wanted to skip it (she ended up feeling much better after a mid-morning nap and snack!). I have to say that I was really proud of my daughter – and she loves telling everyone that she defeated Darth Vader!
Character Meet and Greets
The other options for Star Wars Day at Sea are all meet and greets. You can elect to meet R2-D2 and C-3PO, Kylo Ren or Captain Phasma, Chewbacca, or Darth Vader. We were really lucky because when we joined the Disney Vacation Club while on board, one of the perks we were given was an extra meet and greet! So we opted for R2-D2 and C-3PO for one – and Captain Phasma or Kylo Ren for the other. We had already met Kylo Ren at Disney World so were hoping we ended up with Captain Phasma, but it was Kylo Ren when we got there. I will say that it was still a great experience. My 5 year old was dressed as Rey and wanted to brag to him about beating him, but she chickened out last minute. When we met R2-D2 and C-3PO, our 4 year old was dressed as R2-D2, so that was a lot of fun! Some of these characters can only be seen on this cruise, and the others are still rare to get in the parks, so this was a lot of fun – and definitely a don't miss for any Star Wars fan!
Animation Classes
Throughout our cruise, my family and I attended several of the animation classes. These are a ton of fun – even if you can't draw like me. They even had some adult only classes. On Star Wars Day at Sea, the character that we were taught to draw was non other than Yoda! My entire family participated – even my 4 year old – and we all had so much fun. We were able to draw Yoda step by step, and even got to color him in at the end. I was honestly surprised at how well we all did. Well, not my husband because he is a very talented artist, but the rest of us did pretty good too! The cast members that are part of the cruise activities were amazing. They made every activity unique and entertaining. There were a couple of them that even made their way on to our comment cards that we received at the end of the trip because they made it extra magical for us.
Star Wars Origami & Crafts
Throughout the day there were several Star Wars Origami and Craft Classes available. As with mostly everything on board, these were free to attend. My family and I made Yoda out of paper for the origami class and light sabers out of construction paper for the craft class. These were both really fun to do as a family – and the bonding that my husband and I got with our daughters was invaluable. I did notice many people there that were solo or just with a significant other – so don't think these are just for families. They are a lot of fun no matter who you are with!
Star Wars Summon the Force Show
The Summon the Force show was incredible. The only bad thing I have to say about it is that it started at 10:30pm and my girls (and OK, my husband and I too) were exhausted at this point. We all went up on the deck in our PJs to enjoy this show and went right to bed after it. All of your favorite Star Wars characters make an appearance and there is also video clips from all of the Star Wars movies. The show is narrated by one of the cast members, and I admit, I teared up at parts. It started off with a tribute to Carrie Fisher and from that moment on, I was emotional. It all ends with the second (yes second!) fireworks show of the cruise. This specific cruise is actually the ONLY cruise that has TWO fireworks shows at sea!
Those are the activities I tell you that you absolutely cannot miss, but there is a lot of other Star Wars fun to be had that day! There are characters walking around the boat – I am talking Boba Fett, Imperial Guards, Stormtroopers, and more! They are all really in character and some members of the Empire were even sending anyone who claimed to be a rebel to "jail" by putting them in the elevators and transporting them to deck 12. The dinners that night were all Star Wars themed as well, which I thought was really fun and unique! I had Lord Vader's Nerf Steak for my meal and my daughter had the Han Solo Sundae for Dessert. The slice of chocolate stuck in the sundae even had Han Solo in Carbonite printed on it! Disney is always amazing when it comes to details, and Star Wars Day at Sea is no different! If you are a Star Wars fan, I highly recommend booking one of these cruises, they actually just announced some 2018 dates.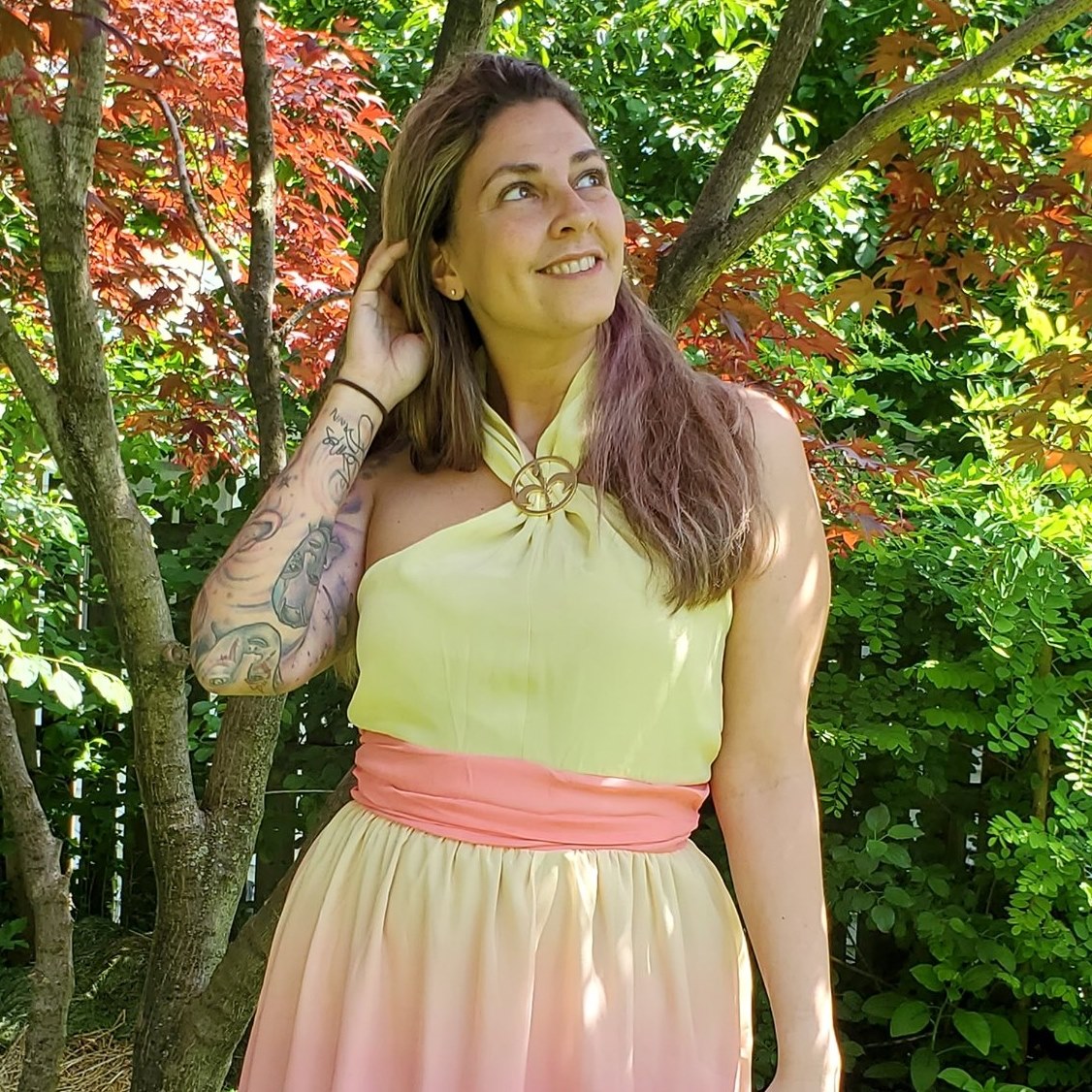 Tessa Smith is a Rotten Tomatoes Tomatometer-approved Film and TV Critic. She is also a Freelance Writer. Tessa has been in the Entertainment writing business for almost ten years and is a member of several Critics Associations including the Critics Choice Association, Hollywood Critics Association, and the Greater Western New York Film Critics Association.