This post contains affiliate links.
My girls and I are HUGE My Little Pony fans. I grew up watching the show and now I love watching the new version with them. We really enjoy the Equestria Girls movies – in fact, we own them all! We have family movie night once a week and my daughters (who are 3 and 5) almost always pick a My Little Pony movie. The newest movie is called My Little Pony: Equestria Girls: Legend of Everfree – and it is awesome! We have watched it at least 5 times already, and we just got it about a week ago. It is such a fun movie that families are sure to love.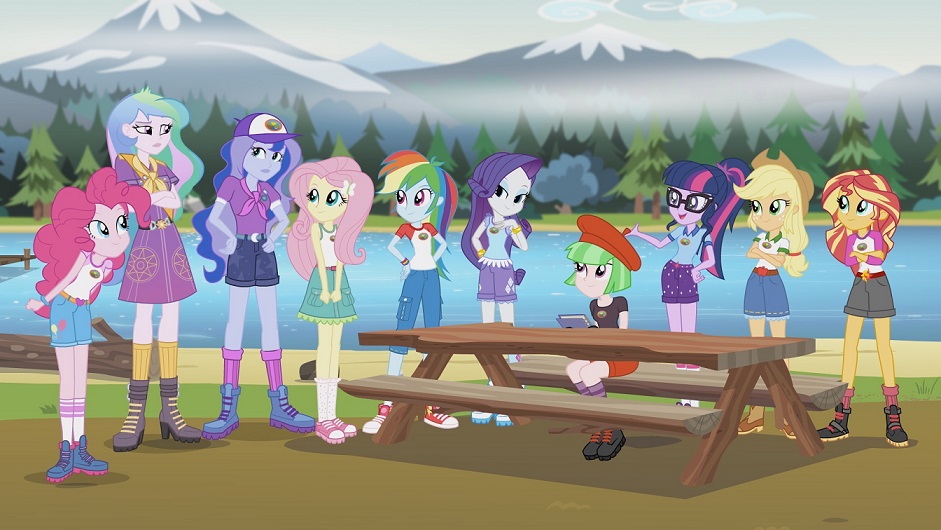 My Little Pony Equestria Girls – Legend Of Everfree sets up camp on November 1, 2016 in a Blu-ray™ + DVD + Digital Download combo and in a DVD + Digital Download combo from Shout! Kids. For pony fans ordering their copy directly from Shout Kids, a free poster is included. Copies of the film for sale in Walmart will include a pair of Twilight Sparkle barrettes and copies at all other retailers come with an adorable "Camp Everfree" sew-on camp patch. The camp patch that comes in each copy is a great way for kids to make their own camp uniform – I know my girls are looking forward to doing that.
Synopsis
Fresh air – check. Starlit nights – check. Scary stories – freaky deaky! The Equestria Girls are leaving the halls of Canterlot High School for a field trip to Camp Everfree. However, they get more than canoeing and camp fires when magic begins to wreak havoc on the camp. They're surprised to find a magical force is causing strange things to happen, and the girls seem to be developing new powers. The Equestria Girls will have to work together to control the magic or it will destroy their beloved camp!
To help celebrate the release of this awesome movie, I have some fun coloring pages for you! Print them out and share them with all the My Little Pony fans you know – they are sure to love them!
Download Here —-> apple-jack-coloring-page
Download Here —-> pinkie-pie-coloring-page
Download Here —-> rarity-coloring-page
Enter to win 1 of 3 copies of My Little Pony Equestria Girls: Legend of Everfree using the Gleam form below. Be sure to check out my other giveaways while you are here and GOOD LUCK!