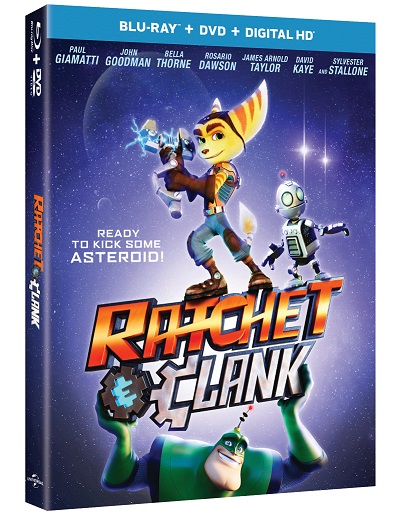 I took my daughters to go see Ratchet & Clank when it was in theaters. My husband and I grew up playing the video games and so we were really looking forward to this movie. We all loved it (read my review here) and I highly recommend it for those of you that are long time fans – or even new ones! My 5 year old says it is one of her favorite movies now. Ratchet & Clank is available on Digital HD now – and will be out on Blu-ray and DVD August 23rd. Enter to win a your copy on blu-ray below.
About Ratchet & Clank
Based on the celebrated video game franchise, Ratchet & Clank follows two accidental heroes who join forces to save the universe. Ratchet is a "lombax" with big dreams of joining the elite fighting team, the Galactic Rangers. Clank is a spunky robot who discovers that the evil alien Chairman Drek has a weapon that can destroy whole planets in a moment's notice. The two misfits must use their wits to help the Rangers save the day in this thrilling and funny adventure featuring the voices of Paul Giamatti (The Amazing Spider-Man 2), John Goodman (Monsters, Inc.), Bella Thorne (Alexander and the Terrible, Horrible, No Good, Very Bad Day), Rosario Dawson (The Lego Batman Movie), and Sylvester Stallone (Creed). The stellar voice cast is rounded out by the game's original performers including James Arnold Taylor, David Kaye, Jim Ward, and Armin Shimerman, reprising their respective video game roles of Ratchet, Clank, Captain Qwark, and Dr. Nefarious.
DIGITAL HD, BLU-RAY AND DVD BONUS FEATURES:
Ratchet & Clank: A Hero's Journey: Cast and Crew discuss what a hero means to them and how Ratchet and Clank both measure up. Featuring interviews with director Kevin Munroe and stars James Arnold Taylor and Bella Thorne.
Ratchet & Clank: Leveling Up: Cast and Crew talk about adapting a video game to film and the legacy of Ratchet & Clank. Featuring interviews with director Kevin Munroe and stars James Arnold Taylor and Bella Thorne.
Ratchet & Clank arrives on DVD and Blu-ray August 23rd! Pre-order your copy here.
Connect with Ratchet & Clank on Social Media:
Website: uni.pictures/RatchetClank
Facebook: https://www.facebook.com/RatchetandClankMovie
Twitter: https://twitter.com/ratchetmovie
Instagram: https://www.instagram.com/ratchetmovie
#RatchetAndClank
Enter to win a copy of Ratchet & Clank on Blu-ray using the Gleam form below. Be sure to check out my other giveaways while you are here and GOOD LUCK!
The opinions expressed here are that of Mama's Geeky only. While the products in this post were given complimentary (unless otherwise stated) for me to review, that does not alter my opinion of the product(s) mentioned. This post may contain sponsored links and affiliate links.