Disclosure: Mama Smith's Review Blog received this item in exchange for her honest review. All opinions expressed are 100% hers.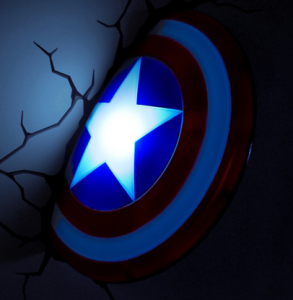 As most of you know, I am a HUGE Marvel Comics fan. So of course, I love the Avengers. I am moving soon and I plan to create the perfect Geek heaven in my office! I am excited to finally have a room to call my own. It is going to be lined with knick knacks and collectibles – don't worry, I will share photos when it is complete. When I started thinking about the lighting I wanted in my office, I knew right away that I needed to contact 3DLightFX. Last year I received a Dora and a Boots light for my daughters (read my full review here) from them and so I trust them. These lights have lasted a solid year with two crazy girls hugging them, hitting them, throwing things at them – you name it, they did it.
I was so excited to get a Captain America Shield light and I plan to hang it right above my desk once we get settled. It is going to look perfect. Because we have used 3DLightFX lights before, I know how easy they are to set up and how amazing they look. 3DLightFX has so much more than Dora and Marvel though, so be sure to check out all that they have to offer from Star Wars to Batman! Find a store near you that carries these lights by clicking here.
Enter to win a Captain America Shield light from 3DLightFX using the Gleam form below. Be sure to check out my other giveaways while you are here and GOOD LUCK!